Explosive slot design
Bang Bang Games is a relatively new member of the online gaming sector. Based in London, UK, the slots developer first launched just over two years ago and describes its exciting offering as "explosive games for serious players."
high volatility, and plenty of wild symbols
Earlier this month, the company's upcoming slot Jekyllz Wild UltraNudge earned a place in VegasSlotsOnline News' Slots of the Week. Featuring a Dr Jekyll theme, the game offers five reels, 40 lines, high volatility, and plenty of wild symbols.
Ahead of the game's launch, VSO News spoke with Bang Bang Games managing director Frank McPolin to get his insight into its design.
Can you give a bit of background on Bang Bang Games and your role in the company?
We only formed in March 2020, but we all have many years of experience designing and building slots across multiple markets, including online, land-based, and social. I'm the managing director by job title, but really we have a very flat company structure that is ideal for a creative business.
Our philosophy is all about creating "the chase" and bringing it front and center in ways that amplify the excitement to the max, and then supercharging it across bonus rounds. We have a strong belief in math-first games that are clear and concise and take a 'less is more' approach to game design.
How has the company and your offering changed since you first formed?
I think a lot of people underestimate how hard it is to find your voice when you start a studio. It's so important to build a brand, whether that be through the look and feel of the UI, the art style, or the way you have consistency in the presentation of core game elements, but still retain flexibility to be creative.
our games are getting better with every release
With all our favorite studios you could close your eyes during the preloader, have a few spins, and know immediately which studio made the game – this is where we want to get to. I think we're on the right path to achieving this. I genuinely think our games are getting better with every release as we grow our technology, our team, and ultimately our know-how.
As you'll know, the pandemic led to an increase in online casino traffic across the world. Have you seen any slowdown in business with things returning to normality?
It initially took us nearly a year to build out our code, processes, and partnerships and so our first game only went live in March 2021 – but no, we haven't seen a slowdown more recently, in fact, quite the opposite, our numbers are going from strength to strength as we learn more about what our players enjoy.
What is the key to creating popular slots according to Bang Bang Games?
We share a belief that clarity and simplicity are important. We believe the best games focus on a couple of mechanics that are made to shine when brought together.
a clear path to the big wins
Great games have a clear path to the big wins, then make it obvious to the player how to achieve this within the first few spins – as soon as you can focus a player on this "chase" that's when they can relax and enjoy the fun of hitting it, or nearly hitting it!
Can you tell us a bit about the new release Jekyllz Wild UltraNudge?
Sure! Jekyllz Wild is our second UltraNudge game after the hugely popular Jokrz Wild game we released earlier this year. In this game, our wild character is dressed as Dr Jekyll from the infamous story, but land him with some Potion Cash and there's the chance he'll release his inner demons and turn into Mr Hyde, collecting all that cash as he does!
This will also trigger UltraNudge, where Mr Hyde will increase his win multiplier and keep collecting Potion Cash on each nudge!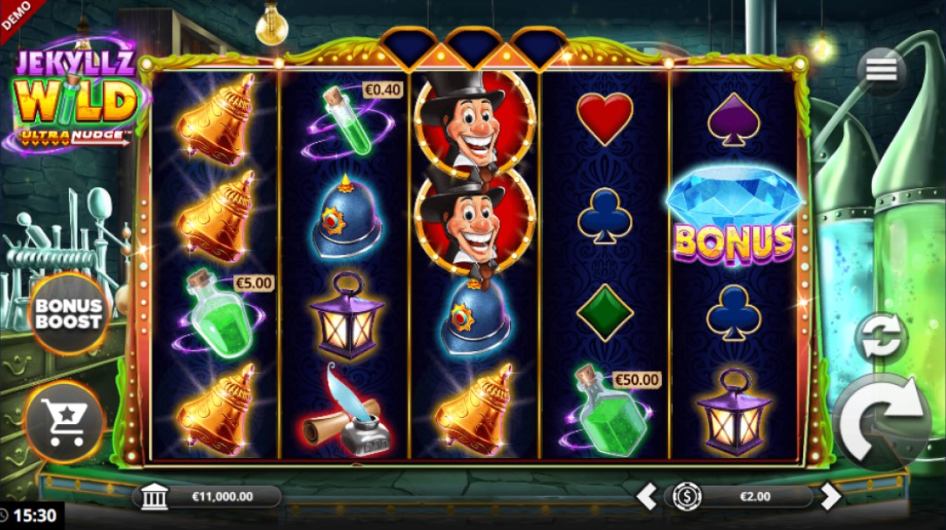 What features does the game have that will make sure it stands out from the crowd?
In all our UltraNudge games the character symbol is wild, and wins with him will start the UltraNudge where all five reels will pay, nudge, and repeat until there are no more wins. This can result in awesome win streaks where you're hitting big win after big win!
In free spins, the kicker is that Mr Hyde doesn't reset his multiplier between spins and can also land without potions being present.
any sort of UltraNudge trigger is going to pay out big time
There's no doubt it's a highly volatile game, but it's crazy exciting building up a good Hyde multiplier in free spins, knowing that any sort of UltraNudge trigger is going to pay out big time!
What other Bang Bang Games releases should our readers try out?
Jokrz Wild is a fantastic game. It's a high adrenaline experience and when the win streaks get going it can sometimes feel like there's no stopping them!
Yggdrasil fans should try our Super Cash Drop Gigablox game too – we have seen some insane wins come through the game since it launched earlier this year.
What's next for the company in its 2022 roadmap?
We have the third and final UltraNudge game in this particular series coming in December, Rainbow Power Potz, an Irish-themed game with a Christmassy twist!
Then we have an incredibly exciting DoubleMax game coming in February and a MultiMax game coming in April, we think that fans of these Yggdrasil mechanics are going to absolutely love these two. We are very very happy with how the early prototypes are playing.