Three evacuations
Police evacuated two tribal casinos in Oklahoma over the weekend after an unnamed person found a bomb threat note in a casino bathroom.
Outpost Casino followed suit in the evening
Indigo Sky Casino & Resort was evacuated both Saturday morning and evening. Its sister property Outpost Casino followed suit in the evening as a precaution. Via Facebook on Sunday afternoon, Indigo Sky posted that law enforcement had given the establishment the all-clear: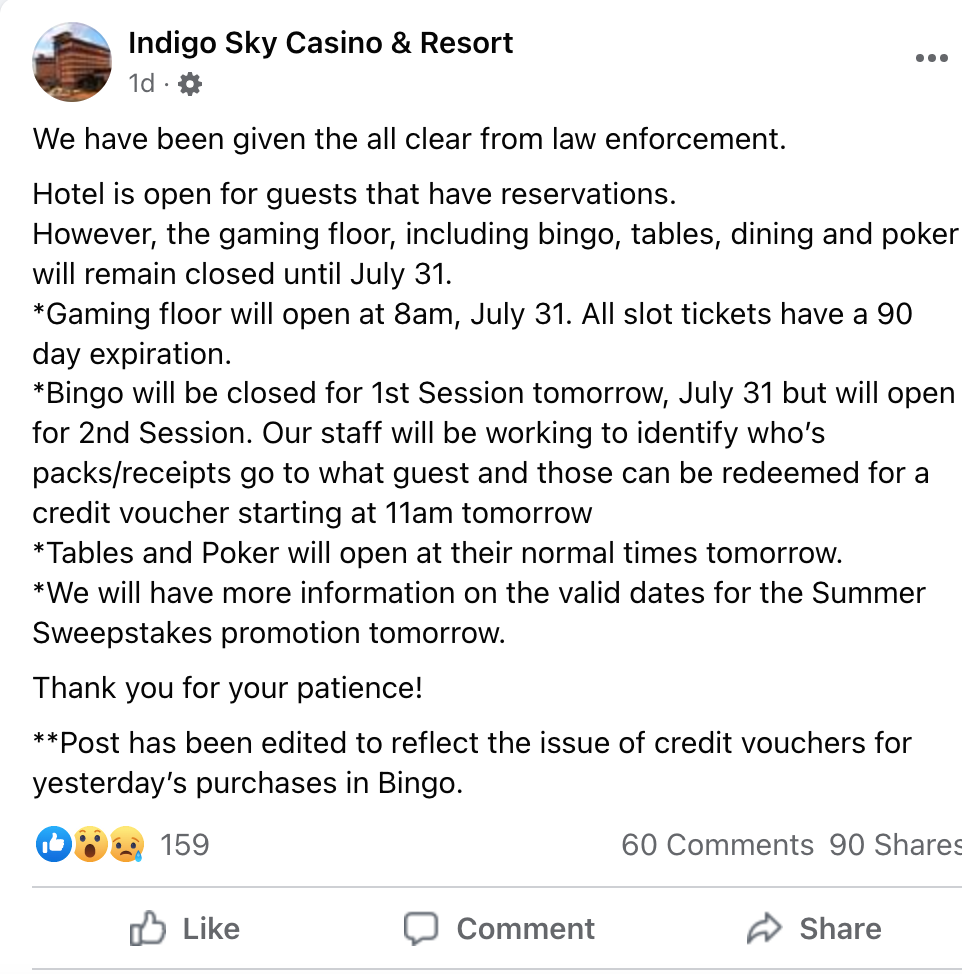 The Eastern Shawnee Tribal Police Department, the respective bomb squad and bomb dogs of the Oklahoma Highway Patrol and the Tulsa Police Department, plus the Bureau of Indian Affairs (BIA), had all previously responded to Indigo Sky discovering the note at around 6:30pm Saturday.
According to Ozarksfirst.com, general manager of Indigo Sky Melanie Heskett said the bomb teams searched the interior and exterior of the entire facility for several hours but "did not find any explosive device(s)."
Despite a thorough search, officials did not find any explosives at the Outpost Casino either.
Troubles started early
For the Eastern Shawnee Tribe of Oklahoma casinos, Saturday's troubles started brewing early. According to Ozarksfirst, an evacuation of Indigo Sky occurred at around 6:30am after its security director was alerted to a "possible threat" on the casino floor.
officers took the remarks seriously
The unnamed security head said he could not expand further on what the potential threat was. Law enforcement officers took the remarks seriously and searched the evacuated property for two hours before sounding the all-clear at 8:30am.
Once operations were finally back in full swing, an unnamed staff member then discovered the bomb threat note. Commenting on the note, Heskett said the words sounded serious. She said it "seemed to be pretty threatening and specific, stating there was indeed a bomb located on the property somewhere."
In a similar incident last summer, Presque Isle Downs & Casino in Pennsylvania
had to be evacuated after receiving a bomb threat
, with law enforcement ultimately deeming the threat unfounded. Two days after the incident, police arrested an ex-employee and a bartender at the casino for the bomb hoax.
Ordered to leave
KSN interviewed witnesses after the sudden evacuation. Hugh Smith of Springdale, Arkansas, told the local news station that police ordered guests at the casino's bar and grill to leave at around 7:00pm.
"The workers were yelling at people to run and there was no time to wait on anyone or cash out," Smith added:
We left our food and everything."
Indigo Sky said it would work with law enforcement to try to "identify the person that left this note in the restroom."
Heskett added that guests who left winnings, casino chips, jackpot winnings, and slot machine tickets on the gaming floor could return from Sunday at 8:00am to reclaim their items.