Alternate directions
The world's two largest gambling hubs have had very different experiences in regard to pandemic recovery.
Macau casinos have just emerged from their second COVID-19 lockdown since the beginning of the crisis. Casino revenue and handle have both nosedived as a result, as have the stocks of the special administrative region's (SAR) six licensees. For the time being, the market is in freefall with little hope of a light at the end of the tunnel.
Nevada casinos completed a record fiscal year of gaming win
On the other side of the Pacific Ocean, meanwhile, Las Vegas is reaching new heights. The Nevada Gaming Control Board (NGCB) has just announced that Nevada casinos completed a record fiscal year of gaming win, and Harry Reid International Airport had its busiest month in history in June with 4.68 million passengers flying in and out.
Macau has held the ultimate gambling hub title for just over a decade, surpassing Nevada in casino revenue for the first time in 2010. It has beaten its American adversary every year since, but it seems, with a little help from the lingering impact of COVID-19, 2022 may be the year that the crown swaps hands.
Macau struggles on
Commenting last month, Macau CEO Ho Iat Seng doubled down on the region's commitment to wiping out coronavirus completely, describing a 'living with COVID-19' policy as "undesirable." In line with the Chinese government, the executive has fully backed a COVID-zero policy in Macau, but it is exactly this stringent policy that has cost the gambling hub so highly.
On July 9, all 40+ of Macau's casinos closed for two weeks amid a spike in COVID-19 figures. It is the first time that the venues had closed since February 2020, when they shuttered for two weeks in the first outbreak. Although they reopened on July 23, Macau's casinos are still subject to a 50% staff restriction along with limits to table games and slots.
traveler arrivals in the SAR fell to around 381,000 in June
These latest closures are just the tip of the iceberg in Macau. Ever since the beginning of the pandemic, the tourist-reliant gambling hub has struggled with travel restrictions to neighboring Chinese regions and Hong Kong. Monthly traveler arrivals in the SAR fell to around 381,000 in June this year as a result. Prior to COVID, they were regularly surpassing three million.
A steep slope
These factors, along with a decline in VIP business due to a crackdown on junket operators, have had a severe impact on Macau casino revenue figures. Gross gaming revenue (GGR) fell to MOP$2.47bn (US$306.7m) last month, down 62% from the prior year. That also marks the lowest monthly total since the height of the pandemic, with accumulated 2022 GGR down 46% year-on-year.
As a result of the closures, gaming industry expert Ben Lee told the Macau Daily Times he expects the lowest Macau GGR figures of all time for July. The managing partner of IGamiX Management and Consulting estimated a total between MOP$200m (US$24.8m) and MOP $300m (US$37.3m) for the month.
Las Vegas Sands is the only Macau casino licensee to have reported Q2 2022 revenue so far. The operator's net loss reached $290m for the three months to June 30, 2022, up significantly from the $192m recorded in 2021. Total revenue fell 57% year-on-year to $368m as the operator increased its reliance on its Singapore casino.
Predictably, Macau casino stocks have taken a similar path. Wynn Macau shares have dropped 18% for the year to date, SJM Holdings is down 35%, MGM China has fallen 6%, and Melco Resorts and Entertainment has tanked 47%. The nosedives aren't just reserved for casino stocks either. Hong Kong billionaire and Galaxy Entertainment owner Lui Che Wo's net worth has declined a staggering 28% since the start of the pandemic, according to Forbes Asia.
Overall, the outlook is bleak in the Chinese gambling hub.
Lights shining bright
Over in the US, the Las Vegas Strip is booming like never before. Its casinos are full of gamblers trying their luck as nearby airports work harder than ever to cope with the highest levels of travel ever seen in the region.
Las Vegas enjoyed its best June of all time
According to data released by the NGCB on Thursday, Nevada hit its 16th straight month of $1bn+ GGR in June. The state saw $1.28bn for the month, up 8% from the prior year and the fifth-best month in the state's history. Las Vegas enjoyed its best June of all time, generating $734.8m in gaming win, a 23% increase on 2021.
Truly, Nevada and Las Vegas have been on an upwards trajectory ever since the region eased all of its COVID-19 measures last year. The state broke its annual gaming revenue record in 2021 by racking up $13.4bn for the year. Now, it's just broken its fiscal year record with a total GGR of $14.63bn for the 12 months ending June.
Understandably, Las Vegas' casino operators are excited about the future, even despite rising inflation rates. Earlier this month, MGM Resorts International CEO Bill Hornbuckle shared his optimism with CNBC's Evolve Global Summit. While he said he expects rising prices to eventually impact the sector, "it hasn't yet." He also noted a growing number of younger gamblers as one reason for such considerable growth.
Swapping the crown
By taking such opposing stances on COVID-19, Macau and Las Vegas have set themselves apart. In Nevada's Clark County right now, where restrictions are almost a thing of the past, the daily average of coronavirus cases is 767. Meanwhile, Macau has amazingly only reported 789 cases since the beginning of the pandemic in February 2020.
In 2019, GGR in Macau was almost six times that of Las Vegas
While its stringent zero-COVID policy has allowed Macau to avoid a major outbreak of the virus, it has come at the cost of its gambling crown. In 2019, GGR in Macau was almost six times that of Las Vegas. Now, the US gambling hub has edged ahead of its Asian rival for the first time in more than a decade.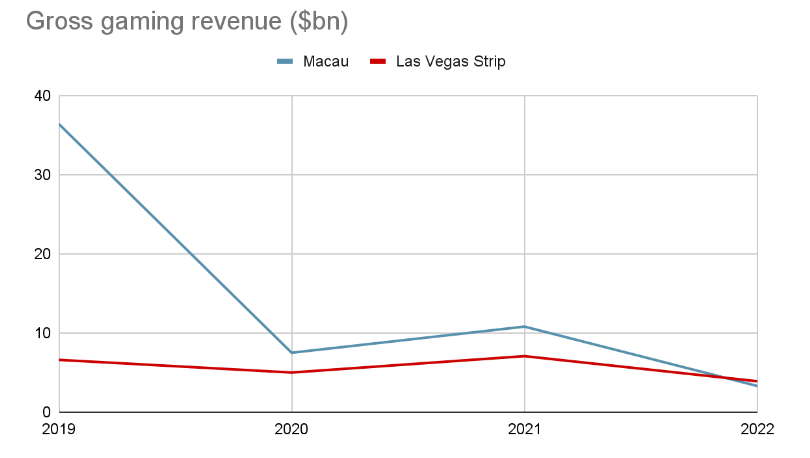 Vegas surpassed Macau for the first time in May, racking up $3.2bn for the year in contrast to the SAR's $2.9bn. With June's results, the US gambling hub has widened that gap even further. The Strip reported GGR of $3.9bn for the year to June 30, while Macau has generated just $3.3bn in the same time.
Whether or not this change will be permanent depends on how long Macau faces these challenges. It's also reliant on casino operators maintaining their faith in the market. In perhaps unfortunate timing, the bidding for new Macau casino licenses began on Friday this week. As licensees endure rising net losses with casinos still restricted, could they begin to look for an escape route from the struggling market?
Whatever happens, it's clear that there is a new king in town for the time being.