DraftKings picks its side
As the dust settles after thousands of people thronged the streets of US cities to protest the overturning of Roe v Wade, DraftKings has launched a reimbursement package to its US staff who the Supreme Court ruling might affect.
benefits plan to include up to $10,000 cover
Via a post on its LinkedIn page Sunday, DraftKings said it was expanding its employee benefits plan to include up to $10,000 cover for US staff and dependents affected by the anti-abortion ruling. The expanded benefits coverage will see DraftKings reimburse its staff's travel expenses and "all covered Medical and Behavioral services for which access is limited," either through unavailability of contracted providers or via legislative action introduced by certain states.
The Boston-headquartered sports betting and DFS giant said the package includes coverage for "abortion, gender affirmation, fertility, behavioral, or any other covered medical service."
Corporates back benefits
DraftKings joins other major US firms, including Disney and Meta, who have introduced new benefits policies in light of the Roe v Wade judgment. In its LinkedIn statement shared Sunday, DraftKings said it had also introduced an Employee Assistance Program for staff members who need someone to talk to: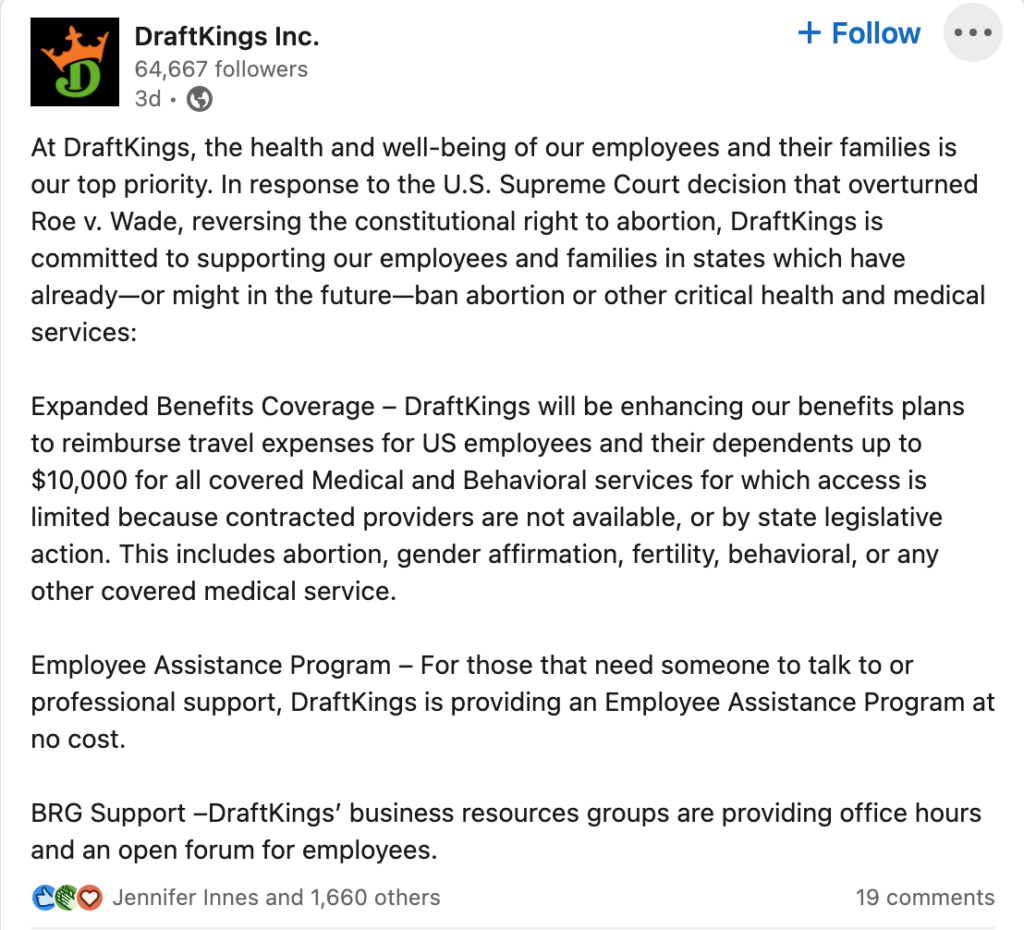 Friday's landmark US Supreme Court ruling overturned the constitutional guarantee of a right to abortion which has been in place since 1973.
One of the five Supreme Court justices who voted to overturn it, Justice Brett Kavanaugh, said in a concurring opinion that the decision "does not outlaw abortion throughout the United States." Instead, each state now has the legal right to ban abortion should they choose to do so. For example, Utah banned abortion on the same day the Supreme Court issued its verdict.
A polarizing judgment
Thousands of demonstrators took to the streets of Atlanta, Austin, Chicago, Los Angeles, New York, Seattle, and Washington DC on Sunday to protest the overturning of Roe v Wade. As the New York Times reported on Monday, the ruling "has unleashed a frenzy of activity on both sides of the abortion fight."
will at least give staff an option
The ruling overturning Roe v Wade is still just five days old, but the ramifications for those living in states like Utah could last indefinitely. DraftKings said its benefits will at least give staff an option "in states which have already — or might in the future — ban abortion or other critical health and medical services."