Leaving a void
When some of the world's household names in sports announce their retirements seemingly ahead of time, they leave a void fans and the media alike have trouble filling. From career-ending injuries to mental fatigue, when our favorite running back or tennis star calls it a day, we immediately look for other insights into what other causes there might be, presumably in the hope issues could get worked out and the athlete in question get back onto a playing surface.
sporting greats who have left the field of play early
VegasSlotsOnline News has sifted through the ranks of sporting greats who have left the field of play early to compile this blog on five of the youngest athletes to do so, ranging from football and soccer stars to legends of baseball and the Olympic Games.
We start with the sports world's most recent shock early retirement, that of Australian Ashleigh Barty, who stunned the world as the reigning Wimbledon and Australian Open tennis champion when she retired at the age of 25.
1. Ashleigh Barty, Tennis
Age Retired: 25
Tennis Retirement Average: 27
Retiring young as the top dog of a sport you fought so hard to dominate is bound to catch many off guard, especially when you're just 25 years of age at the time. Ashleigh Barty dropped her retirement bombshell in March via an interview shared on Instagram: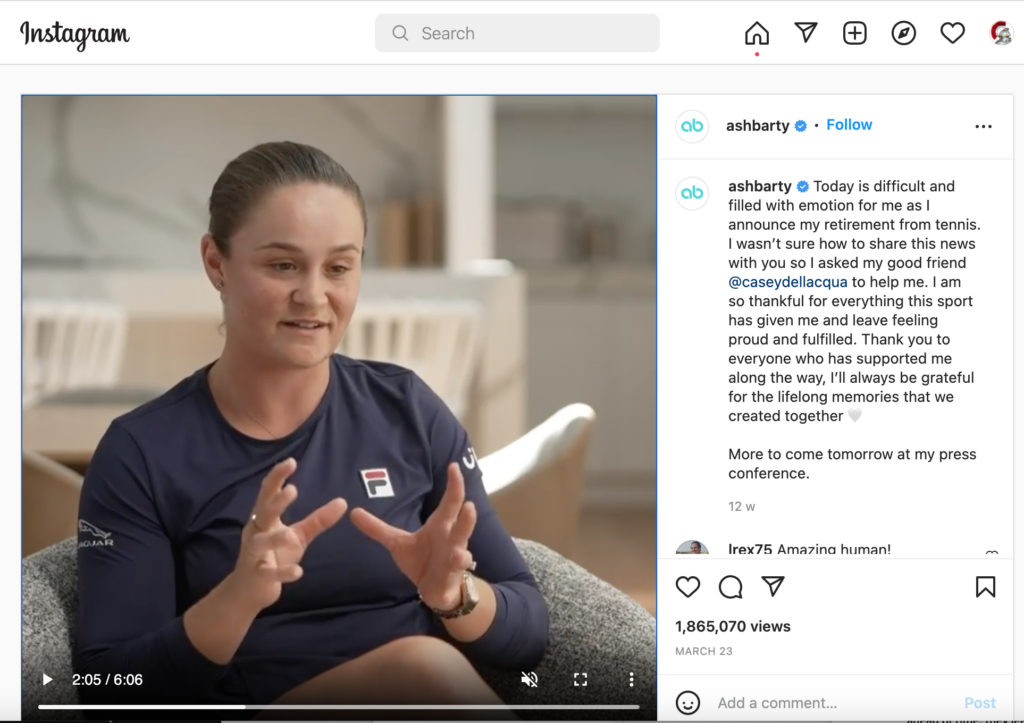 Barty was ditching the sport at the height of her powers. Departing as the reigning Australian Open and Wimbledon champion. Abdicating her crown as the Womans Tennis Association (WTA)'s world number one, an unbroken reign held since winning the 2019 French Open.
"I just know that I am absolutely – I am spent – I just know physically I have nothing more to give. And that to me is success. I have given absolutely everything I can to this beautiful sport of tennis," she explained
Bartey added that she lacked the physical motivation "emotional want and everything it takes" to push herself to stay top of the world.
One of the evolutionary forces at work in sport today is the increased emotional sensitivity to athletes' mental health — as evidenced by support for Simone Biles' withdrawal from the Tokyo Olympics and Naomi Osaka's stepping out of world tennis's limelight.
In admitting she had reached the limit of her tennis talents, Barty bowed out with both sporting humility and a healthy self-awareness of the toll professional sport takes on her emotional and physical state.
2. Bo Jackson, MLB & NFL
Age Retired: 28

Football Retirement Average: 27

Baseball Retirement Average: 30
Once upon a time in America there were high tops, Stephen King movies on VHS, and Bo Jackson. In the 1980s, Jackson's name was pretty much everywhere. The catchphrase of his TV commercials, "Bo Knows," was practically a colloquialism for US sports fans.
first person to be selected as an All-Star in both MLB and the NFL
Jackson retired at the age of 28 after a short-ish, but brutally industrial career filled with many firsts, such as the first person to be selected as an All-Star in both MLB and the NFL.
In his heyday, he hit 107 homers for the Kansas City Royals from 1986 to 1990 and was a part-time running back earning full-time money with the Los Angeles Raiders from 1987-90. In 1989, Jackson's monster home run in MLB All-Star Game helped the American League win and made him the All-Star Game MVP, as Baseball in Pics shared via Twitter:
For his Raiders career, he ran for 2,782 yards on 515 carries, and scored 18 combined touchdowns running and receiving. Jackson stands alone in NFL history for scoring two rushing touchdowns of 90 yards or more, the most memorable a 91-yarder against Seattle. Despite a brief comeback after hip replacement surgery following an injury playing the Bengals in 1991, Jackson's multi-starred professional sports career was over.
a rough way to go, but I had to accept the fact"
"God has his way of opening up our eyes to see reality," he said. "The way He opened my eyes is to allow me to have this hip injury. That is a rough way to go, but I had to accept the fact."
3. Norman Whiteside, Soccer
Age Retired: 26

Soccer Retirement Average: 35
To many Manchester United fans, Norman Whiteside sits in a place of honor beside Busby Babe Duncan Edwards as classy match-winners who, had the fates been different, could have enjoyed long and legendary careers.
As it was, Whiteside's career got off to an octane-fuelled start. As a 16-year-old apprentice in 1982, he became the youngest player since Edwards to take to a field in United colors. Man United.com states that breaking Edwards' record "helped to turn Whiteside into a cult hero among the Reds faithful." Not long after Whiteside's debut and a first team goal, he was picked to represent Northern Ireland at the 1982 World Cup Finals in Spain.
World Cup Rewind took to Twitter with a shot of Whiteside in action versus France at the tournament:
In an earlier match against Yugoslavia, the Irishman's international debut at age 17 years and 41 days broke Pele's record, making him the youngest player to compete in the World Cup. Whiteside was much more than just a gifted early developer, though. His goals in the finals of the FA Cup and League Cup capture the "something special" manager Ron Atkinson saw in Whiteside from the start.
mounting knee, Achilles, and hamstring injuries would bring the big fellow from Belfast down
After such a meteoric rise onto the world stage, nobody expected that mounting knee, Achilles, and hamstring injuries would bring the big fellow from Belfast down. After just six appearances for the Red Devils in 1988-89, Whiteside joined Everton. Just 29 games into his stint for the Merseysiders, Whiteside announced his retirement in 1991, aged 26.
4. Ian Thorpe, Swimming
Age Retired: 24

Swimmer Retirement Average: Late 20s-30
While Ian Thorpe's retirement at the age of 24 is not that uncommon among Olympic swimmers, what made it a shock was the Australian exiting a sport he'd come to dominate. Thorpe had taken a year off after winning two gold, one silver, and one bronze medal at the 2004 Olympics in Athens.
In Athens, Thorpe went up against Pieter van den Hoogenband and a new swimming star named Michael Phelps in the 200m freestyle showdown unofficially dubbed "The Race of the Century."
Abruptly, on November 2006, he announced his retirement. He remains Australia's most successful Olympic athlete to date with five golds. He broke 22 world records and also won ten gold medals at the Commonwealth Games. As it turns out, Thorpe was carrying a lot of emotional issues.
since admitted he regretted retiring so young
Thorpe has since admitted he regretted retiring so young, but did so because he "wasn't able to deal with the enormous amount of pressure." Standing 6-foot-4 and known as the "Thorpedo," Thorpe later revealed that he was gay in an interview with Sir Michael Parkinson and that he'd suffered from depression and alcohol and drug abuse.
5. Sandy Koufax, Baseball
Age Retired: 30

MLB Retirement Average: 30
Born on December 30, 1935 in Brooklyn, New York, Sandy Koufax got picked up early by scouts seeing him play college baseball. In 1954, Koufax inked a deal with the Brooklyn Dodgers in which he had to report to the MLB franchise for two years.
The rest is history, as this Tweet from the Dodgers proves:

Thrust into a professional baseball environment, Koufax struggled with control. Hall of Fame teammate Duke Snider said the left-handed pitcher as a rookie "couldn't throw a ball inside the batting cage." According to the National Baseball Hall of Fame, Koufax "used his raw talent to begin regularly throwing for the Dodgers in 1958."
The California air must have agreed with Koufax when the team moved to Los Angeles, as he pitched 12 seasons nine more seasons on the west coast. The six-time All-Star won five straight National League (NL) ERA titles from 1962-66 with the LA franchise and in three of those seasons, won the pitching triple crown (ERA, wins, and strikeouts). Koufax led the Dodgers to the NL pennant in 1963, 1965, and 1966, lifting the World Series trophy in 1963 and 1965.
Either he throws the fastest ball I've ever seen, or I'm going blind."
Koufax had a devastating curveball and one of the most overpowering fastballs of his era. "Either he throws the fastest ball I've ever seen, or I'm going blind," said Hall of Famer Richie Ashburn.
Traumatic arthritis in the elbow of his throwing arm, however, signaled the early end of Koufax's career. Nevertheless, Koufax became the youngest player (36) inducted to the Baseball Hall of Fame in 1972, and was dubbed "the greatest pitcher of his time in baseball" by writer Jimmy Cannon.