Back to cashing ways
I went into the UK and Ireland Poker Tour (UKIPT) in Dublin on something of a dry run live, having bricked the Norwegian Championships, the Irish Open, and the Dublin Poker festival. It was therefore something of a relief to final table the first small side event. In the end, I finished seventh and collected two bounties in addition to my first live cash in a couple of months.
another career second in the final side event
Although I had a near-cash experience in the main busting four from the money, I managed another cash and another seventh after a marathon bubble (more on that later) in the High Roller and ended with another final table and yet another career second in the final side event, another knockout.
My main memory from the main was a hand early on where I overbet the river. My English opponent gave me the full minute glare down before asking:
"How much have you left, mate?" To which I replied: "At my age, not long mate."
The marathon bubble
I came back to Day 2 of the final table, the shortest of nine, knowing cashing could be challenging as only seven were paid. Gary Thompson went early, leaving me and fellow shortie Niall "Firaldo" Farrell eyeing each other to see who could outlast who. The banter at least was good, with Firaldo joking that nobody cared about who won this tournament, it was all about who got the min-cash. He jibed me that he didn't care how far he had to blind down so long as he ruined my chances. There were several attempts to break the bubble but every time the shortie seemed to hit the river to stay alive.
a tablemate suggested the end was nigh for me
And so it dragged on. Eventually, Firaldo shoved in early position, I called in the cutoff with Jacks, and he rolled over A9 moaning he'd sometimes be ahead against some people but not me. An Ace on the turn completed the moan it in. As I looked down at my two remaining big blinds, a tablemate suggested the end was nigh for me. Firaldo, who had celebrated the suck out with an over the top exuberant 'get it up ye' celebration (all in good banter: even if it hadn't been, it's pretty much impossible for an Irishman to stay angry for long with a Scotsman, our Celtic soul brothers) replied:
"Don't you know who this is, mate? This is Dara O'Kearney. He's a genius with two big blinds. He could paint the Sistine chapel with two big blinds."
I referred to the bubble as a marathon with good reason. I ran my first actual marathon at the age of 23 and it took 4 hours and 24 minutes. 15 years later I ran my fastest ever marathon in 2 hours 44 minutes. This marathon fell somewhere between those two times but was no less arduous. Several times it looked like I was about to make it only for the shortie to again hit the river, and several times it looked like I was about to bubble. When it finally burst with Ivan Tononi getting coolered I had less than two big blinds and two hands before I was forced to put them in.
They did go in two hands later, marginally ahead pre-flop but not at the river. Overall, I was just incredibly relieved to have squeaked through the bubble. Had my Jacks held against Firaldo's A9 it would have been a very different tournament, but you have to play the situations you find yourself in rather than the ones you'd like to be in. My fellow short stack sufferer Firaldo managed to ladder all the way to third, while my good friends Jason Tompkins and David Docherty were fifth and fourth, respectively.
A bunny and a science writer walk into a bar
Festivals like these are a great way to catch up with old friends and make new ones. Poker Bunny played only one event but created quite the stir in the short time she was there, while it was a delight to finally meet science writer Alex O'Brien who I've known (via online interaction) since she rose to prominence in the poker world by winning the right to play Dan Bilzerian for 10k (a match he's cowered from and ducked ever since). In person, she's the least German German I've met, and a warm fun presence who seems to coast through life with the class the ladies in Ab Fab aspired to. Another lady who knows how to make an impression, Deborah Worley Roberts, did so literally on my hair when she ran her hands through it, much to the indignation of Mrs. Doke.
Also present was Greg, a BAFTA award-winning documentary maker currently making a feature about Firaldo (who bested his third in the high roller by only going and winning the main event). He was a good sport as the only Rangers supporter in the room when Firaldo and Docherty did a victory jig when ze Germans beat Rangers in the Europa League final. He interviewed me for the documentary on Sunday morning before I hopped into the last event.
the team from the elite end of the gene pool."
I've made a career out of coming second, but surely the most unlikely of them came in beer pong. We went into the bar purely to have a nightcap, but somehow got roped into entering Team Chip Race by the unrefusable Willie Eliot. David is gluten intolerant, making me the designated drinker on the team, which was far from ideal. However, we somehow coasted through the early rounds to find ourselves in the final against two ladies, a Canadian and a Romanian (the partner of my buddy Keith Touhey who I've written about here before, and an accomplished player in her own right who final tabled two side events at the festival). Firaldo, who had lost to them in an earlier round, informed us we were drawing dead against what he described as "the team from the elite end of the gene pool." And so it proved. We got some Stars goodies, nice photos, and a very kind compliment from the Canadian lady about my satellite book as consolation prizes while the ladies lifted the trophy.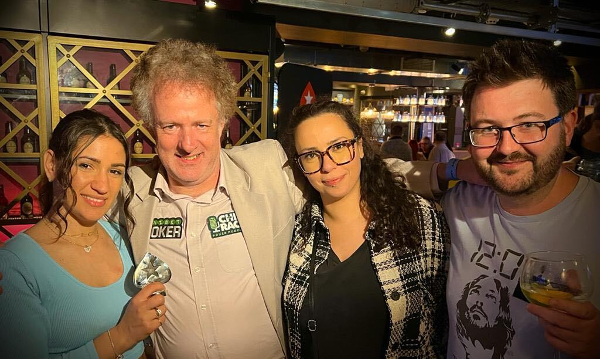 Another man delighted to lift a trophy was Fergal Nealon of Rapid Response Ukraine who crushed the karaoke with Willie Eliot in a truly incredible rendition of 'You Gotta Fight For Your Right To Party' by the Beastie Boys.
Final shoutouts to traveling companions Chris DaSilva and Leon Campbell. Chris was at several of my tables during the week. Apart from being a lovely guy, he is to my mind the most stylish man in poker. I'm pretty sure he could walk around in a bin bag and look cool. I'm also pretty sure you could make a reality show about him with no plot as such where he just walks around looking cool doing cool Chris DaSilva things. Leon, meanwhile, was crushing the Main Event. At the start of the final table, he bought a signed copy of Endgame Poker Strategy: The ICM Book. There was a certain inevitability when he then laddered to the position most associated with its author.
Another bloody second
When I made my third final table of the festival in the last side event, a knockout, as the shortest stack it was strangely reminiscent of the High Roller final table. I was again 9/9 with only eight paid and to the immediate right of Hong Kong's finest Chevan Tin, who I'd taken an instant liking to in the High Roller final table, and later when I played with him in the Main Event where he got hustled into a 'How Many Players' bet by sharp Sean Foley. We had great craic on the final table as we joked among ourselves about how nervous we were to be on such a huge final table. He later told the table his ambition was to get heads up with me.
When one of the players went on a protracted toilet break he joked it would be hilarious if he came back to find he'd laddered three spots. Instead, when he did come back he busted very next hand, at which point my neighbor turned to me and delivered the line of the tournament:
"He should have stayed in the toilet."
In the end, I got heads up with an impressive Spanish pro, after another cockroach performance laddering there:
I failed to overcome a fairly monumental chip deficit to notch up another second, the position most people associate with me. I actually have more wins than seconds on my resume, but as Spike Milligan once said, never let the facts get in the way of a good story.
The Irish word for second is, and I'm not joking: "Dara."