A multimillion-dollar win
Twitch streamer Trainwreck always reminds his followers that gambling is a sure-fire way to lose money in the long run. He speaks from experience after encountering more than his fair share of eye-watering losses in his time, but his latest win will have certainly eased the pain.
won the staggering amount while playing Might of Ra
The Texan has broken the world record for a non-jackpot win on online slots by bagging $22.5m in one spin. Trainwreck, real name Tyler Niknam, won the staggering amount while playing Might of Ra this Thursday:
Followers of the streamer watched the spin live on his Twitch channel Trainwreckstv. The clip now has more than 50,000 views in 20 hours, making it the fifth most viewed slots clip in the past 30 days. Trainwreck is responsible for 17 of the top 20 clips.
Keeping it real
To secure his record win, Niknam played the max bet of $1,000 on Might of Ra. He then secured the max win of 22,500x his stake by hitting a full screen of wilds.
The streamer took to Twitter afterward to express relief at finally getting some luck, adding one of his typical caveats regarding the dangers of gambling: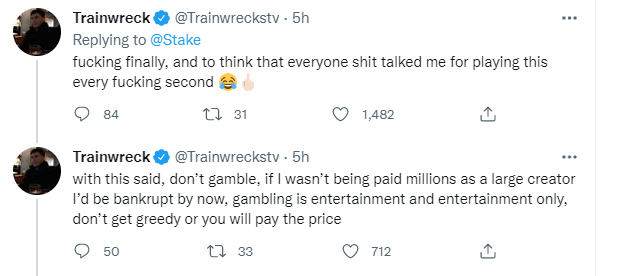 Niknam's openness regarding the substantial losses he incurs has placed him at odds with some other Twitch gamblers. He took aim at Swedish streamer Roshtein in a recent rant, claiming that he misleads his followers regarding his losses while making 'fake money' deals with gambling companies.
Despite their turbulent relationship, Roshtein commended Trainwreck on his big win. "That's a beautiful hit," the Twitch streamer commented while watching the spin on his stream. "It's just full max wilds. That's one of the greatest things I've seen."
Roshtein isn't exactly a stranger to huge wins himself. The gambler bagged $26m from two jackpots in the space of 12 hours last month. His second jackpot for $16.5m is still his largest to date.
Other slot records
Although Niknam's latest prize has taken the top spot for the largest non-jackpot win in online slot history, jackpots have also provided some multimillion-dollar paydays throughout the years.
bagged $23.4m playing Absolootly Mad Mega Moolah
The world record for the largest online slot win of all time went to an unnamed Belgian player just last year. He bagged $23.4m playing Absolootly Mad Mega Moolah by Micrograming. The gambler staked just $18.30 before hitting the huge jackpot.
In the world of land-based slot gaming, the world record amounts are larger still. In 2003, one lucky player from Los Angeles secured a $39.7m payday while playing at the Excalibur Casino in Las Vegas. He spent just $100 on the Megabucks slot machine before hitting the jackpot.