Enchanted forests, dingey restrooms, and classic board games all star in this edition of the best new online slots of the week. There's even enough space for some killer chickens. Who says we aren't eclectic?
Rainbow Gold is the latest release from Pragmatic Play and features all the leprechauns and bonus features you'd expect from an Irish-themed slot. You can also take a shot at winning a top multiplier worth 100x your stake if you strike it lucky.
Nolimit City returns with Punk Toilet. It's a love letter to the UK punk scene and its array of grimy bathrooms. If you're a fan of Nolimit City's hard-hitting recent releases, you'll love it.
We're off to the farm next with Nunchucks Chicken from Skywind. These mean warriors aren't afraid to face off against the foxes as they expand reels and trigger free spins galore.
Finally, we revisit a classic board game with Snakes and Ladders from Mplay. Pay your stakes, roll the dice, and try to climb the board, gathering multipliers as you go, but watch out for the snakeheads which can send you tumbling down!
Remember, you can try all our best new online slots of the week totally free right here. We have the greatest collection of fresh slot releases in town!
It's time to grab your pot of gold and your lucky four-leaf clover as we head into the woods in Rainbow Gold from Pragmatic Play. Watch that top tracker and unlock multipliers with an expanded game area!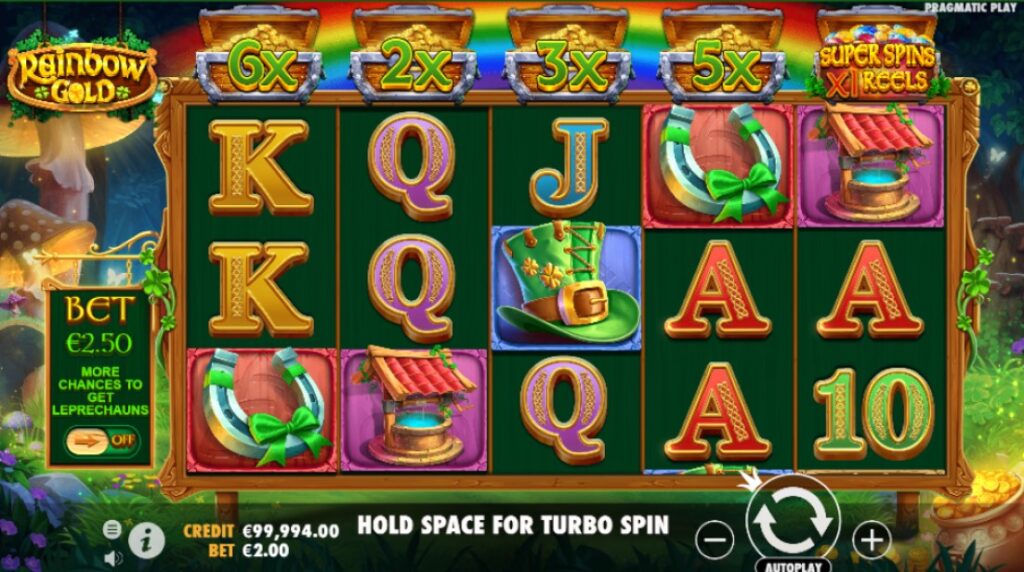 Let's start our look at the best new online slots of the week with another superb release from Pragmatic Play. The developer has been racking up the big new slots over the past 12 months and Rainbow Gold looks set to become a player favorite.
This is an Irish-themed slot with a top tracker that sits above the reels. A random prize appears above each reel, while the tracker shuffles one space left after each spin. You win the respective cash prize whenever a leprechaun appears on that reel. It's possible to win a cash amount worth 2x–100x your stake or win every prize if the 'All In View' icon shows.
You might also trigger the Super Spins feature. This is a free spins bonus with eight games awarded. You can also activate extra cash prizes if the leprechaun makes another appearance. Best of all, there is a special Rainbow Boost prize that unlocks more reel positions.
Rainbow Gold is certainly another high-volatility slot from Pragmatic Play. but there is a lot of potential if you trigger that top tracker. And as in a lot of Celtic-themed slots, the animation, graphics, and music are a joy. Play the game for free today and see what you think.
Can you brave Nolimit City's Punk Toilet slot and trigger the Glory Door or P!$$ free spins?!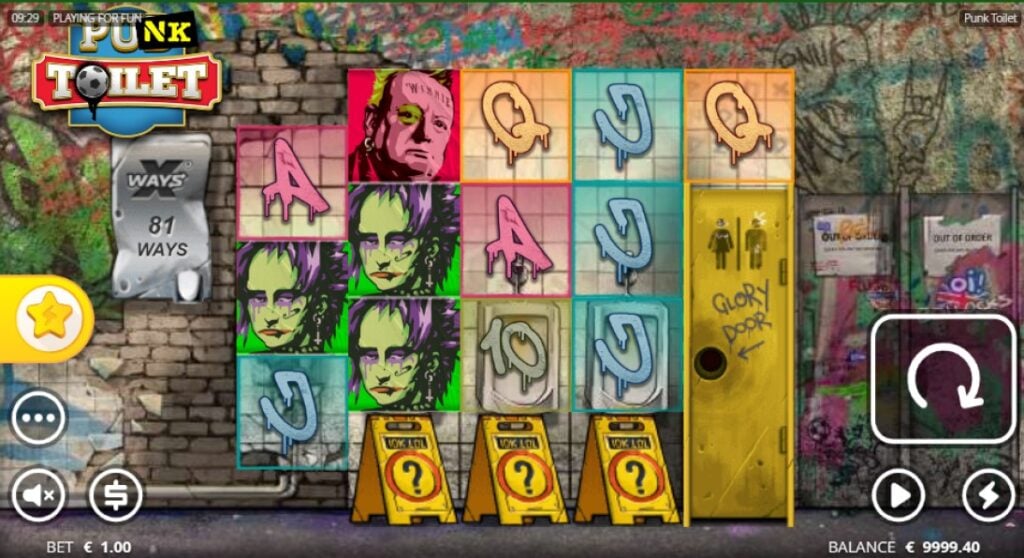 Nolimit City have been producing some edgy online slots over the past 12 months or so. Games such as San Quentin xWays and Mental aren't to everyone's tastes, however, and are certainly designed to shock.
Punk Toilet is definitely in the same vein. It's set in the restroom of a down 'n dirty British rock venue. Graffiti is everywhere and there are even a few interesting representations of Winston Churchill and Stephen Hawking.
The Glory Door symbol can appear on reel 5 to cover the three lower positions. The door will open up when the loo also appears on reel 5.
You'll now trigger one of two modifiers. The 'Haw-King' symbol will transform all character symbols to Haw-Kings when three appear on the reels at the same time. Alternatively, a special symbol and a character will appear at either end of the Glory Door.
This being a Nolimit City slot, you can also trigger the xWays feature. When this xWays symbol appears on the middle three reels it will reveal a random symbol or a wild. xWays symbols can cover anywhere from two to six positions at the same time.
There's just enough time to mention Punk Toilet's two free spins bonuses. During the 'P!$$ Free Spins' bonus the urinal doors remain open and unleash a large character symbol. You'll also upgrade a urinal multiplier for that reel. '$H!T Free Spins,' meanwhile, features the loo symbol which remains in place at all times. The Glory Door also stays open for the duration.
Punk Toilet certainly pushes the boundaries of taste, but there's bound to be an audience for it. Give it a play and see if it pushes your buttons.
There's a war happening in the farmyard in Skywind's Nunchucks Chicken. Get primed and ready for Ninja Respins with multipliers and the Shuriken Showdown bonus game!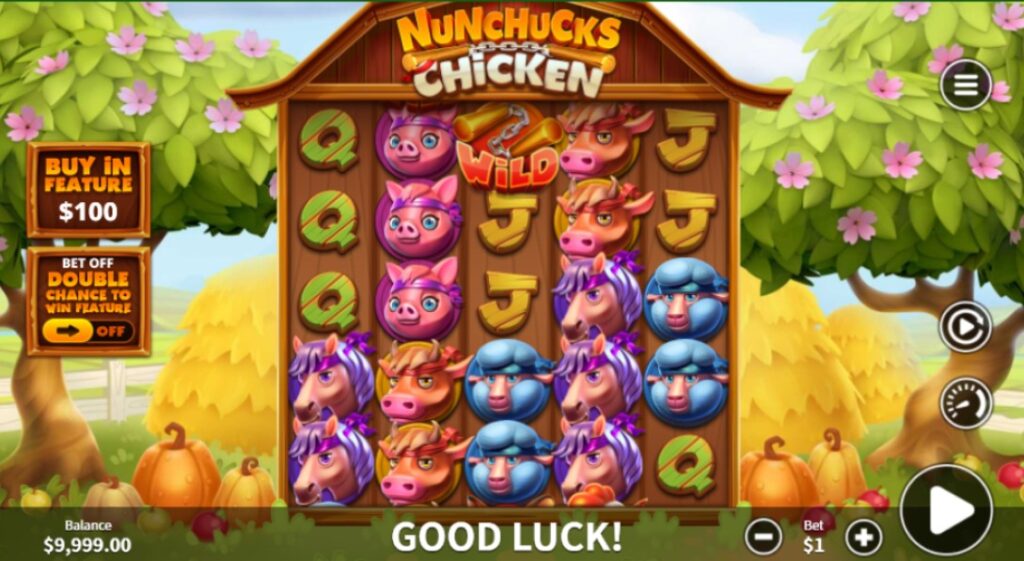 Don't ever say we don't bring you variety in our best new online slots of the week round-ups. From the grungy toilets of London to the farms of America with Skywind's new game, Nunchucks Chicken.
These mean cocks are armed and ready across a 5×5 reel setup. It's a brave fox who will take these birds on.
The Ninja Respin is the highlight of the game. You trigger the feature by hitting two scatters anywhere on reels 2–4. You start with a multiplier worth 2x to 50x, and this will increase by one or more every time there is no win. The reels respin until you hit a winning spin.
You can trigger the Shuriken Showdown bonus by landing three scatters on reels 2-4. You'll see a row of random symbols falling into a 6×6 grid on each spin. You can land cash value symbols or brown crates, which act as blanks. However, you can destroy crates with bombs and multipliers.
If that's not enough bonus action, Nunchucks Chicken also features wilds which can replace any paying symbol except the scatters. You can win a jackpot worth 1000x if you manage to hit five wilds on a single payline.
We've enjoyed some of Skywind's recent Megaways releases such as Big Buffalo Megaways, but Nunchucks Chicken offers something a little different. It certainly has one of the more interesting respin features we've seen in recent months. Why not give it a spin and see what you think?
Relive your childhood with the hot new Snakes & Ladders slot from Mplay Games. Roll the dice and progress around the board. Will you climb the ladders to slot success?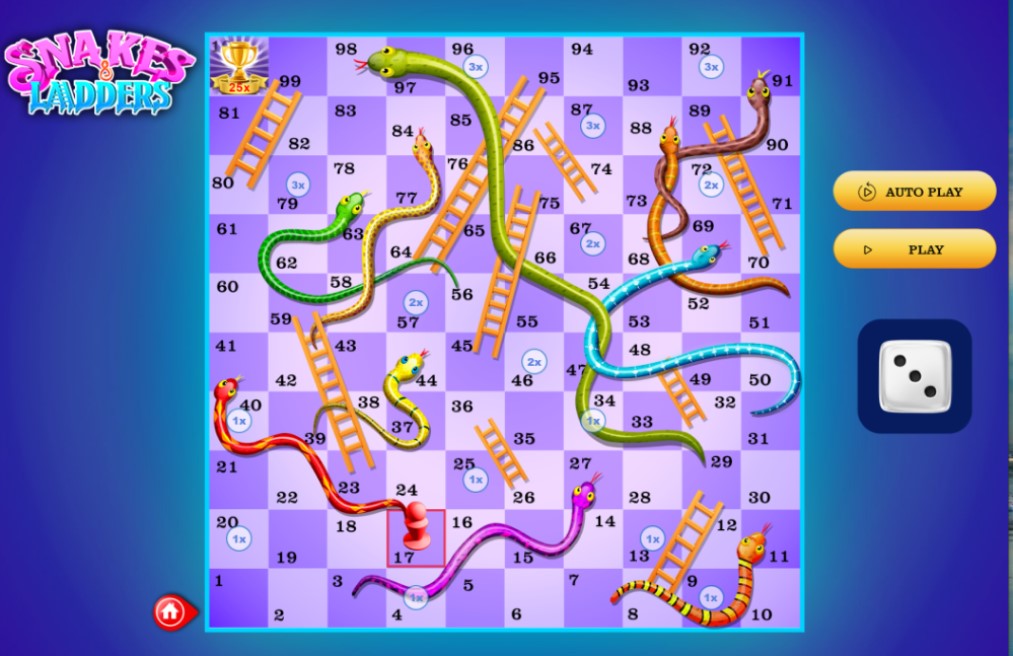 We don't feature a lot of board game-themed releases in the best new online slots of the week. Hopefully, Mplay's Snake & Ladders slot will change all that.
This new slot from the mobile casino pioneers is based around the classic children's board game. You begin by selecting your preferred color, then get to rolling those dice.
On each roll of the dice, you move your piece along the board. You can pick up prize multipliers or climb ladders to progress up a level. Multipliers range from 1x to 100x your stake. However, land on a snake's head and you'll be heading straight back down.
Snakes & Ladders is just the kind of online slot you'd expect from Mplay Games. It's bright and simple and really easy to play. There isn't a lot in the way of traditional "slots" action but you'll love it if you get a kick out of board games. Try it for free now.
And for more exciting games, make sure you visit our Free Slots page!