A failure to recapture the old magic
"It was long ago and it was far away,
And it was so much better than it is today."
AJ Benza recounted his favorite Meatloaf lyrics during this week's Season 9 premiere of High Stakes Poker, and those lines were disappointingly prescient as the viewing public were treated to a snooze-fest.
this soufflé just didn't rise
Filmed inside the PokerGO Studio in Las Vegas with stakes of $200-$400 up to $500-$1,000, the buildup to Season 9 promised nosebleed action featuring luminaries such as Doyle Brunson, Daniel Negreanu, Phil Ivey, Tom Dwan, and Patrik Antonius. They certainly sound like the right ingredients, but the sad truth is this soufflé just didn't rise. 
The early seasons of High Stakes Poker were very special and try as they might, PokerGO has failed to recapture the old magic. One hopes that future episodes have some snap, crackle, and pop, but last night was utterly tedious. The game was flaccid, the standard was poor, there was zero conflict, and the banter was beyond atrocious.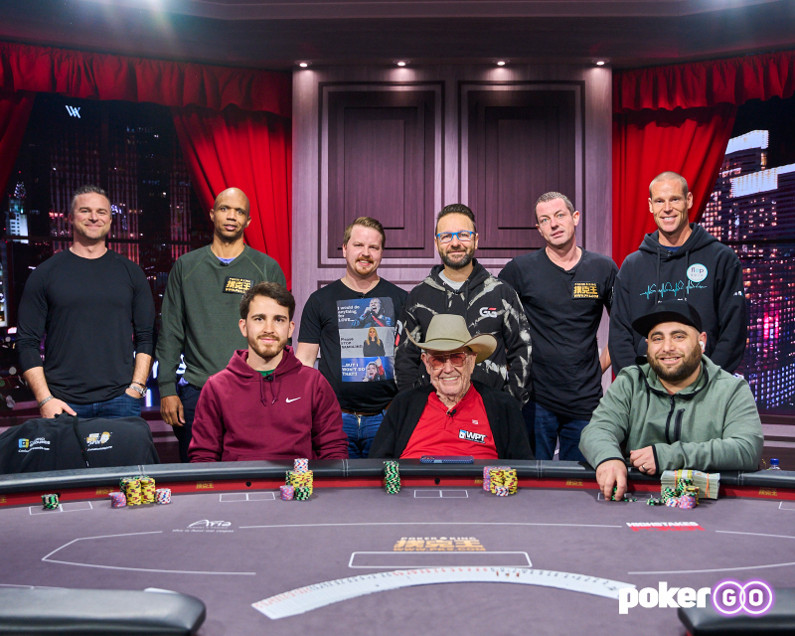 The one saving grace was a virtuoso performance by legendary commentator Gabe Kaplan. Hilarious and piercing, he was in top form from start to finish, and he needed to be to partially redeem proceedings. His analysis might be a little dated, as are some of his references, but that didn't stop him from saving the broadcast with his trademark pithy one-liners, funny impressions, and textbook use of his perfect foil AJ Benza, an always willing punchbag.  
Impossible to replicate the old-timey charm
There was plenty of anticipation as High Stakes Poker returned to the airwaves last night, but the entire thing was the dampest of damp squibs, a shadow of its former glory. There are a few reasons why this reboot doesn't work – not all the fault of PokerGO and its production team.
players were splashier and mostly playing over their heads
It is impossible to replicate the old-timey charm of the Game Show Network original. Poker was in a different place in its evolution then. We had never seen a cash game of that magnitude on TV before. The players were splashier and mostly playing over their heads. The sense of danger was palpable. There also seemed to be more genuine animosity in the room as players came in with grudges.
The hotel suite setting was perfect and I think it helped put the players at ease. There's just something about a studio setting that turns it into a TV show, a feature table, a sterile environment. The stakes are nothing we haven't seen countless times before and if you just removed the plants and slapped a Poker After Dark patch on the table, would you really know the difference?
Withered table talk 
Good television is about conflict. Poker hands provide a natural source, but the players need to bring something, too. I'm not for a moment saying that they owe it to the viewing public to loosen up or distract themselves by needling their opponents, but that was a feature of the original and it added to the excitement. 
Negreanu talked donkey chess
Last night, the table talk was especially withered. Dwan talked donkey epidemiology. Negreanu talked donkey chess. All the while, barring a cooler classic flip, barely a chip went into the pot. The producers obviously can't rig the deck, but they could have cut out 80% of this episode. 
Sure, it was nice to watch Doyle slap Antonius around and fair play to famed slots player Kim Hultman (look boss, after 100 articles I finally mentioned slots), who pulled the trigger on a nice bluff versus Antonius and for the most part held his own over the session. As a fan of Phil Ivey, I would pay to watch him fold and for my $14.99 monthly subscription to PokerGO, and that's precisely what I did. 
Welcome back, Kaplan
When Kaplan and Benza saw what they had to work with they must have thought: "uh oh, we're gonna have to work overtime to keep this train on the tracks." For lesser commentators, it would have been an unsalvageable spot, but this duo are TV veterans and Kaplan, in particular, knows poker. 
The players are talking about stuff of which they have no clue? Take the piss out of them. The action is slow? Needle them for being nits. There's a lull? Mention how Negreanu is going through his Bono phase. Then, when the entire episode turns into one big, long, lull, it's time to rip your commentary partner. Kaplan needed every trick in the book last night, but fortunately, he has them all. There was even a pretty good Doctor Fauci impression. 
With absolutely nothing to work with, Kaplan and Benza still somehow shined. Hopefully, some new blood and star power in the form of Jean-Robert Bellande and Jennifer Tilly might spice up future episodes.
The nagging feeling remains, though, that this show jumped the shark back in 2011 and that this reboot is only tarnishing a once great thing.