Biggest-ever online poker pot
Crypto poker site CoinPoker has seen a rising tide of eye-watering high-roller action in recent weeks. Now, a staggering online pot of $7,750,652 won by Antanas "Tony G" Guoga over the weekend has just burst the levee wide open.
the largest online poker pot of all time
Tony G and another online player going by the moniker "HannibalGetya" made history on Saturday with the largest online poker pot of all time. They amassed the substantial pot while playing Pot Limit Omaha (PLO) on CoinPoker.
PLO player Dolph Norris took to Twitter with a video of Tony G's record-breaking win:
Saturday's big stakes action played out in a three-handed $5,000/$10,000 PLO game. The platform has captured the attention of the online poker world in recent weeks, especially after Tony G and King's Resort owner Leon Tsoukernik recently played for a then record-setting $1.8m pot in January.
Crypto poker shattering records
Saturday's record-breaking pot wasn't exactly a surprise. CoinPoker has seen multiple $2m pots and six-figure flips in recent days and weeks. High-profile poker stars such as Russia's Timofey Kuznetsov and Hungary's Laszlo Bujtas have added extra spice to the platform, with thousands tuning in to watch their high-roller action on the virtual felt.
CoinPoker differs from traditional online poker sites because it allows players to make payments in Bitcoin and Ethereum.
The action that really made the world first sit up and take notice, however, was the pot shared between Tony G and Tsoukernik on January 20. This near $2m pot broke a decade-old record set in 2009 by Sweden's Viktor "Isildur1" Blom and Finland's Patrik Antonius. The Finn bagged a $1.3m pot on Full Tilt Poker's $500/$1,000 PLO.
Now, Tony G's latest pot has broken that record once more. The Lithuanian ultimately secured the multimillion-dollar win with a straight: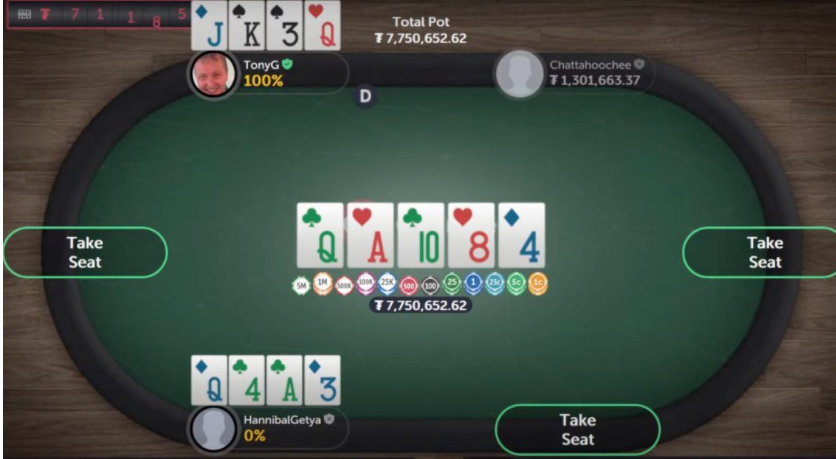 Poker's new frontier
Poker player Tony G is a longtime advocate of cryptocurrencies in the iGaming industry. The CoinPoker high-roller talked up Bitcoin while a member of the European Parliament, having also founded CryptoNews.com and established a blockchain center in his native Lithuania.
a number of rivals in the crypto poker space
CoinPoker may be stealing the headlines, but it has a number of rivals in the crypto poker space, such as the Phil Ivey-promoted Virtue Poker, which launched in May with a celebrity tournament. Another site, PokerFi, even adds its own non-fungible token mint and Metaverse virtual real estate sales to its crypto poker games offering.
While many voices in the industry have criticized crypto poker sites for their lack of action, the $7.7m pot means online poker's biggest bankrolls are making a beeline for sites like CoinPoker.