Officers arrest 42
Police in Thailand have seized tables, card sets, and gambling chips worth around ฿500m (US$15m) and arrested 42 people after a raid on a hotel room in Pattaya, The Thaiger reports.
Officers also seized firearms from the dealers during the Tuesday raid which took place at about 8:30pm.
The Pattaya News posted images from the raid on the four-star Le Vernissage Hotel in northern Pattaya on Facebook.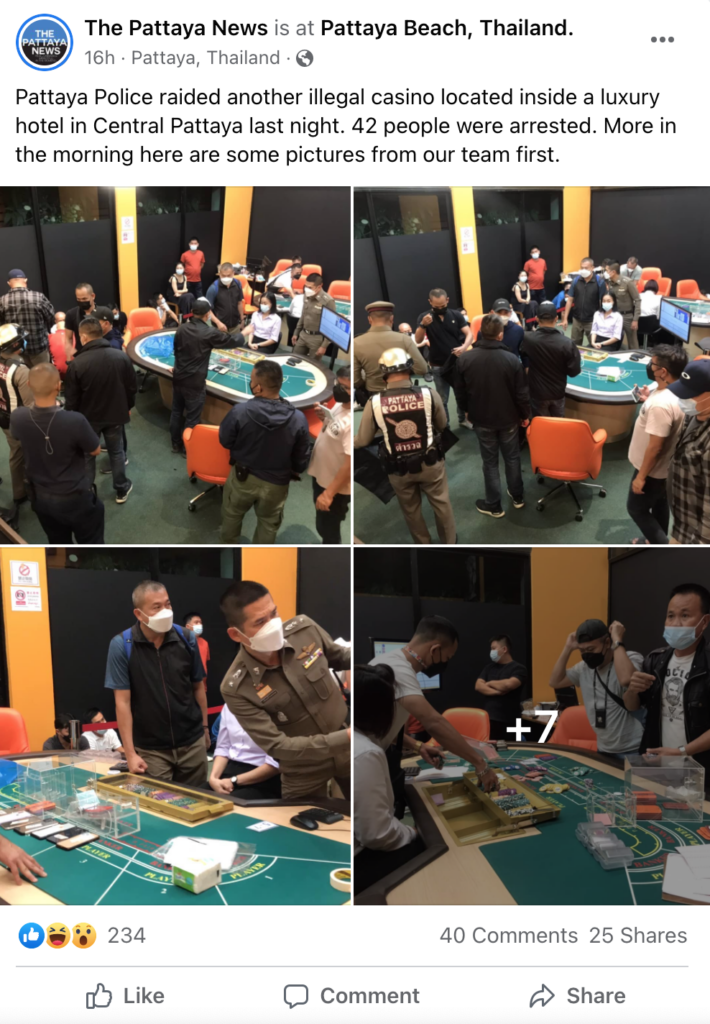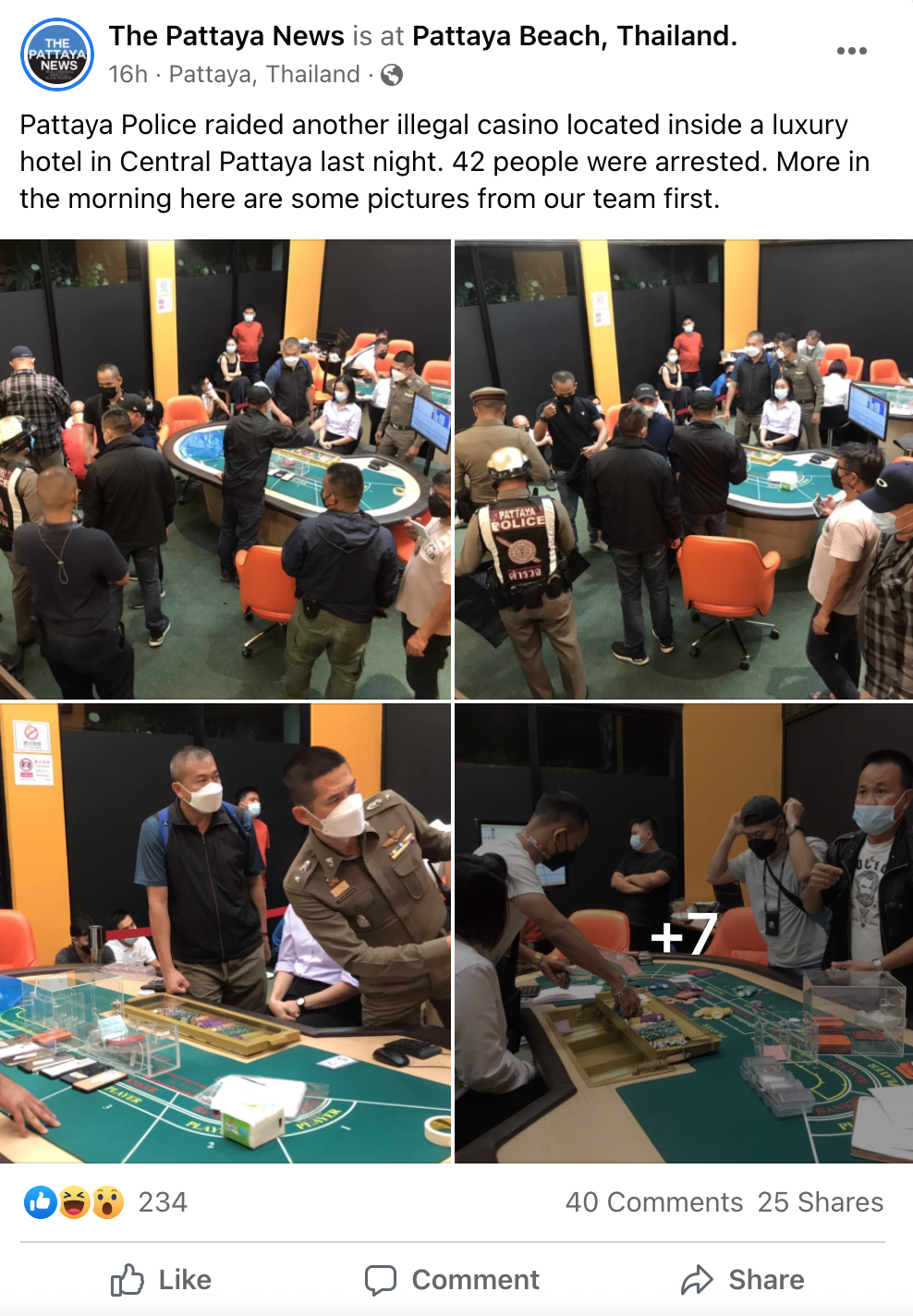 The 42 people detained now face charges for gambling, which is illegal under Thai law. According to Pattaya City Police Chief Colonel Kunlachart Kunlachai, officers acted on a court warrant and discovered dozens of gamblers playing baccarat. Media reports suggest none of the gamblers were wearing face masks. Police also seized surveillance cameras in the room, which they will study for further evidence.
Pattaya police on a roll
The raid on Le Vernissage comes just days after another bust on an illegal gambling den at a luxury condominium, also in Pattaya. The Christmas Day raid, which resulted in 18 arrests, was once again a Pattaya police operation led by Colonel Kunlachart.
the sums generated in the illegal den came to millions of baht
Officers arrested 14 women and four men and seized a variety of gambling paraphernalia. Among those detained, three were staff members of the casino den. According to Gambling Insider, Kunlachart estimated the sums generated in the illegal den came to millions of baht.
GI cites Thai police as saying the den's employees each received 500 baht ($15) per day, while gamblers had to pony up 1,000 baht ($29.83) each in entry fees in order to take part in the gambling. The cost of each gambling session varied according to what game was played and the amount wagered.
The investigation is ongoing with police looking for leads as to the actual owner of the illegal operation. Authorities did not name the luxury condo in light of further investigations and court proceeedings.
Fears and hopes
The fact that the 42 people arrested in the Le Vernissage raid were not wearing masks reveals how seriously Thai law enforcement is taking the mandatory order for face coverings to be worn in all indoor and outdoor public areas.
Thai officials believe illegal gambling dens contribute to the spread of COVID-19, with infections in Rayong and Chonburi leading to many businesses shuttering in 2020.
In January 2021, the chair of the main government panel on illegal gambling, Chanchao Chaiyanukij, formed three new subcommittees tasked with tackling the illicit gambling operations. Also in January, Thailand's Prime Minister Prayut Chan-o-cha stated he was ready to consider a legal gambling market for the southeast Asian country.
Across the South China Sea in July, Philippine President Rodrigo Duterte did a startling about-face in his historic stance on gambling, proclaiming: "Go ahead and gamble."