Employees have gone public
Three ex-Rain Rock Casino employees have gone public with allegations of serial sexual harassment against a man working for the California outfit. They decided to take the information public after the casino announced it was recruiting more staff for server roles.
According to a KTVL report from last week, former servers at the Karuk Tribe-owned casino in Yreka — Adohra Solomon, Jada Smith, and Madison Castro — allege management has not taken effective enough action against repeated harassment.
asking staff out on dates, slipping notes into their aprons
The allegations against a current male employee include asking staff out on dates, slipping notes into their aprons, poking them, and offering them candy bars and energy drinks.
Gwen Rose, who applied for an open server role at the casino in November, asked general manager Mike Rose about the man in question, KTVL reports. According to Rose, the manager knew who the individual was and said they'd made changes behind the scenes.
The former server, however, confirmed the general manager refuted her allegations, telling her that "a lot of the claims come from girls around your age and girls your age just like to start drama."
'Truly disgusting'
Former Rain Rock waitress Adohra Solomon claims she found herself at the receiving end of the man's unwanted advances on multiple occasions. After one of Solomon's co-workers said the man had also harassed her, she reported the issue to a manager who supposedly spoke to the man. Solomon noted this was the first time she'd seen him given a warning.
going up behind two girls and pretending to smack their butts"
According to Solomon, the harassment continued despite the warning. "Another incident happened where a customer saw him going up behind two girls and pretending to smack their butts," the ex-server said. After the customer reported the incident, management suspended the alleged pest for two days. On his return, the casino reassigned the man.
Solomon quit her job in July 2021 noting the inaction of the casino as a reason for her departure. "I was not okay with that being the only punishment he got after it had gone on for months," she said.
After the casino advertised for vacant server roles earlier this month on Facebook, Solomon took her grievances public: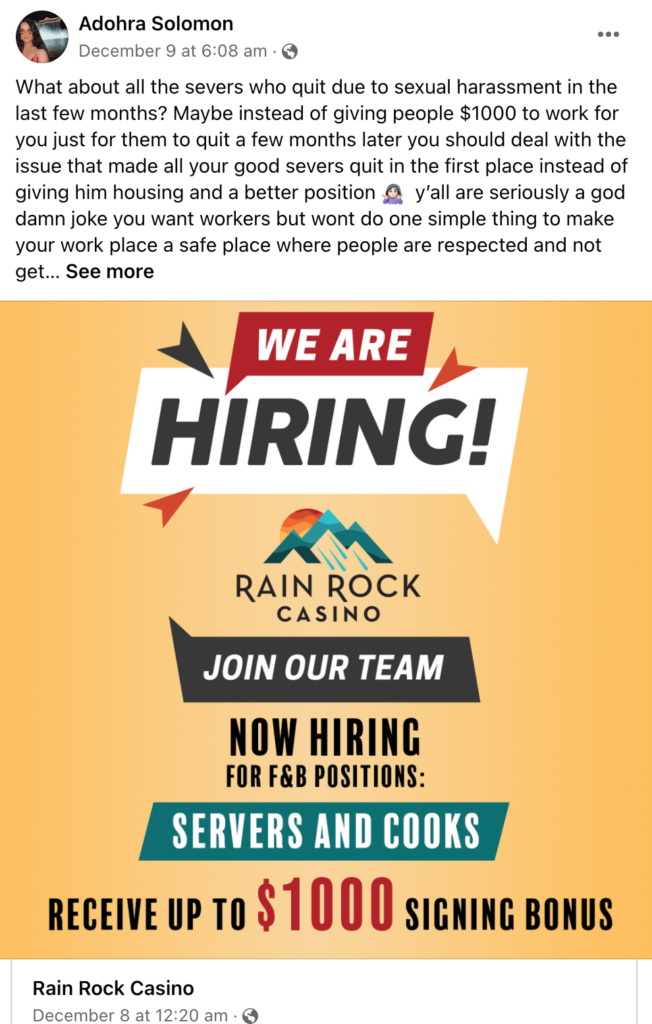 Younger female staff wary
Solomon is not the only ex-server going public. Jada Smith, who left her job at the casino's restaurant in October, confirmed that the behavior continued. Smith said many younger female staff asked her to report the man on their behalf, as they were wary of approaching their supervisors.
"It's scary trying to go up to them when you don't know if you're going to get shut down because girls don't speak up about (expletive) like this," Smith said.
According to media reports, the casino's general manager declined to comment on the matter on camera. Rain Rock's HR department, however, issued a statement, saying it "promptly investigated" the allegations when they emerged in June.