Couldn't resist temptation
Police have hit William Brisco, 37, with a variety of charges including felony drug possession after he left four kids in his vehicle to gamble at the Casino at Delaware Park in Wilmington, Delaware.
Delaware State Police on Sunday shared news of Brisco's arrest via Facebook: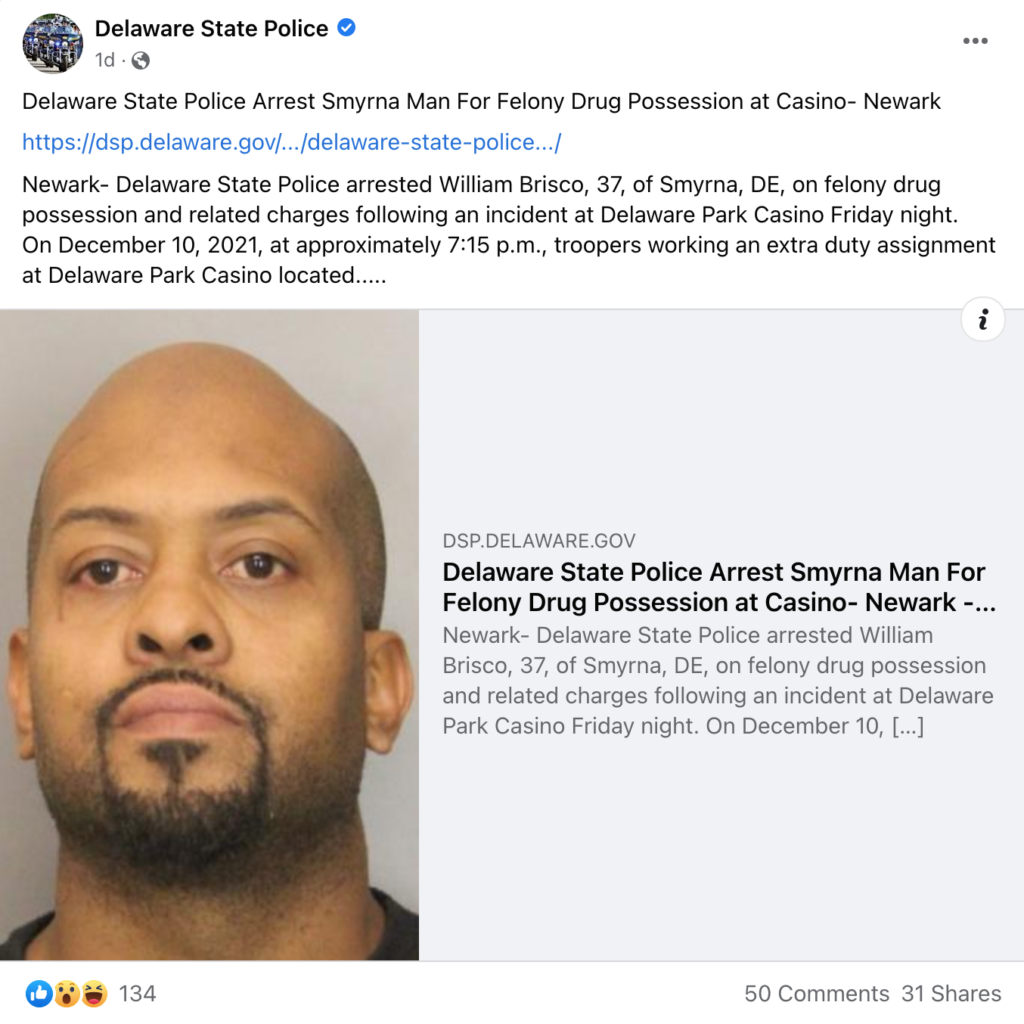 According to the state police, troopers on an extra duty assignment at the Delaware casino responded at about 7:15pm to the parking lot for illegally parked vehicles. They then discovered Brisco's red Chevy Trailblazer with its engine running and four children aged four, seven, nine, and 12 unaccompanied inside the vehicle.
The investigation found out that the suspect from Smyrna, Delaware had abandoned the kids in the SUV while he placed a wager in the casino.
Hit with a multiple charges
According to the Delaware State Police website, troopers were waiting for Brisco when he returned to his vehicle. One officer spotted a large bag of "suspected cocaine protruding from the jacket sleeve of the suspect." The trooper seized the drugs and Brisco ran off. The pursuing officers eventually found the suspect hiding behind trees on the casino property.
$390 of suspected drug proceeds in his possession"
After his arrest, the officers found a digital scale and "$390 of suspected drug proceeds in his possession."
Officers took the suspect to Delaware State Police Troop 2 where he was charged with possession of a controlled substance "Tier 3 Quantity (Felony)."
Brisco's other charges included four counts of endangering the welfare of a child, resisting arrest, unattended motor vehicle, and possession of drug paraphernalia.
Trailblazing casino
One June 5, 2018, Delaware became one of the first states in the US outside of Nevada to launch legal sports betting. Along with the casino in Wilmington where Brisco placed a wager, the only other two casinos to launch sports betting in 2018 were Dover Downs, and Harrington Raceway & Casino. On their first day of sports betting, the trio of casinos generated $322,135 in wagers.
In addition to a sportsbook with tellers and self-serve machines, the Casino at Delaware Park includes a thoroughbred horse racing track, over 2,000 slot machines, 40 table games, and a poker room.
Brisco might already have returned to gamble at the Wilmington casino. He is out of custody after posting a $7,050 unsecured bond following his arraignment in the Justice of the Peace Court #11.