Konnikova's ode to poker
Maria Konnikova has a PhD in psychology. She is the author of three best selling books. She is a poker champion. Last year, she published The Biggest Bluff, her ode to poker and to the time she has spent in its labyrinthine corridors. It is part thesis, part memoir, living in the lush overlap between philosophy and psychology yet still grounded in real life.
the game also becomes the lens through which reality is viewed
In The Biggest Bluff, Konnikova chronicles her personal odyssey in poker right after the most challenging year of her life. The game also becomes the lens through which reality is viewed, a way to scrutinize her own psychological reactions to good and bad luck, to explore her own decision-making and to interrogate the interplay of chance and control.
The Biggest Bluff was a smash hit when it was released in June 2020. On June 8, 2021, the book will be having its paperback launch and to celebrate, Konnikova is sitting down with FiveThirtyEight's Nate Silver for what is sure to be a fantastic conversation.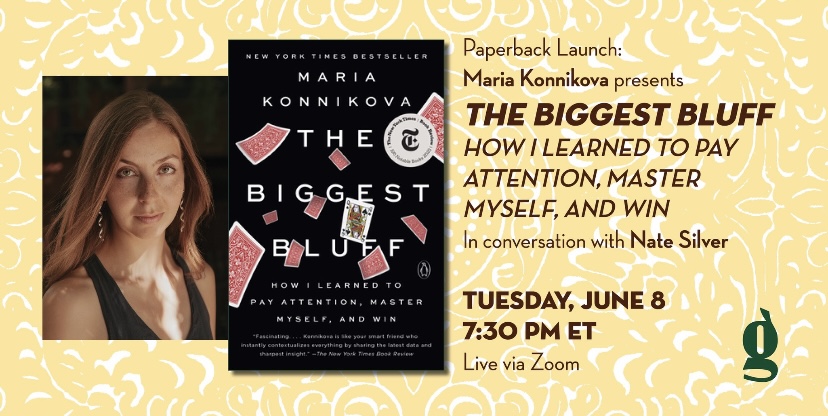 Maria and the Minotaur
The subtitle to The Biggest Bluff is "How I learned to pay attention, master myself, and win." The journey described is as much inward as it is outward. If poker is a labyrinth, then Konnikova is cast as a modern-day Theseus, wandering its halls in an effort to slay the Minotaur, to conquer her old worldview.
In his review for The Washington Post, Wray Herbert describes The Biggest Bluff as Konnikova's attempt to uncover the motivations of someone with no poker experience to "drop everything else in her life to take on such a quixotic pursuit." In other words, it is a book about both the journey and the underpinnings of that journey.
Describing Konnikova as a "fretful neophyte," Herbert says that she "not only masters the intricacies of Texas Hold'em but also gains some profound insights about herself."
Those insights include an appreciation of and a pride in her being a member of the poker community. In the latest episode of The Lock-In, Konnikova said: "I am thrilled when people identify me as a poker player and I never tire of explaining to people why that's a very very good thing… The world would be a better place if there were more poker players."
Erik Seidel as Ariadne?
If poker is the Labyrinth, Maria is Theseus, and mastering herself is slaying the Minotaur, then who, pray tell, is Ariadne?
Konnikova was inspired by the work of the Hungarian-American mathematician, physicist, computer scientist, engineer, and polymath John von Neumann, the father of game theory, whose foundational ideas were themselves inspired by poker. In Von Neumann, Konnikova had a companion in the idea that poker reflected real life.
In Friedrich Nietzsche's Thus Spake Zarathustra, another story about overcoming and mastering oneself, the eponymous hero has a revelation after his encounter with the Tightrope Walker. He says: "A light has dawned for me: I need companions, living ones, not dead companions and corpses which I carry with me wherever I wish. But I need living companions who follow me because they want to follow themselves— and who want to go where I want to go."
Konnikova had a similar revelation as she realized that she needed a living companion, having set herself the improbable goal of competing in the World Series of Poker. To that end she found poker legend Erik Seidel, who agreed to tutor her, but forced her to work her way up from the bottom. In Seidel, she found the man who would give her the sword to fight the Minotaur and the ball of thread so that she could emerge from the Labyrinth afterwards.
Readers see themselves in the book
Konnikova spoke exclusively to VegasSlotsOnline News, sharing with us the most surprising but consistent piece of feedback that she has received on the book thus far. She said that many people who have never played a single game of poker "saw parallels with their own careers and professions in my story," adding: "I've lost count of how many times someone has said, 'next, you should really write about [fill in the blank with their career]. It was quite gratifying to see how universal the themes seemed to be."
Konnikova allows us to live vicariously through her adventure
In The Biggest Bluff, Konnikova allows us to live vicariously through her adventure, to plumb the depths of the luck/skill dichotomy and to ultimately share in her big win. Next Sunday, she will no doubt provide even more insight as she sits down with statistician, writer, and avid poker player Nate Silver.
This is an interview to which Konnikova is very much looking forward.
"Nate and I have complementary approaches to poker, but his is more mathematical, if I had to point to a difference," she said. There are other differences too.
"He came up in the pre-Black Friday era so I'm guessing we will have a lot to talk about in terms of the evolution of the game and how to think about risk more broadly."
In her exquisite book The King Must Die, Mary Renault retold the myth of Theseus, conjuring a very real protagonist at the center of the drama, capturing the essential elements of the myth while removing the more fantastical elements, such as monsters and the appearances of gods. Renault tells us "[m]en would be as gods, if they had foreknowledge."
In The Biggest Bluff, Konnikova teaches us that without foreknowledge, with limitations to what we can control and with an acceptance of those realities, the risk, danger, and ultimate folly of the human condition can not only be recognized; it can be celebrated.
Konnikova's previous books Mastermind: How to think like Sherlock Holmes and The Confidence Game: Why We Fall For it are both available from Viking Press. Her latest book, The Biggest Bluff: How I learned to pay attention, master myself, and win is available in hardback and will be available in paperback on June 8.