Betting fever grips the US
To say that sports betting has taken the US by storm may well be an understatement. Since the Professional and Amateur Sports Protection Act (PASPA) repeal in May 2018, 21 states have introduced sports wagering, and this number is steadily on the rise. At the time of this writing, six additional states are preparing their markets for launch, while lawmakers in 14 states are currently considering active legislation.
The effect of this expansion is clear when looking at total sports betting handle across the US. It surpassed $21bn last year, and substantial growth is already evident in 2021. According to figures from the American Gaming Association (AGA), the nation's bettors wagered more than $4bn for the first time in January this year. Thanks in part to March Madness, that total reached a staggering $4.6bn two months later.
the nation's bettors wagered more than $4bn for the first time in January
Sports betting has become so integral to the US gaming industry that AGA president and CEO Bill Miller has described the vertical as "essential" for post-pandemic recovery. Its part in that process is already evident. Q1 gaming revenue surpassed $11bn this year, matching the highest-grossing quarter ever. Sports betting contributed $961.1m, up 451% from 2019.
In 2018, Ibis World predicted that the US sports betting market would one day generate $55bn in annual handle. Although the market has not yet reached that maturity, certain states have already demonstrated that they will play a significant role in that future.
With this in mind, VegasSlotsOnline News looked at which states are currently home to the biggest bettors.
The research methodology
To estimate the average monthly spend of bettors in each state, VegasSlotsOnline News utilized total handle data from each jurisdiction since the repeal of PASPA. Dividing this by the number of active sports betting months – excluding any dormant periods throughout the pandemic and up to the most recently reported month in March – generated the average monthly handle.
To determine the total number of bettors, VegasSlotsOnline News took the sum of "core" and "casual" US betting consumers from each state's adult population, based on AGA research and 2019 census data. That total was amended according to the relative popularity of sports betting per state indicated by Google Trends. Dividing the average monthly handle by the estimated number of sports bettors then confirmed the average monthly spend bet bettor in each state.
So, who takes the top spot?
It may come as no surprise that the US gambling capital, Nevada, leads the way in post-PASPA sports betting. After all, the state has had a 70-year head start to build up a customer base since it legalized the activity in 1949. According to VegasSlotsOnline News research, the average monthly spend per Nevadan bettor currently totals $434.40. That's more than double its closest rival, New Jersey, at $216.18.
In the battle between Nevada and New Jersey bettors, however, tourist gamblers must also be factored in. Undoubtedly one could, in part, attribute the former's current dominance in sports betting to its international notoriety as a gambling destination. In just 2020, for example, Las Vegas recorded 19 million visitors amid the COVID-19 outbreak. That figure was down from a staggering 42 million in 2019.
average monthly spend of $159.71 for Coloradans, only 35% lower than New Jersey's significantly more mature market
The other top-ranking markets have not been around as long, but they are already showing very promising signs in the early stages of their development. Despite the Colorado market only launching in May last year, for example, sports bettors in the state have wagered $2.08bn. That already corresponds to an average monthly spend of $159.71 for Coloradans, only 35% lower than New Jersey's significantly more mature market.
Virginia and Tennessee represent the final two states in VegasSlotsOnline News' top five list, with sports betting active for three months and five months, respectively. Thanks to a strong launch in January this year, Virginia bettors have averaged $129.63 per month – 14% higher than Tennesseans at $113.31. While Tennessee's total might be five times lower than that of Nevada, both of these last two markets are still in their infancy, and the future certainly looks bright.
1. Nevada
Average monthly spend per bettor: $434.30
Total handle: $14.52bn
Approximate number of bettors: 1 million
Months of active sports betting to March 2021: 33
Because of its long history, Nevada sports betting exemplifies the vertical's post-PASPA success, with sportsbooks breaking multiple in-state records since the law's repeal. Handle hit $659.9m in October last year, representing the highest-ever monthly total. This year, Nevada sportsbooks have generated more than $640m in two out of the three reported months, with basketball alone accounting for $501.5m bets in March.
Las Vegas specifically and Nevada in general will always be the home of the US gambling industry."
Stephen A. Crystal, head of Betfred Sports US and Canada development, spoke with VegasSlotsOnline News this week to give his reaction to our team's research. He was far from surprised that Nevadan bettors wager the most. "Nevada's betting culture, as the world's premier gambling destination for decades, has cemented its role as the leader in betting and gambling in general," the exec commented. "Las Vegas specifically and Nevada in general will always be the home of the US gambling industry," Crystal added.
For Nevadan casino operators, the success story of sports betting is certainly not going unnoticed. A number of Las Vegas gambling giants have increased their investment in the market considerably over the past two years. Most notably, Caesars Entertainment completed its acquisition of sportsbook operator William Hill in a deal worth around $4bn last month.
Whether Nevada will remain at the top spot for average spend is another story, with new sports betting markets across the nation increasing monthly handle at a rapid pace. Virginia betting generated a staggering $304m in just its third month, for instance. But, as Crystal says, the bright lights of Las Vegas will always provide "a unique entertainment experience."
2. New Jersey
Average monthly spend per bettor: $216.18
Total handle: $14.4bn
Approximate number of bettors: 2 million
Months of active sports betting to March 2021: 33
Since its launch in June 2018, New Jersey sports betting has put Nevada's accumulative handle title in jeopardy. Its monthly total surpassed Nevada's for the first time in February 2019, and then every single month in 2020. As a result, New Jersey took in $6bn in sports wagers last year, dwarfing Nevada's $4.3bn total.
In part, one can attribute this rapid growth to the performance of New Jersey's online segment. Mobile wagering accounted for 60% of Nevada betting handle in March this year, totaling $385.1m. While that might be an increase of 333% year-on-year, it is still a far cry from New Jersey's total of $780.1m, representing over 90% of all bets.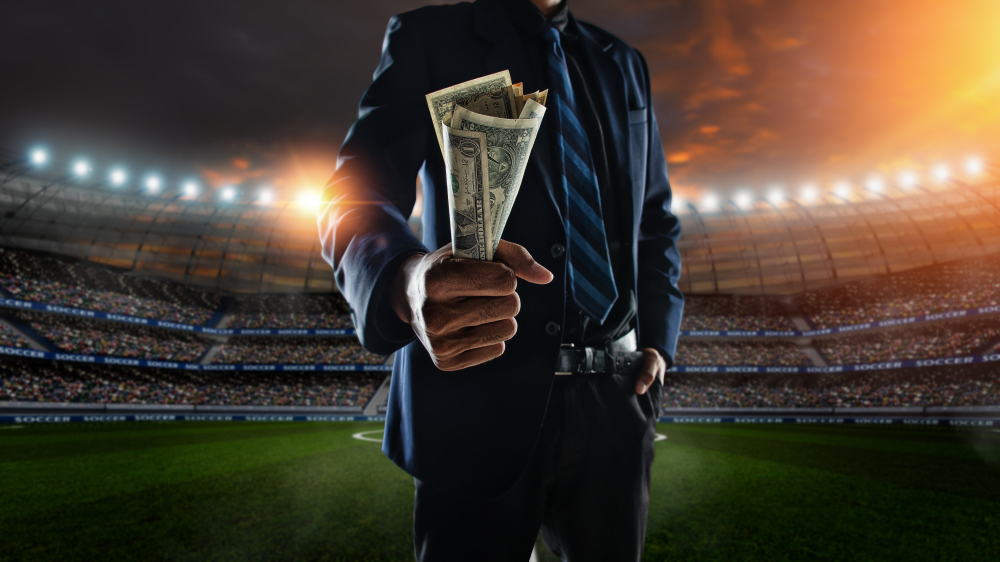 Thanks to its continued betting success, New Jersey has formed a base for many operators looking to tap into the US market. In 2019, for instance, UK-based operator Bet365 chose the state for its first entry into North America, followed by German betting giant Tipico earlier this year. The jurisdiction's other operators include industry stalwarts like DraftKings, FanDuel, and BetMGM.
3. Colorado
Average monthly spend per bettor: $159.71
Total handle: $2.08bn
Approximate number of bettors: 1.2 million
Months of active sports betting to March 2021: 11
Coloradans have only had access to sports betting since May 2020. Clearly, the appetite for wagering was there, with handle almost reaching $1.2bn by the end of the first year. The market suffered its first month-on-month dip in February 2021, but it swiftly recovered to its highest-ever monthly handle with the help of March Madness, surpassing $300m for the first time.
Its accumulative handle to date, $2.08bn, places Colorado just outside of the top five states, trailing Nevada, New Jersey, Pennsylvania, and Indiana. However, the market's strength evidently lies in its monthly spend per bettor of $159.71, with Coloradans wagering more than $189m each month since the vertical's launch.
97% of all Colorado bets are placed online
Similar to New Jersey, the vast majority of betting here takes place through mobile devices, owing to the fact that retail wagering is only available in three remote towns in the Rocky Mountains. Around 97% of all Colorado bets are placed online as a result, with Tipico, Betfred, and 888 all heavily invested in the market.
The state looks set to smash its 2020 handle total this year. Sportsbooks have already taken around $894.4m in the first three months of 2021.
4. Virginia
Average monthly spend per bettor: $129.63
Total handle: $628.7m
Approximate number of bettors: 1.6 million
Months of active sports betting to March 2021: 3
Of VegasSlotsOnline News' top five states, Virginia represents the market that launched most recently. Based on the state's sports betting handle, however, it's hard to believe that its sportsbooks only received the green light in January. On average, Virginia's operators have taken more than $209.6m per month in bets. Meanwhile, Colorado handle only averaged $41m in its initial three months, and even New Jersey failed to generate much more than $50m.
It's fair to say, therefore, that the fledgling Virginia betting market is off to a strong start, partly thanks to the boost of the Super Bowl during its second month. The AGA estimated that approximately 23.2 million Americans would wager on the NFL event in February, betting an estimated $4.3bn in total. For Virginia sportsbooks, this helped generate handle of $265.8m for the month – a total that is more consistent with a mature betting market than a two-month-old one.
With average monthly spend per bettor currently totaling $129.63 after just three months, the future certainly seems hopeful for Virginia operators, and DraftKings in particular. The operator held a market share of 24% from January through March this year, according to data from the Virginia Lottery, the state's gambling regulator. Meanwhile, BetMGM came in second with 14%, followed by William Hill with 8%.
Those figures could soon change following Virginia Governor Ralph Northam's signing of two new bills in March to expand the market further. The legislation will allow 12 more operators to launch with no affiliation to a gambling venue in the state.
5. Tennessee
Average monthly spend per bettor: $113.31
Total handle: $905.8m
Approximate number of bettors: 1.6 million
Months of active sports betting to March 2021: 5
When its sports betting market launched in November last year, Tennessee became the first American state to feature an online-only market, and the first southern state to allow online wagering at all. It is evident that this model has paid off for Tennessee sportsbooks, which took bets amounting to more than $131m in the first month of operations – still the highest total of any jurisdiction's debut month.
the first American state to feature an online-only market, and the first southern state to allow online wagering
And that handle is far from slowing down. Tennessee's total looks set to exceed $1bn in just six months of active sports betting, boasting an average of $181.2m per month. In contrast, it took New Jersey seven months to surpass that milestone, and Colorado eight. The state is bested only by Nevada, which reached $1bn in four months post-PASPA.
That said, it's not all been smooth sailing in Tennessee. The state's gaming regulator, the Tennessee Education Lottery (TEL), has endured a difficult few months attempting to keep the market's few operators in check. In March, the TEL suspended Action 24/7's license over fraud and money laundering claims, before a Nashville judge reinstated the permit later that month.
In response, lawmakers are currently considering a new bill which would strip the TEL of its sports betting duties. Instead, Tennessee would name the Sports Wagering Advisory Council as the market's regulator.
Other states to watch
Of course, it would be amiss to consider the US's top sports betting markets without mentioning the state with the third-highest handle. As one of the first states to legalize wagering post-PASPA, Pennsylvania has taken $6.77bn in sports bets since the market's inception just over 30 months ago. In terms of monthly spend per bettor, however, this only corresponds to $23.40 – partly as a result of Pennsylvania's population of almost 13 million.
Illinois sportsbooks have taken $3.6bn in wagers
While Pennsylvania has already established itself as one of the strongest markets nationwide, Illinois is also steadily making a name for itself. In just 12 months of active betting, Illinois sportsbooks reported $3.6bn in wagers. This means the state only narrowly missed out on a top five spot, with an average monthly spend per bettor of $111.01. That said, Governor J.B. Pritzker has just reintroduced in-person registration for sportsbooks, which could be to the detriment of handle moving forward.
Elsewhere, Michigan has made a strong start in its own sports betting journey. In just nine months of active wagering, bettors in the state have given $990.9m of their money to sportsbooks. Betting handle received a huge boost in January with the launch of the online market, rising $141.1m from the previous month. However, Michigan is currently out of reach of the top five states for average monthly spend per bettor, at $65.93.
What does the future hold?
Sports betting has represented one rare success story for the US gambling industry during the coronavirus pandemic. New Jersey and Pennsylvania handles shot up to their highest-ever totals in the first month after the return of sporting events last year, proceeding to break that record multiple times in the months that followed.
the possibilities are truly endless
While this growth seems to have flattened to some degree in these more mature markets, monthly handle has reached a level that is much higher than that seen pre-pandemic – that's over $500m for Pennsylvania and almost $1bn in New Jersey. With other fresher markets hitting record highs each month, surpassing $4bn in combined monthly handle could seem like a minor milestone compared with future figures.
Added to this, multiple promising states are now on the verge of introducing their own sports betting markets. With its population of 19.5 million, New York State's soon-to-launch online wagering market will certainly be one to watch. Lawmakers in Nebraska, Ohio, and Florida are all currently considering legalization, while Louisiana, Arizona, and Wyoming just need to pass market frameworks after gaining voter approval last year.
These states, and a number of others in the process of legalization, could soon find their way into the top five with the right combination of attractive sportsbook options and customer demand. Much like the potential for US sports betting as a whole, the possibilities are truly endless.