The future is bright
Last month, Nevada posted full-year gaming revenue figures for 2020. The state's casinos saw their lowest yearly revenue since 1996, totaling just $7.87bn. Meanwhile, for the month of December, Las Vegas Strip casinos saw their worst month in 27 years.
In the wake of those results, VegasSlotsOnline News caught up with Stephen A. Crystal, founder of SCCG Management and head of US and Canada development for Betfred Sports, the US subsidiary of sportsbook operator Betfred Group. The Las Vegas-based executive boasts more than 30 years of experience in the gambling industry, and it's fair to say he's optimistic about Vegas's chances of a swift recovery.
In this first of a two-part interview, Crystal shares his outlook on the Nevada gambling scene following the outbreak of the coronavirus pandemic.
What were your first impressions of Nevada's full-year 2020 results and the 35% year-on-year drop in casino revenue? Were you expecting such a steep decline?
Prior to the downturn, Vegas was on an upward charge and getting ready to reach even new heights in terms of travel through the airport, revenue numbers, and profit.
Vegas has held up surprisingly well under COVID-19 limitations"
However, last year's revenue decline is completely understandable when you spend some of the year shut down, and some of the year with occupancy restrictions. Also, considering the fact that it is a convention destination location, I think Vegas has held up surprisingly well under COVID-19 limitations.
The regional markets had some of the same restrictions but successfully cut costs. They actually ended up being more profitable year-on-year as a result. The big difference is that Vegas depends on large events, large crowds, and things that draw people to the destination.
All things considered, we got through the year surprisingly well. The casinos at least kept employees working and revenue coming in while they focused, like a lot of us are, on sports betting and iGaming. That's been the saving grace for the gaming industry as a whole.
What are your expectations for Las Vegas's recovery?
People believe that as we celebrate New Year 2022, Vegas will feel like it did before the pandemic. That's almost another full year of living in this alternative reality. Once we get enough people vaccinated and travel opens up, there's still a big question as to when conventions can come back and how they will come back. There are some who say conventions won't come back as they were, but I'm not in that camp.
People always underestimate Vegas's ability to reinvent itself"
Most people believe it's going to be a two-, three-year climb back. I am of the view that it will probably happen faster. People always underestimate Vegas's ability to reinvent itself and come roaring back. I'm bullish about that!
Are Vegas casino executives generally optimistic about the future?
I think that the mood in Vegas is hugely optimistic. Unlike in 2008, when we had the great depression, the mood today is nothing like that. I feel like we've weathered it well and the future is so significantly bright.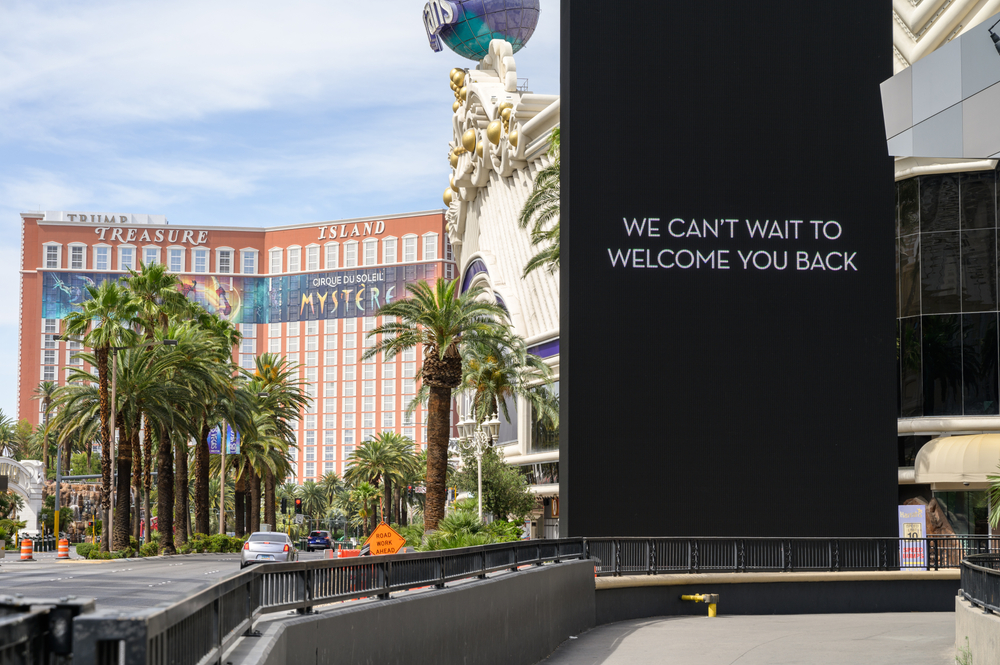 Look at the moves Caesars is making. It's going to be spinning off a new public company worth millions very soon with the acquisition of William Hill. Then look at the moves Wynn is making in jurisdiction after jurisdiction. With the unfortunate passing of former CEO Sheldon Adelson, even Las Vegas Sands is looking to get into the iGaming space.
So far, the pandemic has necessitated a lot of adaptation from casino operators. What do you think will be the most important lasting effects of the pandemic for Vegas casinos?
I think the changes were happening anyway. The movement towards digital wallets and cashless was necessary. Soon we are going to see cryptocurrency and blockchain become standard. This needed to happen because it's happening in other industries. The cleanliness and hygiene should always be there as well, so the fact there is a new standard is a good thing.
the pandemic actually did the industry a favor, as terrible as it has been"
The emphasis on new technology such as sports betting and in-play betting – these are all good things as well, because they attract the next generation. I would say the pandemic actually did the industry a favor, as terrible as it has been, because it forced gambling companies to move faster into the future.
In December, Nevada's sportsbook revenue was the only segment to post growth, up 12% year-on-year. Do you think the pandemic has had much effect on this, or do you believe that growth was inevitable?
I think to some extent the growth was inevitable, as the technology has improved and the number of markets has proliferated. However, there was a lot of pent-up demand last year because there was no other content to distract people. People were going to consume whatever sports betting content was available.
Then there are the emerging millennials and younger generations, who are vivacious consumers of everything from fantasy sports to in-play sports betting. I think that created a perfect storm last year.
Betfred intends to launch its own Nevada sportsbook at the Virgin Hotels Las Vegas hotel and casino resort. The casino's January 15 opening plans have experienced delays because of the pandemic. Do you have any update on when you will be able to inaugurate the Vegas betting operation?
The opening date is still pending and is a decision of the owners of the project, which of course we will respect. We are competing for licensing, and as soon as that is complete, we will be ready to operate – assuming a favorable outcome and that the property has, in fact, opened.
Stay tuned for part two of the interview with Stephen A. Crystal over the coming days.