Legal problems mounting
The legal problems facing veteran poker pro Raymond Davis in connection with a long-running underage sex crimes case are mounting. Davis is now facing six felony and three gross misdemeanor charges related to allegations dating as far back as January 2014.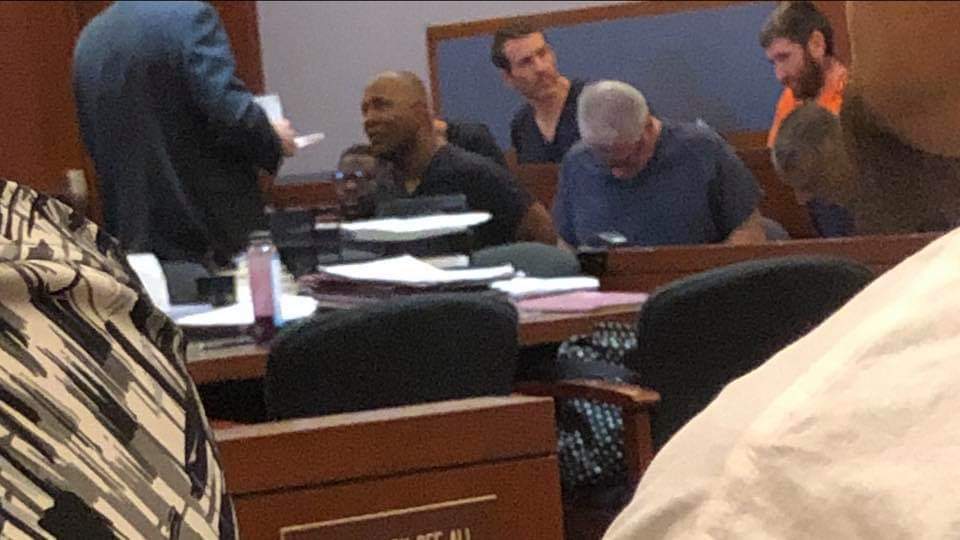 The 52-year-old, now a resident of Las Vegas, was arrested in late April following a traffic stop. Traffic officers discovered an outstanding arrest warrant for the well-known founder of the RealGrinders poker discussion and social group, which boasts nearly 20,000 members.
bail was hiked to $500,000, which he was unable to raise
Davis's legal troubles snowballed through the course of several court proceedings. Originally released on $25,000 bail, he was re-detained and his bail was hiked to $500,000, which he was unable to raise. He now waits in jail for a February 2020 trial date.
Davis appears in Vegas news video
Numerous oddities in the case garnered Davis a recent jailhouse video interview with Las Vegas's KLAS-TV, giving the matter widening public attention.
Davis claimed innocence to the primary charges in the case regarding whether he had molested or assaulted an underaged female victim. According to information in the case docket, the alleged assault (or the first of multiple assaults) occurred in or prior to January 2014. KLAS's Vanessa Murphy asked Davis, "Have you paid underage girls for sexual acts?"
I have never, never in my life, paid a girl, underage woman, girl for sex."
Davis replied, "Never. Never. I have been to massage parlors, I admit that. I have picked up girls off of Craigslist. I admit that. But I have never, never in my life, paid a girl, underage woman, girl for sex."
The KLAS report counters that claim. Citing a Las Vegas Metro Police source, KLAS claimed the underaged victim alleged she was paid for oral sex, and by her sister for taking a shower. More details on the latter claim have emerged separately.
Nine counts in play
On their surface, the litany of charges against Davis do not specify his paying a minor for sex. Instead, Davis faces two felony allegations of sexual assault against a minor under 14, and a third against a minor under 16. It has not been officially disclosed whether there is one or multiple alleged victim/s.
Davis also faces three felony allegations of lewdness with a child, with matching age splits. There are an additional three gross misdemeanor allegations of open or gross lewdness, without specification of any victims' ages.
A conviction could keep Davis in jail for many years. However, Davis was quick to argue that the case wasn't as serious as the charges indicated, with the initial $25,000 bond in the case seeming to support that argument.
Unexplained case delays
Court records reveal two lengthy delays involving this case, which is actually two separate indictments that were merged in May. Authorities issued a warrant for Davis's arrest in September 2016. Nothing happened after that.
Despite Davis's relatively high profile in the poker world and in Vegas, he remained free for over two-and-a-half years.
Davis, who has over $1.3 million in recorded poker tourney winnings, even ran a storefront for his RealGrinders social group enterprise. The small shop sits literally across the street from the Rio Convention Center, home of the World Series of Poker.
Davis also drove a flashy car with personalized plates. He wasn't hard to find if anyone was actually looking, as he pointed out in his interview with KLAS: "They never made an effort to come to my house. They never came to my store. I'm very high profile, anybody, a 10-year-old Boy Scout can find me."
An investigation into why no one searched for Davis appears to have been initiated.
Older troubles lurk
As part of the proceedings earlier this year, presiding judge Jacqueline Bluth cited three previous felony convictions for Davis. Prosecuting attorney Stacy Kollins alleged Davis has used multiple aliases.
he was arrested on somewhat similar charges back in 2004
Davis denied the claims, and VegasSlotsOnline cannot identify any earlier felony convictions. However, a search of available court records shows he was arrested on somewhat similar charges back in 2004, involving a different underage girl.
The earlier case was dropped at the prosecutors' request, and little other official information is accessible. Mention of the case in a PokerFraudAlert forum thread on Davis's problems included claims that the alleged victim wouldn't or couldn't testify, thus ending the matter.
According to a preserved docket entry, Davis faced two counts each of first-degree kidnapping and annoyance/molestation of a minor who was mentally handicapped.
Davis texts about the current case
It is reported that Davis either posted a text or sent a direct message (seen below) to another party regarding the current case. He claimed the entire case stemmed from a shakedown attempt by the victim.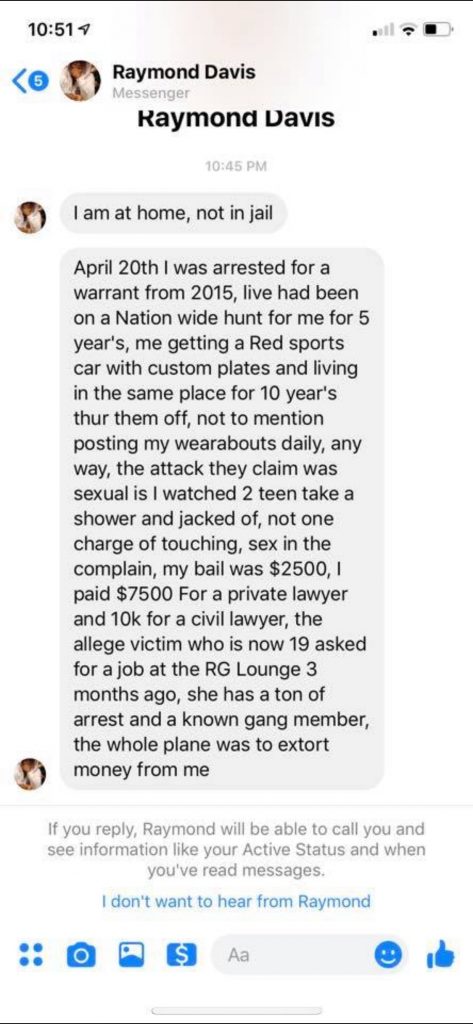 In doing so, Davis may have offered additional self-incriminating evidence, at least regarding his lewd behavior.
Troubled case proceedings
Davis's legal troubles have been magnified by his own actions in the case to date. He and his original attorney parted ways, and Davis tried representing himself for a period this summer and fall. During that stretch, he filed numerous and sometimes repeated motions for dismissal.
Davis's claimed grounds for dismissal included but were not limited to a claimed lack of evidence, a lack of due process (the right to a speedy trial), an attempt to bar a witness, and an attempt to change the case's court venue. He also attempted to force presiding judge Bluth to recuse herself from the trial. In one hearing, Davis engaged in what was described as an "outburst" against the judge.
All motions were dismissed, with Bluth still presiding over the case. These, combined with prosecutors' claims of Davis's earlier convictions, resulted in Davis's raised bail and pre-trial incarceration.
The case as a whole has received little attention to date. Several posters in forums and on social media have maintained that comments on Davis's case in RealGrinders online groups were actively deleted by others on Davis's behalf. The poker pro himself has been barred from accessing the Internet since his reincarceration.