Borgata counsel counters Ivey backers' claim
The legal counsel for New Jersey's Borgata Hotel Casino & Spa has fought back against a claim filed by two backers of professional poker player Phil Ivey that the Nevada garnishment of Ivey's July 2019 World Series of Poker winnings should be nullified.
Borgata lawyer Jeremy M. Klausner has filed a declaration detailing the circumstances of his seeking a garnishment order targeting Ivey's $124,410. Klausner's declaration responded to an amended objection to the garnishment as filed by Nevada attorney Richard Schonfeld on September 16.
The garnished $124,410 remains in the possession of the US Marshal Service
Schonfeld, representing Ivey backers Daniel Cates and Illya Trincher, asserted that the Borgata's garnishment action was illegal because Klausner is not licensed to practice law in Nevada. The objection also sought the release of $87,205 claimed by Cates and Trincher as their share of Ivey's winnings.
The garnished $124,410 remains in the possession of the US Marshal Service pending resolution of the competing claims. Klausner, in responding to the objection, claims that he was not required to be licensed in Nevada in order to file the Borgata's claim.
The Borgata had previously won the right to docket its $10.13 million New Jersey judgment against Ivey and co-defendant "Kelly" Cheng Yin Sun into Nevada to pursue Ivey's assets there.
"Administrative function" only
Klausner detailed why he believed it was not necessary to be licensed in Nevada simply to file the garnishment order, explaining: "I reviewed this Court's Local Rules governing admission pro hac vice. In the first instance, I do not believe that requesting a writ of execution even constitutes the practice of law.
"It is my understanding and belief that any judgment creditor, whether represented by counsel or not, would be entitled to have a writ of execution issued for a duly recorded judgment (assuming they were otherwise entitled) if the appropriate forms are submitted to the Clerk. It is an administrative function and no pleading, motion, or judicial intervention is required."
Vegas attorney Lawrence ("L.J.") Semenza has been added to the Borgata legal team
Klausner also wrote that since the Borgata's ultimate corporate parent is Nevada-based MGM Resorts International, Inc., "access to Nevada counsel was not an issue."
More recently, Klausner filed a pro hac vice motion on October 1. The term means "on this occasion only", or allowing an unlicensed attorney to practice law in a new jurisdiction, as with Klausner in Nevada. The motion was quickly approved.
The process here also involves adding a Nevada-licensed attorney, and Vegas attorney Lawrence ("L.J.") Semenza has been added to the Borgata legal team. Semenza and his firm, Semenza Kircher Rickard, have represented MGM Resorts in other legal matters.
Klausner details unexpected filing difficulties
In explaining the circumstances of filing the levy against Ivey's WSOP winnings, Klausner also detailed unexpected developments that bogged down the process. Among them was Klausner's filing of the writ with the WSOP, where Ivey was competing, and a failed attempt to serve the writ at Ivey's last known address.
"On June 27, 2019," Klausner declared, "the writ of execution was personally served by the United States Marshal Service on Jack Effel, WSOP Director… At the time of service, Mr. Effel requested and was provided with an additional copy of the writ to personally deliver to Mr. Ivey."
Effel indeed delivered the garnishment writ to Ivey, but Nevada law also mandates that the Borgata mail the notice to Ivey as well. Klausner's effort failed for unforeseen reasons: "On June 29, I personally mailed Mr. Ivey a copy of the writ at his last known address, as required by Nevada statute. The address was provided to me by Mr. Ivey himself during a January 30, 2019 deposition that took place in Atlantic City, New Jersey."
Klausner also attached an excerpt from Ivey's January deposition showing the stated address, along with the undeliverable envelope containing the writ: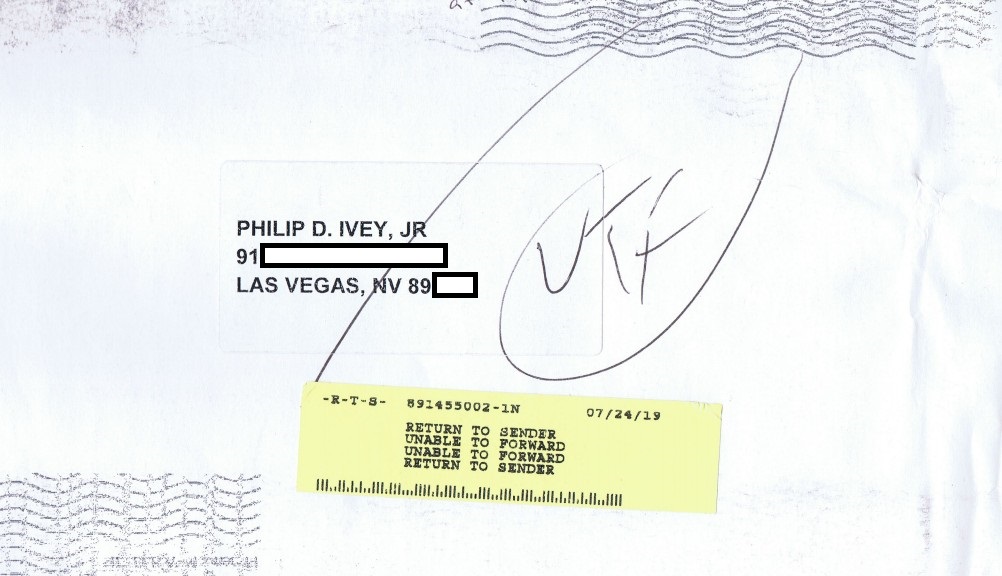 Klausner also wrote that he then twice requested a newer, valid address for Ivey from Ivey's New Jersey attorney, Louis M. Barbone, but received no response.
Online real-estate records show that Ivey's upscale Summerlin condo, west of Las Vegas, is currently for sale. The condo has an asking price of more than $1.3 million.
The same Queensridge Place condo was previously reported as being sold for $640,000 on July 15, 2011. Ivey reportedly acquired the condo amid his high-profile divorce from his former wife, Lucietta. The Ivey's lived in a Summerlin home valued at over $2 million that was listed in 2010 and sold in 2013.
Backers' attorney fights time-barred counterclaim
Schonfeld, the attorney for Cates and Trincher, who has also represented Ivey in other matters, quickly fired back at Klausner's declarations, and a formal response also filed by the Borgata's add-on counsel, Semenza.
Schonfeld attacked Semenza's affirmative claim that Klausner needed no Nevada law license to file the writ. Schonfeld also disputed a new claim by Semenza that Cates' and Trincher's claim to the $87,205 was time-barred and should be dismissed.
The response by Semenza detailed that Cates and Trincher were aware of the freeze on Ivey's winnings by July 17, 2019, when Schonfeld contacted Klausner regarding their claims. Nevada law, according to Semenza, allows only a 10-day window for filing such an objection.
disputed a new claim by Semenza that Cates' and Trincher's claim to the $87,205 was time-barred
According to Schonfeld, the 10-day window applies only to Ivey and does not affect Cates' or Trincher's claims: "Judgment debtor Phil Ivey is not making a claim of exemption, thus the 10-day time frame making a claim of exemption does not apply to the Third Party Claimants."
Despite not yet formally representing Ivey in the Nevada garnishment, Schonfeld also wrote, "Notwithstanding Counsel Klausner's pro hac vice issues, Judgment Creditor [Borgata] may be entitled to receive $37,205 which represents Mr. Ivey's portion of the funds… ."
The Borgata is unlikely to accept a negotiated deal allowing the backers to collect any of the frozen funds. Such a deal would create a legal end-around allowing Ivey (or any other backed player) to always claim tournament backing to evade existing financial judgments.