Streams suspended with immediate effect
Stones Gambling Hall in suburban Sacramento has suspended its long-running "Stones Live" poker streams in the face of escalating cheating complaints against one of the games' frequent participants.
The California poker room has also announced a new investigation into the allegations against Mike Postle and any possible accomplices in the suspect games.
Stones Gambling Hall also posted, on both its @StonesGambling and @StonesLive Twitter accounts, that the use of RFID-embedded playing cards has also been halted pending the security review.
RFID (radio frequency identification) technology is an alternative to hole-card cameras for identifying non-exposed cards. A hacking or illicit transmission of RFID information is among the likeliest explanations if cheating occurred.
The Stones room also Tweeted that it had created an independent investigation team.
(3/4) To that end, we are today announcing the creation of an independent investigation team. The team will be led by Michael Lipman, a former Assistant U.S. Attorney for the Southern District of California, and Chief of that office's fraud unit.

— Stones Gambling Hall (@StonesGambling) 3 October 2019
The poker room has vowed to be transparent with its investigation findings.
Stones Gambling Hall earlier claimed to have "conducted a full investigation" after a cheating complaint brought months ago by former stream commentator Veronica Brill. In reversing course, the venue has backed off its September 29 claim that the current cheating allegations are "completely fabricated."
Internet sleuths hone in
As reported earlier at VSO, veteran gambler and poker player Mike Postle is the focus of widespread cheating accusations following expert analysis of his "Stones Live" play.
Postle posted highly unlikely profits over the course of dozens of streamed multi-hour poker sessions, using unlikely betting patterns. Elite pros including Scott Seiver, Brandon Shack-Harris, and Doug Polk have posted analyses of various detail explaining the huge concerns over Postle's play.
Postle's illogical betting patterns form only one portion of the allegations. Also ripe for investigation and debate is how the cheating was accomplished – if indeed it occurred.
Postle was also observed staring intently at a phone or another object in his lap
Savvy users on a prominent poker discussion forum have posted isolated images of Postle showing odd padded areas under his cap. According to the speculation, the padded areas could conceal a bone-conduction headset stitched into Postle's cap.
Videos show Postle leaning back and pressing or rubbing the hat against his head in an area where a headset's output might rest. Postle was also observed staring intently at a phone or another object in his lap on numerous occasions.
In concert, phone and headset technology theoretically could be used to communicate his opponents' hole cards (likely with an accomplice), or to monitor an illicitly-tapped livestream (with or without said accomplice).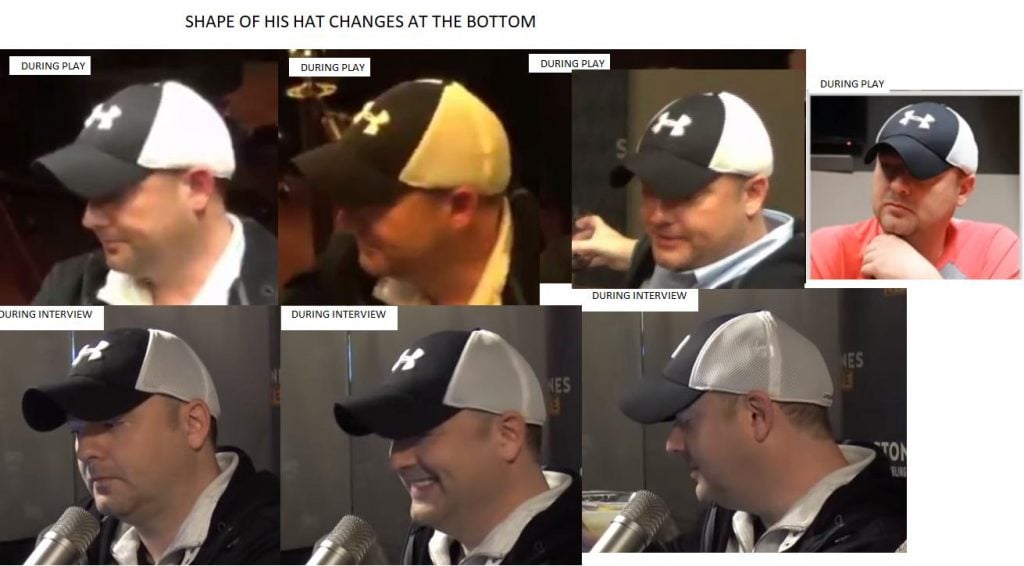 Investigator's "independent" nature questioned
The new investigation doesn't appear to be as independent as Stones Gambling Hall asserts. Investigation team leader Michael Lipman has considerable legal bona fides, but he also has close ties to Stones.
he has also represented both the Stones Gambling Hall and multiple investors
San Diego-based Lipman is a criminal defense attorney who specializes in corporate cases. As several online commenters have noted, he has also represented both the Stones Gambling Hall and multiple investors, including serving as the personal attorney for Stones' primary owner, Rodney Stone.
Meanwhile, the cheating furor continues to overrun the poker and gambling worlds while starting to break into the mainstream. At least one news outlet in Sacramento (California's capital city) has reported on the growing story. California's Gaming Control Board may also take interest in the situation.