For this week's new online slots roundup, we gamble against a clowder of cats and enter a fantasy world filled with friendly dragons. We then take to the racetrack with a speed junkie, and embark on a swashbuckling adventure alongside pirates.
This week's hottest new release is undoubtedly Blackjack Cats, a feature-packed slot developed by Asylum Labs that combines blackjack and slots. Evoplay showcase their artistic skills once again with Reign of Dragons, a colorful slot that introduces you to four dragons and their tamers.
MGA take us from 0 to 60 in the blink of an eye on GT World Challenge by Andy Soucek. As you'd expect, it's a fast-paced racing-themed slot that is loaded with features. Finally, we raise the Jolly Roger and set sail across the seven seas in Buccaneer Blast, a 10-payline slot created by Playtech.
Do you enjoy the thrills of blackjack as much as you love spinning slot reels? Then you'll find Blackjack Cats is right up your alley, as Asylum Labs have cleverly combined both of your favorite games.
Superb CGI animation brings a host of funky felines to life across five reels and 30 paylines. The star of the show is the waistcoat-wearing dealer cat who presides over the action to the left of the game matrix. He deals cards to help you build blackjack hands each time a trash can symbol lands on a reel.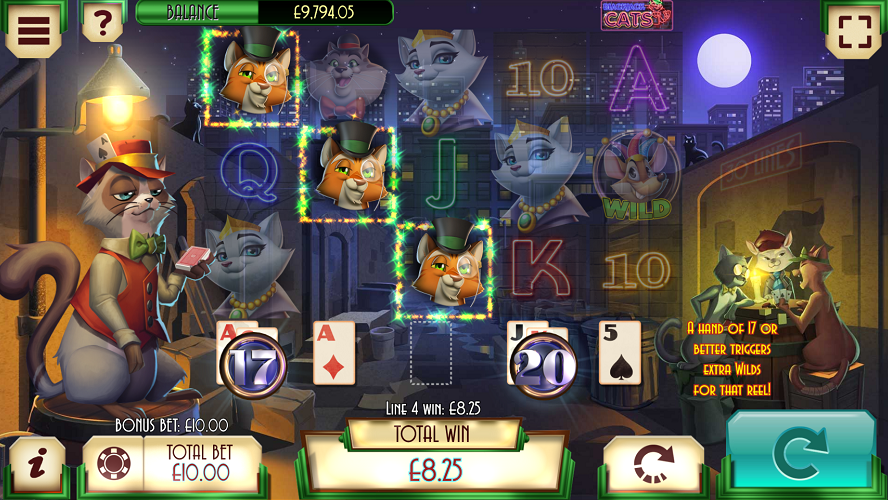 The exciting Hot Reels feature springs into action once you've made a hand worth 17 or more. This sees wild symbols multiply wins by up to 4x. Unfortunately, all progress resets when any of your hands bust. However, you're in for a treat if you secure five hands worth between 17 and 21.
This feat will trigger a free spins feature that oozes tons of potential. Wild symbols become sticky for the duration of your free spins. As you can imagine, this significantly increases your odds of getting your paws on the game's biggest payouts.
We think this is the purr-fect combination of blackjack and slots action, so be sure to give it a try.
Evoplay are renowned for releasing visually spectacular video slots, and Reign of Dragons is yet another eye-catching creation from the studio. It transports you to a mythical world, where you'll encounter four different-colored dragons and their feisty female tamers.
Each dragon-tamer pair represents one of the four elements. You'll witness them showcasing their powers to help you win big upon unlocking free spins. Fire engulfs the reels when the red female appears on the first reel to create between two to three additional wild symbols.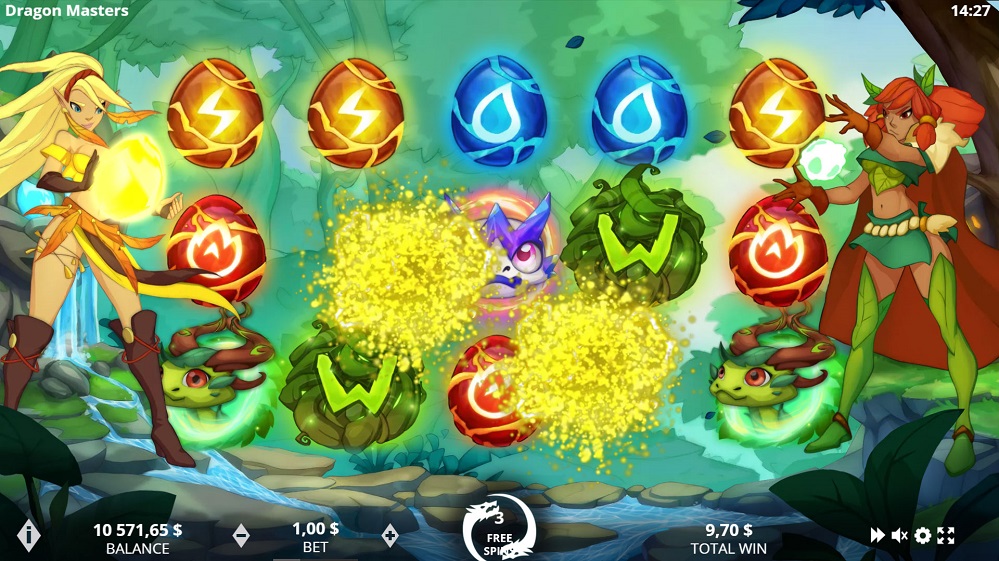 The blue tamer appears on the fifth reel and uses water to synchronize the three central reels. The green female uses her powers of nature to turn low-paying green symbols into sticky wilds. Finally, the golden girl sends dragons through the air to the best positions on the reels to help you win big.
With its standard structure of five reels and three rows of cartoon-styled symbols, Evoplay's Reign of Dragons slot delivers wins across 20 paylines. It also boasts an impressive return-to-player percentage of 95.8%. This suggests that these fire-spitting dragons won't burn a hole in your pocket.
This low-to-medium-volatility slot isn't as volatile as its theme suggests, so don't be scared to spin the reels.
Fans of circuit racing will be excited to learn that Spanish superstar Andy Soucek has finally been immortalized on the reels by the Barcelona-based MGA.
Released as part of MGA's popular Hyperrealism Series, the GT World Challenge by Andy Soucek slot transports you to the grid. Bentley driver Andy watches the action to the left of the 5×3 game matrix as engines roar. He can also speed onto the three central reels to activate up to three respins.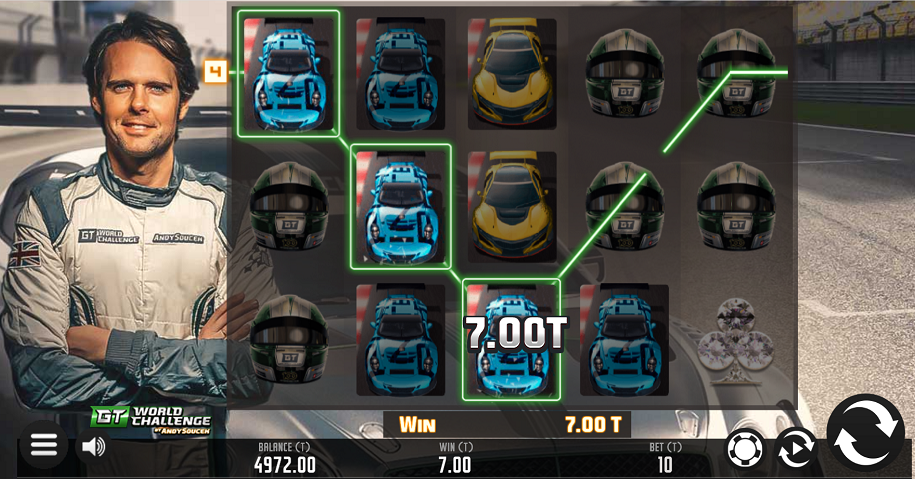 Your heart will skip a few beats when you see three or more trophy Bonus symbols land simultaneously. This combination of symbols gives you access to the mini-game selection screen. But you'll only be able to choose Grid until you unlock the Race, Boxes, and Podium mini-games.
All four mini-games are pick 'em features. You get to choose racing cars during the Grid Bonus. The Race Bonus sees you find hidden prizes inside Andy's racing car. You can win one of five cash prizes during a raffle in the Boxes Bonus, while the aim is to reach the top tire in the Podium Bonus.
If you're not already a member of the Andy Soucek fan club, then we're willing to bet that you will be after watching him burn rubber across these transparent reels.
Grab your cutlass and get ready to plunder your way to wins of up to 3,000x your stake on Buccaneer Blast, the latest in a very long string of pirate-themed slots.
This new Playtech slot focuses on three characters: a Captain Hook lookalike, an Anne Bonny wannabe, and a burly buccaneer with a parrot on his shoulder. The trio are battling for control of the seven seas, and they are prepared to use whatever force is necessary to claim victory.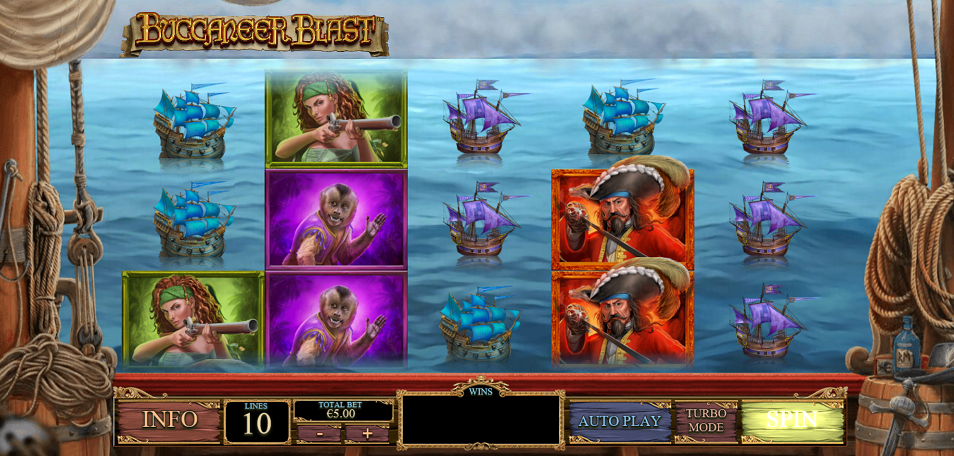 Thunderous echoes ring out as cannons are fired from each of the three ships. Low-win symbols are transformed into 2x wilds when a cannon is fired on the second or fourth reel.
Buccaneer Blast is another dramatic feature of this slots game. It sees a respin awarded each time a black pirate ship sails into view across the five reels. During this respin, a trio of cannons appear underneath the three central reels. Cannonballs are then fired, with each symbol hit turning into a wild symbol.
It's not for the faint-hearted, but you won't regret hopping on board if you're a fan of volatile slots.
For more exciting games, make sure you visit our Free Slots page!