"Andy Murray" lookalike claim
Bettor Mark Jessop, who estimates he has lost £50,000 ($63,000) in 13 years of gambling, has complained to a bookmaker that its staff "humiliated" him.
Jessop, who lives in Hull, England, claims that Betfred's staffers took a photograph of him while he was on the premises and uploaded it to Facebook without his consent.
The post appeared in a Facebook group called "I no longer fear Hell… I've worked in a Betting Shop" and compared Jessop's appearance to tennis star Andy Murray.
It said: "No wonder Andy Murray's just been beaten… he's been pissing about betting in our shop all day!!"
Jessop had gone to his local Betfred branch on July 10 to place bets, even though he had self-excluded himself at the store only one week earlier. He said the staff did not ask him to leave even though he requested they remove him.
He soon discovered that his picture was being shared in the Facebook group.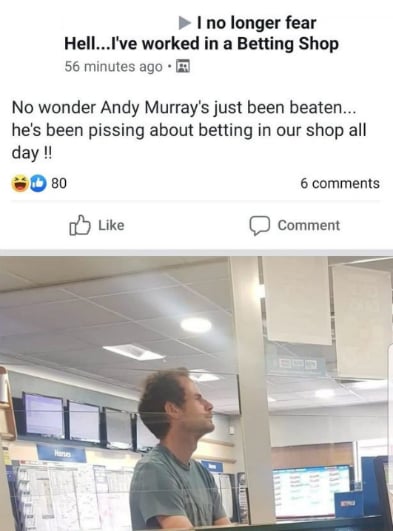 Bettor felt humiliated
He said: "It was really unethical and emphasizes … the failings on the side of the bookies. Gambling is life-destroying and I felt instantly humiliated and couldn't believe the poor practice.
I felt a number of things, but mainly, that it was idiotic of them to post the pictures online. I have now complained to the store, but they have not once apologized for taking my picture, humiliating me, and then posting the picture online."
The Hull Daily Mail contacted the manager of the Betfred store about the Facebook post and its failure to exclude Jessop. The manager's reply to the reporter was "no comment".
Store failed to support self-exclusion
Jessop, 32, said he decided to ban himself from five bookmakers in Hull two months ago, but the stores were failing to respect his self-exclusion.
He said that since he was 19 years old, he had lost an estimated £50,000 gambling on horse racing, slots, roulette, and online games. This led to his decision to self-exclude.
Jessop said: "I achieved a few months where I didn't bet – and it's all getting into a mindset where you can go for a long period of time without it – and then relapsed. In that time I've entered bookies successfully across Hull – despite banning myself – and found the ethics were not practised."
He said that in some bookmakers, some staff had recognized him and acknowledged he was on the self-exclusion scheme. But, he added, "the context of this is (that) it highlights their attitudes and (how they) proceeded to take the mickey out of me."
He said the Betfred store staff should have refused him entry last week and failed to do so. Under UK gambling regulations, betting companies are obliged to assist problem gamblers including upholding a bettor's decision to exclude themselves.
Unethical behavior
Jessop described how he had struggled with his addiction to gambling. He started out by wanting to experience betting, but ended up developing "a type of confidence like you are going to win – but it never works out in that way."
While admitting his "terrible affliction", he mainly insisted that the Betfred staff should not have let him gamble:
"No one should get away with this unethical behavior. A part of it is with myself, but they promote gambling anyway, and yet, when I self-excluded myself, they still allowed me inside."