30-second summary
Data on gambling trends came from 100 gambling operators
518m transactions were analyzed
Bets placed via mobile up 95% in six years
Self-exclusion is not working
Fraud is industry's biggest issue
An in-depth report on trends in the online gambling sector has revealed some startling statistics on its growth and problems. The report's authors used extensive data from within the industry to come up with their findings.
Insights from sector's own data
Financial security services company iovation has published its latest annual in-depth report on the state of the online gambling industry.
The 2019 Gambling Industry Report used data from iovation's clients to show startling insights drawn from more than 100 gambling operators and platforms, and analyzing more than 518m transactions from these operators.
Mobile reigns supreme
The report shows that bets placed via mobile devices grew just 6% in 2012 to 70% in 2018, representing more than 350m transactions. Bettors also use their devices to pay for their transactions. Gambling operators are increasingly going "mobile first" with their offerings.
The use of real money betting apps has rocketed since Google permitted downloading of them in its Google Play store in the UK, France, and Ireland in 2017. Revenues are expected to soar globally once Google Play rolls such apps out worldwide.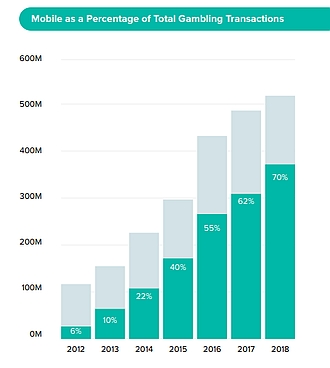 Problems for operators
While cheating and game abuse are still common, the report reveals that the growth of these problems slowed from 55% in 2017 to 12% in 2018.
Fraud is a massive problem for gambling operators. iovation's clients halted more than 9.2m fraudulent gambling transactions in 2018, and 718,000 fraud and abuse reports were logged in the same year. Credit card fraud rose by 155% in the past five years, an average annual growth rate of 39%.
Bonuses and rewards offered by gambling operators to attract and retain VIP players are ripe for abuse by fraudsters. Bonus abuse has risen by 287% between 2015 and 2018. To combat this, operators are increasingly restricting new players' deposits because verification can take too long.
Self-exclusion is not working. The data revealed that almost 1m bettors' accounts and nearly 800,000 devices used by self-excluders attempted to access platforms run by iGaming clients of iovation. Self-exclusion on those platforms has risen 73% in the last two years.
Looking at the future
The report also looks at the current trends in the gambling industry and has picked out three clear areas of note.
Market differentiation has become more important. Markets have expanded in countries that have liberalized gambling laws, providing opportunities as well as competitors. Gambling companies are working to improve player experience to retain their customers.
Fighting fraud is an ongoing battle. Gambling operators have to deal with issues such as customer verification and money laundering. As online gambling grows, staying ahead of criminals is key to maintaining compliance. Companies are also resorting to predictive analytics of device, transaction, and account patterns to detect fraudulent behavior.
Regulatory problems continue to rise. Operators must be more proactive in complying with regulations. Fining of operators by regulators is increasingly common. The report cited the UK, where fines rose from £1.6m ($2.1m) to £18m ($23.2m) between April 2017 and April 2018 for money laundering violations and unfair practices. And, since the UK Gambling Commission issued fines totaling £14m ($18m) in November 2018, the report says "this trend doesn't look to be slowing."
A note of caution
iovation is upfront about using data from its numerous clients in the gambling industry who use its financial protection services. As such, it cannot provide a fuller insight into the sector and it is, in any case, unclear how many countries the report covers.
Despite this, the data and conclusions are certain to be taken seriously by both gambling operators and regulatory authorities.