EXCLUSIVE
30-second summary
Publication of English translation of Israeli star Elezra's biography triggers pushback over old debts
Elezra and Mosseri trade heated accusations over near-decade-old $853,000 (£657,000) in loans
Situation makes public the "easy money" nature of elite-stakes poker economy
Elezra asserts big favor over multi-accounting on Full Tilt part of tale's background
2017 argument in Bellagio's "Bobby's Room" simmers in backstory
One of the strangest public spats in poker-world history has damaged the public images of prominent professional players even as it has exposed the inner workings of high-stakes poker as an arena where unpaid debts run rampant and large amounts of money are loaned and borrowed on little more than a whim, often regardless of a player's reasonable ability to pay back such debts.
This odd spat centers on Israeli-American pro Eli Elezra, whose long-term indebtedness to numerous players has become one of several controversies in a multi-faceted tale.
Pulling the Trigger triggers war of words
The catalyst for the recent controversy was the publication of an English-language translation of Elezra's biography, Pulling the Trigger, first issued in Hebrew a couple of years ago. The English translation was published by Las Vegas-based TwoPlusTwo Publishing (2P2).
As often happens in biographies, some positive elements were embellished while negative things were ignored. This was perhaps unsurprising given the status of Elezra, a three-time WSOP bracelet winner and a prior finalist for the Poker Hall of Fame, as an icon of Israeli poker.
Yet along with the publishing of a prominent AMA ("Ask Me Anything") discussion thread on the prominent TwoPlusTwo poker forum, the book project quickly became a publicity disaster.
The AMA appearance – claimed by Elezra to this writer as being pressed upon by TwoPlusTwo's co-owner Mason Malmuth for promoting the book – triggered responses from multiple players claiming statements offered by Elezra, such as "I always pay my debts" and "I always have 100% of myself" were untrue, and that Elezra had owed large sums of money to other players, stretching back nearly a decade. (TwoPlusTwo's Malmuth has subsequently claimed otherwise, regarding the decision to go ahead with the disastrous AMA.)
Such debts and loans between players are extremely common, especially at the highest stakes of the games. However, the existence of such debts is rarely acknowledged in public. Elezra's widespread debts to players such as 2018 WSOP Player of the Year Shawn Deeb have been pushed in other rumor-laden threads over the past three years, yet remained, in the public sense, just rumors.
That situation changed when another high-stakes pro, Cole South, accused Elezra of owing him $40,000 (£30,832), the last portion of a $100,000 (£77,080) loan made in 2010. Elezra demurred on South's claims, asserting a difference of understanding about the terms of the debt, before tacitly admitting the claim was true.
Then Mosseri entered the public picture, and the storyline careened sideways and became more newsworthy all at once.
$853,000 in loans to Elezra
Following Smith's lead and echoing Smith's claim about Elezra honoring his past debt was Abe Mosseri, another high-profile participant in Las Vegas' biggest cash games. Also like Elezra, Mosseri is a multiple WSOP bracelet winner. And, the two men have some history – quite a bit of it.
Posting first as "AbeandLeesa" on the 2P2 forums, Mosseri or a person close to him – possibly a woman known as "Leesa" (but who some online database records indicate may instead be named "Lisa") – began attacking Elezra over well-aged debts. This followed a formal statement issued by Elezra that also represented the end of his participation in the 2P2 AMA threads.
"He has given me no choice to do this and has taken to far," one of the 2P2 account holders posted. The account was quickly confirmed as genuine, belonging to Mosseri, although for unknown reasons, 2P2 allowed both Mosseri and "Leesa" to initially post on the account.
"I decided today to speak out after Eli sent me texts of threats about my family most likely scared I was going to out him. If he had not made such a stupid and actually a illegal decision to do that you would of never heard from me."
Mosseri later confirmed having made loans to Elezra years earlier, with $853,000 remaining unpaid. And the Mosseri account accused Elezra of making multiple threats against members of Mosseri's family.
Amid the confusion over who was controlling the account the mudslinging went on, and a 2P2 executive appeared to step in at one point to ensure that only Mosseri himself was posting, changing the account's name to "Abe M".
In another post, edited here for readability, the Mosseri account posted: "I'm glad he [boasted] about being in the poker room 5 days a week. Good for you Eli. For me it hurt my game in Bobby's Room and [I'm] not in there for a year. I can be around him and look him in the eye but he has no trouble looking me in the eye or baiting my gf to go after him. Again I know I'm out the money. Eli, you can stop now. I will never ask for a payment. You got your wish. Well played Eli, you got me."
The "Bobby's Room" quarrel
The mention of the "gf" [girlfriend] refers to Leesa/Lisa, and pertains to previous history between the two players. In early June of 2017, Elezra and Mosseri ended up playing at high-stakes cash games at adjacent tables in the semi-private "Bobby's Room", an exclusive parlor located within the larger cash-game room at Las Vegas's Bellagio casino.
The two were almost back to back, separated by perhaps two feet. Bobby's Room is spacious, by poker standards, and includes room for spouses and friends to rail the high-stakes action. "Leesa" was among those present, as verified by others present in Bobby's Room.
By most accounts, Mosseri's girlfriend was offended by Elezra's presence in the game, possibly staked by other high-stakes pros, while Elezra had made no payments for several years on the $853,000 owed to Mosseri or on other, undisclosed debts to prominent players.
Countering versions of what happened next exist, though it appears security was called and "Leesa" was, at the least, removed from the room.
Later, wild threats emerged from both sides. Claims came from Elezra's camp that "Leesa" told Elezra that Mosseri had sold the debt to her father and that he planned to collect it, with perhaps nefarious implications.
Mosseri, on the other hand, countered that it was Elezra making the threats against Mosseri's family, and in a later post, claimed to be in possession of 112 text messages between the two, some of which relate to the aged debt.
Mosseri un-backlinked to Russian Mob
Public interest in the battle soon linked the claimed – and, as alleged by Elezra, drunken – threats by Mosseri's girlfriend to his own entanglement in an East Coast money-laundering and illegal-gambling case involving Russian organized-crime members.
By way of explanation, in 2013 Mosseri was one of 34 people indicted in the illegal gambling portion of the case, as were several other poker pros, including Justin "booostedj" Smith, Bill Edler, and "Molly's Game" organizer Molly Bloom.
The largest targets in the case were NYC-based Vadim Trincher, an adjugded Russian mobster who hosted many upscale poker games in his full-floor Trump Towers apartment, just one floor below Donald Trump's own top-floor suite.
The authorities' largest target of all, and the man whom Trincher reported to, was Akim "Taiwanchik" Tokhtakhounov. Besides running numerous international underground gambling operations, Tokhtakhounov is also alleged to be an arms dealer and to have masterminded the fixing of the pairs skating competition by bribing judges in the 2002 Salt Lake City Winter Olympics.
Mosseri was indeed snared within this investigation along with figures such as Trincher, who once won a World Poker Tour main event on the East Coast and who was sentenced to five years in prison for his group's widespread organized-crime activity.
Mosseri, though, was largely vindicated by ongoing discovery as the larger case dragged on. The evidence showed that Mosseri wasn't a mobster, but just an overenthusiastic sports bettor who collected and paid back some wagers on a few poker friends' behalfs.
While some other of the poker figures in the case received short jail sentences or probation, Mosseri did not. Instead, he reached a plea deal for what amounted to a misdemeanor violation of lottery laws, using the US banking to facilitate wagers made on sporting events.
The sentencing judge, though, noted that the filing of charges against Mosseri appeared to be an example of prosecutorial overreach in the effort to snare Trincher, Tokhtakhounov, and others on charges up to and including extortion.
Meanwhile, Mosseri was uninvolved in all that despite a long-term relationship with Noah Siegel, a peripheral member of the crime ring. Mosseri ended up paying a total of $25,025 to resolve the single misdemeanor count.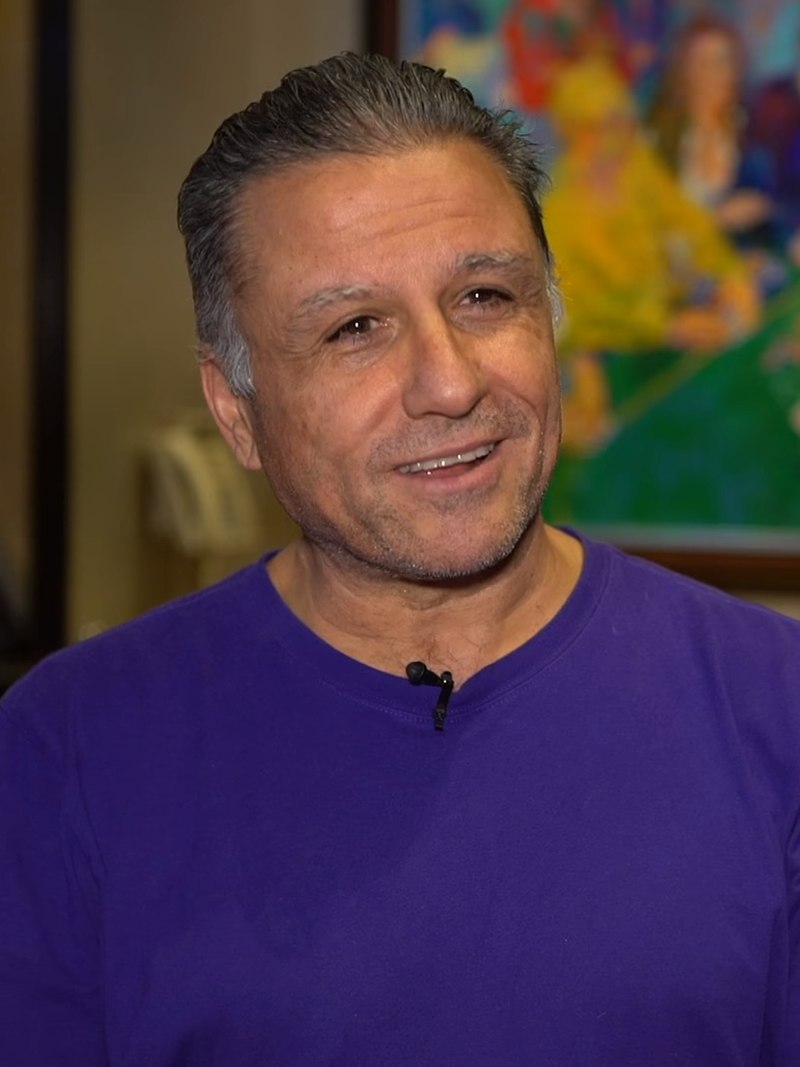 Brother's auto accident contributed to Elezra's debts
Despite being largely untrue, the "Russian Mob" dirt on Mosseri fanned the flames beneath the alleged threats. However, what went unanswered was how the debt came to be. In an interview with this writer, Elezra admitted having an extended downswing accounting for many millions of losses, both at and away from the tables.
Two decades ago, Elezra co-owned a popular photo-processing kiosk chain in Las Vegas, although those services were rendered obsolete by affordable digital photography. Later, he, his brother, and his brother-in-law operated a small chain of three or four Vegas gas-station/convenience stores, but that project fell apart after his brother was found liable in an auto-accident case where claimed long-term injuries and added interest eventually approached $5m.
Elezra has faced several legal scrapes, both professional and personal, in his decades living in Vegas. One episode likely contributed to Elezra's current debt issues.
A decade ago, Elezra's brother, Moshe Elazar, was sued as an alleged negligent driver after turning in front of another vehicle and causing long-term injury in excess of Elazar's insurance coverage. Elazar declined an offer to settle for an additional $750,000 (he had $500,000 in coverage).
The case went to trial, and the evidence built against Elazar, to the point where he unwisely sought to shield assets before a presumed negative judgment. Two weeks before a ruling was announced, Elazar divorced his wife, and just one day before the ruling, Elazar filed for personal bankruptcy.
However, opposing counsel kept digging for assets and uncovered Elazar's transfer of one-third ownership in two gas-station ownership entities. That ownership had been transferred to Eli Elezra and the pair's brother-in-law during the case's procession, without anything being given to Elazar in return.
Although Elezra insists that the bursting of the Vegas real-estate bubble a few years back was the primary financial culprit, the unwise asset sheltering meant more years of litigation, with Elezra declaring to this writer the paying of another $900,000 settlement just last year to finally resolve that matter.
Meanwhile, Moshe Elazar has relocated to Israel but has also maintained a professional gambling career, backed in part by Elezra himself, according to a court deposition in the auto-accident case.
The Elezra-Mosseri "favor"
Although both Elezra and Mosseri acknowledge the $853,000 debt, neither side previously detailed its origin, despite hints and aspersions coming from both sides. Speaking with this writer after doing so with two other prominent outlets, Elezra now states that the loans came as a return favor after Elezra intervened on Mosseri's behalf after Mosseri was caught multi-accounting on Full Tilt Poker last decade.
Exactly how close a relationship existed a decade ago between the two men is unclear. "Who does that big a number?" asked Elezra rhetorically, implying a strong relationship existed, while also noting that this was at the time the easy-money nature of the Bobby's Room scene was at its fullest reach.
Meanwhile, in the 2P2 thread, the only comment offered to that by Mosseri was: "I thought we were friends." Also odd is that a decade or longer ago, multi-accounting was viewed as something as an accepted practice within the high-stakes online community, until a handful of large scandals built public condemnation of the practice.
"I didn't want to go into it," said Elezra, as he then began to go into it. "He was multi-accounting; he had, like, three accounts. I talked with Howard [Lederer]…" inferring that Mosseri was allowed to continue playing on the site only after Elezra intervened, though how Elezra became involved in that situation (even if true as stated) wasn't detailed.
Mosseri's "EasyPeazy" account became one of Full Tilt's highest cash-game winners during Full Tilt's final years. Elezra claimed publicly that the "favor" was worth $10m to Mosseri, but admitted to this writer that that was just his estimation of Mosseri's Full Tilt winnings after he was allowed to continue to play.
Elezra stated that some of the loan money was agreed to be sent via Full Tilt and its notorious "funny money" transferring system, which also eventually served as a widespread money-laundering conduit benefiting Full Tilt's owners, including Lederer, Chris Ferguson, Ray Bitar, and others.
Elezra did not, however, offer a brief explanation of any contingency repayment plan with Mosseri in the event Full Tilt itself failed, even assuming he had the money to repay the debt.
Stopping future "scams"?
The tale, though, soon turned sideways again. Among the oddities of this bizarre high-stakes public outing was the increasingly erratic behavior of whoever was posting on Mosseri's "Abe M" account in recent days. According to 2P2 moderators, Mosseri had agreed that only he would be posting on the account, in support of his attempt to continue to expose Elezra as a long-time scammer and reneger on past debts.
On that note, Elezra claimed to this writer that he has continued backing from as many as seven other high-stakes pros despite these severe and ongoing financial difficulties. He had an appearance this week on PokerGO's Poker After Dark.
The Mosseri account's latest posts, though, began detailing some of Elezra's earlier legal troubles, among other presumed and veiled threats. Without warning, the "Abe M" account claimed to be a group of several "PIs" (private investigators) claiming to be working and posting in concert to allow Elezra to dig himself in deeper regarding the bad-debt mess.
Mosseri or someone writing on his behalf also claimed that a recent follow-up interview Elezra did on the Chip Race poker podcast was also a setup, done in concert with Chip Race's producers, designed to further expose Elezra's misdeeds. However, Chip Race's David Lappin quickly posted in multiple outlets that this was a lie by whoever was posting on the "Abe M" account and that no such "set up" arrangement exhibited.
The claims regarding private investigators also appear highly dubious, and the end result has been a sullying of Mosseri's own public image in what should have been a very sympathetic situation. The Mosseri account's presumed (and likely false) implication of Chip Race and Lappin in such a scheme also forestalled a planned attempt by this writer to seek comment from Mosseri for this piece regarding the multi-accounting allegations.
One of 2P2's co-founders, David Sklansky, recently posted that the person he spoke to over the phone to re-verify the account was "100% Abe," although whether Mosseri at that point allowed others to post on the account about Elezra's many misdeeds is only one of several possibilities.
In sum, the unfolding Elezra-Mosseri feud both exposes the reality and tarnishes the allure of high-stakes poker, especially the professional cash-game scene. The reality is that easy loans between players have always existed, in large part to keep the entire scene bustling, busy, and attractive to newer and lesser-skilled players who might then be taught a few expensive poker lessons.
Yet that scene also slowly eats its own: it functions well until it doesn't, and somebody's mountain of bad debt causes a chain reaction across the poker world.