The state of Louisiana is currently debating whether to legalize Daily Fantasy Sports contests. But what are these contests? Can you win serious money playing them? And could we see them in the UK?
Which of us at some time has not sat down with a pen and paper – and a cool £100m – and picked a fantasy football team? Football as in soccer, of course.
The idea is simple. You have a set amount of money to spend and with it you need to pick a team to outscore everyone else who has entered this season's fantasy league. All you need is a goalkeeper, four defenders, four midfielders and two strikers – and a large slice of luck.
Your team – mine was called Athletico Pathetico if someone hadn't nabbed the name first – scored points for clean sheets, assists and goals, and lost them for misdemeanors like red cards.
At the end of the season, the prizes were handed out – and with thousands of people paying a couple of pounds to enter, the prize to the person who had stuck with it, made tactical substitutions at the right time and got lucky with a few dodgy offsides could be substantial.
US origins
The problem was, most of us had lost interest a long time ago. It's November, you're 45,379th in the league table and the striker you paid £20m for is out for the season. Is it really worth carrying on…
But supposing the competition lasted a day? Or just over a weekend?
The idea for fantasy football came to the UK from the USA, where fantasy leagues have been around for much longer, especially in statistics-rich sports such as baseball.
Material in the Jack Kerouac archive in the New York Library showed that Kerouac played his own form of fantasy baseball while still relatively young, and in 1961 fantasy baseball was used for coding the IBM 1620 computer.
As with so many things, though, it was the advent of the internet that changed everything…
Fantasy Sports companies 
As the name suggests, Daily Fantasy Sports (DFS) is a direct descendant of the traditional fantasy sports games: you pick your players and earn points based on their performance.
Played over a single day or a weekend, DFS is typically structured as a paid competition, with winners receiving a pre-determined share of the "pot" and a percentage also going to the contest organizer as rake revenue. In this way, they function exactly like an online poker tournament.
In the US, two companies, New York-based FanDuel and Boston-based DraftKings dominate the market, with both companies – originally venture capital-backed start-ups – now worth in excess of $1bn.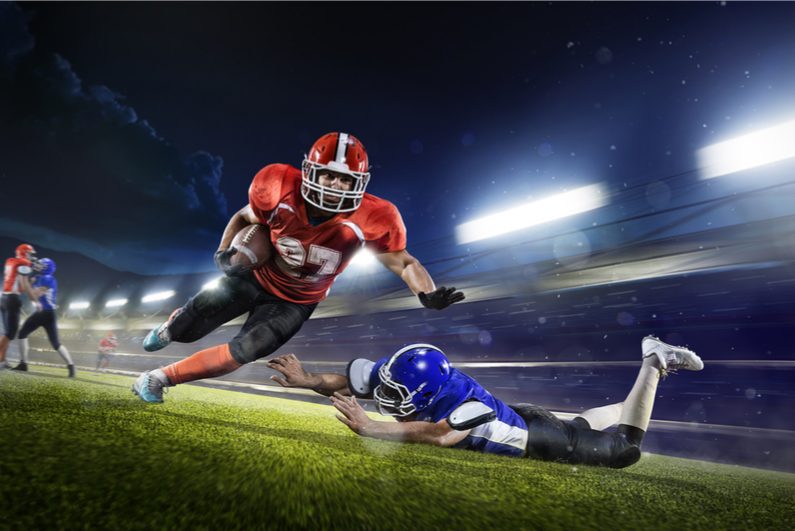 If you look at the DraftKings website you will see that 12 sports are available from American Football and Major League Baseball, right through to the fast-emerging eSports sector.
The numbers on DraftKings' site give some example of the scale of DFS in the States: 750,000 users won money in their first paid contest, $4.8bn paid out across all sports and a staggering 20,000 paid contests a day.
Skill or gambling?
Daily Fantasy Sports have faced a series of legal challenges, with politicians arguing that due to the short duration of the contests, players are essentially gambling.
Skill and judgment may come into it over a season, but on a single day the user is simply betting on whether a player has a good day or a stinker.
That is the debate which the state of Louisiana is having right now, with representatives introducing legislation this week that would legalize DFS contests in the state.
At the moment Louisiana state laws prohibit gambling but the bill, introduced by representative Kirk Talbot, would exempt DFS contests from that legislation.
Under Talbot's proposal, the final decision on whether DFS contests become legal would be decided by a state-wide referendum on 12 October 2019.
Is it UK-bound?
DFS contests have been credited with increasing sports viewing figures and audience engagement in the US.
As the DraftKings strapline has it: "You don't just want to watch; you want to play." So could it happen in the UK?
After all, watch Sky Sports on a Saturday afternoon and the talk is constantly of the Super 6 – correctly predict the scores in six football matches to win £1m.
FanDuel was active in the UK market, but a tweet on 28 July 2017 announced: "Unfortunately we will not be offering contests this season. We hope to be back in the future."
Despite saying that more than £1m was paid out in prizes from contests held on the English Premier League.
Industry sources suggest that FanDuel had pulled in as little as £100,000 to £150,000 in fees, meaning that after setting up the contests and paying for licensing and operating expenses it is likely to have lost money.
With the start of the NFL season only a few weeks away in July 2017, the company decided to make a strategic retreat to the US and concentrate all its efforts there.
Will we see DFS contests return to the UK? Possibly. But with established bookmakers and – even more importantly – established and ingrained ways of betting on UK sports, any operator faces an uphill battle to make a success of it.