The games are finally back
The Olympic Games are famous for pitting the best athletes in the world against each other on an international stage. Sadly, sports fans experienced bitter disappointment in 2020 when the COVID-19 pandemic caused officials in Tokyo, Japan to cancel their edition of the event. However, the Olympic rings will finally return this year in the land of the rising sun.
If you're thinking of betting on the event, then you are not alone. According to research completed by the American Gaming Association (AGA), 20 million Americans plan to wager on this year's Tokyo Olympic Games – which is equivalent to 8% of all US adults. In part, this is a result of the spread of legal sports betting across the nation.
sports betting is live in 21 states and in Washington, D.C.
During the last Olympic Games in 2016, wagering was only available in Nevada. Now, sports betting is live in 21 states and in Washington, D.C. That means that more than 100 million Americans have access to a legal market, although regulations regarding Olymping wagering can vary between states.
In light of this fast-growing customer base, US-based sportsbook operators such as DraftKings, FanDuel, PointsBet, BetMGM, and William Hill, have all provided their odds for the event. With the opening ceremony set to begin on Friday, bettors don't have long to lock in their wagers.
Who is placing their bets?
According to the AGA's first-ever survey into betting participation in the Olympic Games, 54% of American adults have expressed an interest in the event. Of those who confirmed their interest, 25% said they plan to wager on at least one event during the two-week competition.
Morning Consult conducted a poll on behalf of the AGA between July 9 and July 12 this year. The research involved online interviews utilizing a sample of 2,200 adults.
The AGA study found that bettors plan to place their wagers in a variety of ways. For instance, 47% of those betting on the sports competition intend to do so casually with friends. Around 43% will place bets online, while 16% will wager at a physical sportsbook.
47% of those betting on the sports competition intend to do so casually with friends
However, not all Americans currently have access to legal sports betting in their home states. Around 10% of US residents not planning to bet on this summer's games said they would be more likely to wager if their state had a legal market. Most states with legal betting do allow Olympics wagering, but legislation in a select few jurisdictions, such as Illinois and Virginia, prohibits betting on the competition.
For those Americans who can legally wager, some events are proving more popular than others. VegasSlotsOnline News has taken a look at the odds according to US sportsbooks.
Basketball
Around 45% of American bettors plan to wager on basketball

Favorites to take gold (FanDuel): US men -350
US women -1200
Somewhat predictably, US bettors have picked basketball as the sport they plan to wager on the most in the Tokyo Olympic Games. The NBA ended this week with the Milwaukee Bucks claiming victory in a final against the Phoenix Suns, and Americans are eager for another opportunity to bet on their favorite sport.
Considering the nation's wide array of basketball talent, the US are clear favorites to take home gold this year in both the men's and women's competitions. The country's star-studded men's team includes six-time All-Star guard Damian Lillard and Brooklyn Nets forward Kevin Durant.
That said, the team has lost two of their last four exhibition matches – an unusually poor run for the American squad.
US magazine publisher Sports Illustrated took to Twitter to post about the back-to-back losses:
Regardless of recent performance, FanDuel has the US men at -350 and women at -1200 to take home the win this year. Other notable mentions include the Australian and Spanish men's teams with odds of +850 and +1200, respectively.
Australia's squad features 12 athletes with NBA experience, including two-time NBA All-star Ben Simmons, who plays for the Philadelphia 76ers.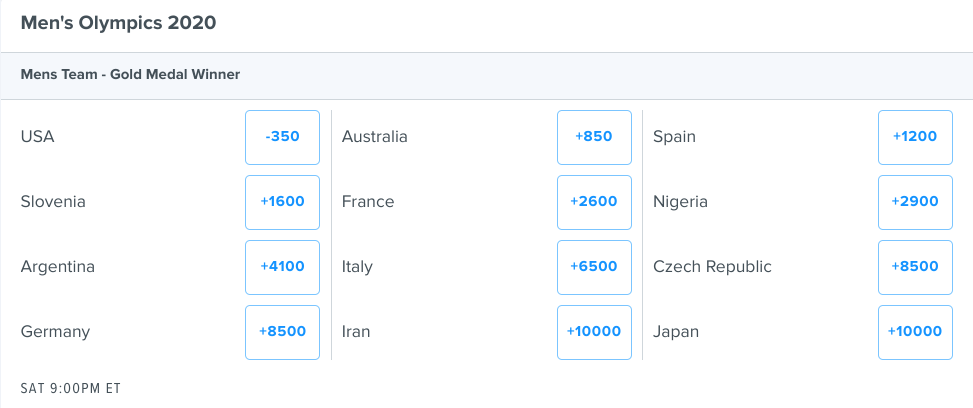 Soccer
Around 34% of American bettors plan to wager on soccer

Favorites to take gold (William Hill): Spain men +188
US women -175
American bettors have chosen soccer as their second most popular event for the Tokyo Olympic Games. With the past performance of the women's team, it's easy to see why. The US are pursuing their fifth gold medal this year, and in the build-up to the tournament, they were unbeaten in 44 matches.
In a Twitter post on Wednesday, US soccer star Alex Morgan expressed pride in representing her country:
In light of their star-studded squad, the US women's team were favorites with sportsbooks before the soccer kicked off this week. William Hill had them priced at -175 to take the win overall.
That could all change as a result of their first game on Wednesday, however. Due to time restrictions, the soccer events started before the opening ceremony, and US women lost 3-0 to Sweden. Sportsbooks had originally priced the Nordic team as a longshot at +1000 (DraftKings) for the overall win.
Meanwhile, William Hill has listed Spain as the +188 favorites to take home gold in the men's, followed by Brazil at +275. Spain have a large pool of young talent to choose from, and the team look likely to gain some advantage from the fact that many other European clubs have refused to allow players to travel to the Olympics.
Gymnastics
Around 28% of American bettors plan to wager on gymnastics
Favorites to take gold (BetMGM): Russia Olympic Committee men +100
US women -650
Gymnastics is certainly not a typical betting sport, but the event has made it into the top three with American bettors for this year's Olympic Games. This most likely has a lot to do with US golden child Simone Biles. More than 33 million Americans tuned in to watch the young gymnastics star take gold in the all-around competition in 2016.
Biles is back this year, and sportsbooks have backed her to secure the win for the US in both the artistic team and the all-around competitions.
The star tweeted on Monday to confirm that she had reached the Olympic village:
Currently, BetMGM has the US at -650 to take gold in the women's artistic team gymnastics, while PointsBet has them at -500. Sportsbooks have priced the Russia Olympic Committee (ROC) team as second favorites at +500 with BetMGM.
Olympic officials have banned Russia from this year's competition because of evidence of doping uncovered in 2015. As a result, Russian athletes will compete under the ROC banner.
In the men's team competition, BetMGM has ROC as favorites at odds of +100. The team took home silver in the last Olympic Games, and sportsbooks have favored reigning world champion Nikita Nagornyy for the win in the all-around title. If they do take home the gold, it will be the first time the Russian national team has secured the top spot since 1996.