Classic Slots
If there's no place you'd rather be than Las Vegas, you can recapture some of the feelings of the traditional Las Vegas casino floor environment right from your home computer by simply playing some classic slots online. Designed after the kinds of machines that first appeared in land-based casinos, they always feature just three reels and one payline.
Who Prefers Em?
Classic slots are the perfect introduction. Their visual clarity and ease of operation help novices learn the ropes of slot play without a lot of distraction from detailed art, sound effects and animations.
However, they are not just meant for beginners; many seasoned slot players prefer the simplicity of them too. To keep play interesting for these experienced players, today's versions often contain fun features found in more complicated five-reel slots, such as scatter symbols, bonus games, and multiplier symbols. You will rarely ever find any of those elements in older games.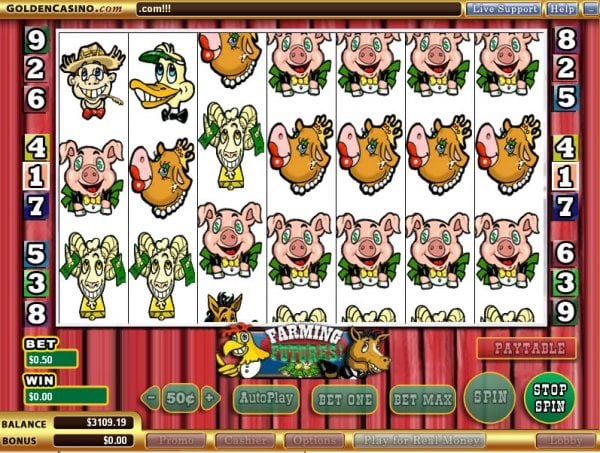 7 reel slot machines are something of a new phenomenon but are slowly becoming more popular
Betting Options
Betting choices are fairly simple in the old-skool games. Three buttons allow you to bet one coin or bet the maximum per spin. The paytable is usually printed to the right or left side of the reels and remains visible throughout the game. Some have a set coin value that you choose on the opening screen, while others permit you to choose how many coins you bet per spin. Regardless of your choices, the payout is simple: if your payline matches the pictures on the paytable, you win the prize. No convoluted paytable here.
Timeless
Old school slots provide gamers with a simple dose of nostalgia and also make it somewhat easier to stick to a gambling budget because of the limited betting options. Even so, that simplicity doesn't make them a waste of time nor boring, a problem I regularly encounter with more modern 5 reel slot games.
Many games feature progressive jackpots that can be awarded randomly at any time, to any player regardless of how long he or she has been playing that particular game. Don't let the minimalism fool you — classic slots are still a great deal of fun for gamers of all skill levels. There's a reason they still take up so much space on casino floors!
Famous Examples
If you go any Las Vegas Casino, large parts of the floor space are made up of 3 reel games. These include, Double Diamond, Triple Diamond and almost countless variations. Wheel of Fortune, Hot Shot, Quick Hit, Red White and Blue are just a tiny number of the titles you will find across the Strip in Sin City.