A complex issue
What to do about the ladies has always been a problematic question in poker. While most agree something needs to be done to address the gender imbalance (typically 3-5% of live participants tend to be women, with the number a little higher online), there's little consensus on how best to do this.
Some feel that ladies-only tournaments are the best way to go, while others think that segregation implies that females are seen as a weaker group that needs to be kept away from males for their own protection, sending a dangerous and divisive message.
mission statement to support and encourage women in poker
Various online groups exist with the mission statement to support and encourage women in poker. One example is the Poker League of Nations (PLON) run by Lena Evans, the largest women's poker group in the world with 7,800 members. It provides staking opportunities and free education with top pros, among other initiatives. Lena explains:
"We stake women and support them to play in open events with larger buy-ins than they ever could've done alone. We provide funds to support this. This summer alone we freerolled seven women into the WSOP Mini Main, as well as sending women into the Main Event and other side events. We have provided free education from all of the top pros, and hosted and sponsored ladies events all around the world, including IPO, Battle of Malta, and others."
Other groups, such as the Women's Poker Association, mainly take the approach of celebrating female achievements and results.
Helping each other grow
One group that places a heavy emphasis on the strategy aspect is Herzdamen, founded by Natalie Hof and Mila Monroe. It has both a German group and an international group with 86 and 106 members, respectively. It describes itself as a community of females who love to play poker and help each other grow and improve. The group organizes regular free study calls for members bringing in guest coaches such as Apestyles and Xuan Liu (I've also done sessions with them on satellites and ICM).
Herzdamen recently sent a small group of about 19 members to the World Series of Poker (WSOP) in Las Vegas, and their results collectively were pretty sensational. Incredibly, three of the group ended up final tabling the Ladies Event, including founder Natalie Hof (who crushed the series generally with a 13th place finish in the Mystery Bounty and another deep run in a 2k) and eventual winner, the popular Austrian Jessica Teusl.
Herzdamen core team member Julie Schumacher was the last woman standing in the Colossus and the group crushed in general at the WSOP, led from the front by Natalie Hof. When I congratulated her on an amazing series on my last day in Vegas, she said with a twinkle in her eye:
It's not over yet!"
Big plans ahead
Herzdamen continues to place the emphasis on helping its members to grow and improve. VegasSlotsOnline News spoke to one of the driving forces behind the group, the tireless Maureen Bloechlinger (she also runs the Facebook group Globetrotting Poker Ladies, an independent source of info for all its members on forthcoming poker events) about future plans. She said:
"In July we are hosting a Summer School in German with crazysheep for preparation for our Herzdamen Festival in As, Czech Republic. We are also hosting our second festival. It is open to all but with specials for the Ladies."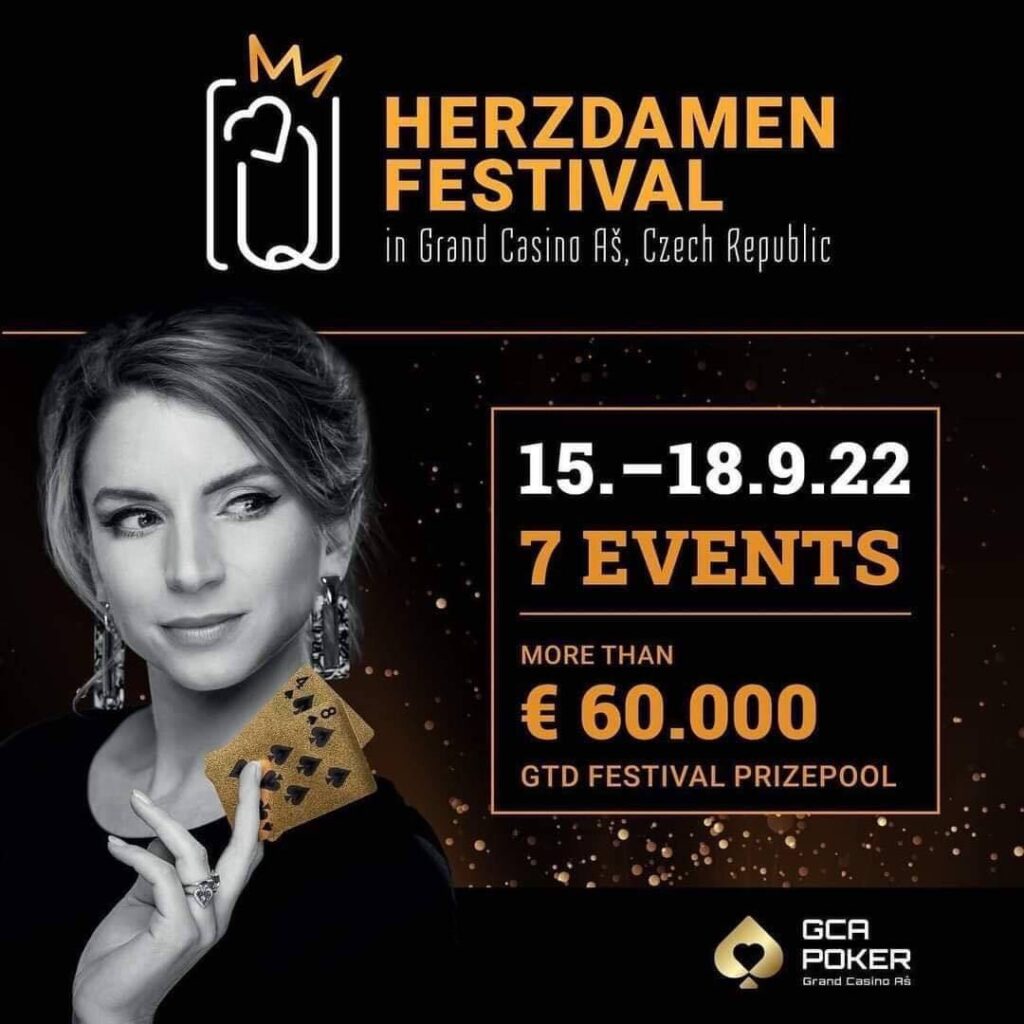 Paving the way
Finally, there are several other leading female poker pros who lead from the front, like Xuan Liu, the driving force behind Poker Power, a group that focuses on teaching poker to women, and my good friend Katie Swift who runs a Facebook group Katie Swift's Women's Poker Game with regular online free rolls for the ladies.
The growing emphasis on strategy and self-improvement over mere participation is showing signs of shifting the landscape in poker. This was noted by another great female role model Vanessa Kade in her tweet about this year's WSOP Ladies event: