30-second summary
The Civil Guard in Spain has arrested 15 people allegedly involved in a tennis match-fixing scam.
Police claim up to 83 people are involved in the scam, including 28 professional tennis players
Spanish tennis player, 36-year-old Marc Fornell-Mestres, named as being among the players involved
Around 100 matches are alleged to have been fixed
In one of the biggest corruption scandals to taint professional tennis in recent years, Spain's Civil Guard has busted an alleged match-fixing scam by an Armenian criminal gang. The authorities believe the scam has been operating since February 2017, possibly even earlier.
The police made 15 arrests and raided 11 properties in a simultaneous swoop. The police stated that another 68 people are involved in the match-fixing, including 28 professional players from the lower tiers of the official tour.
No players have named, but one is said to have competed at last year's US Open, one of the sport's four grand slam tournaments.
A news source named a Spanish tennis player, 36-year-old Marc Fornell-Mestres, as being among the 28 players involved. The Tennis Integrity Unit (TIU), the sport's anti-corruption body, had suspended Fornell-Mestres in December 2018 as a result of an earlier probe. He had been ranked below 1,000 when suspended.
Raids and arrests
Europol aided the Civil Guard – a military unit tasked with nationwide policing in Spain – in Operation Bitures. The Spanish tax office also assisted.
The 11 addresses raided were scattered across nine of Spain's provinces. In the process, 15 people were arrested. Europol says the gang leaders are among those arrested.
The police also seized €167,000 (£151,000; $193,000) in cash, jewelry of an unknown value, stolen ID documents, a gun, five luxury vehicles and more than 50 electronic devices. A number of properties have been confiscated, and the authorities have frozen 42 bank accounts.
Europol sent three of its experts to Spain, whose role involved providing IT forensic support, data analysis, and cross-checking.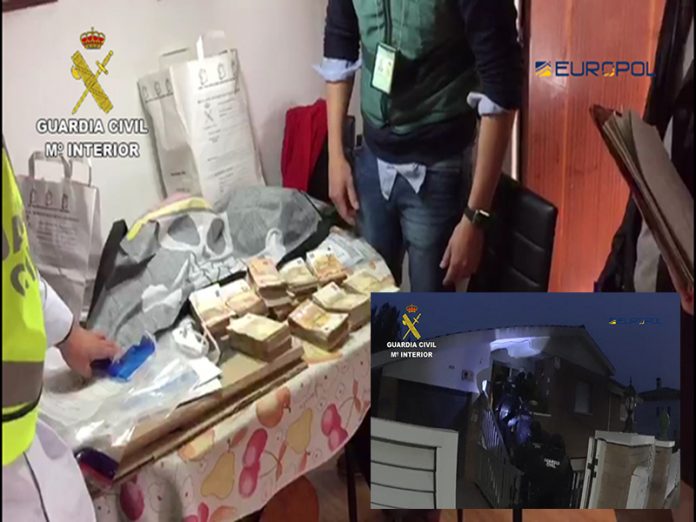 How the scam worked
The gang made huge profits of millions of euros by persuading players to throw their matches and then betting on their opponent to win. At least 97 ITF Futures and Challenger matches – the tournaments on the lower rungs of the sport – are known to have been fixed.
A professional player is alleged to have been the go-between the gang and the players who were bribed to lose their match.
Once a player had taken the bribe, the gang would lay vast numbers of bets – using thousands of cloned identities – both nationally and internationally on the expected outcome. Gang members would also turn up at the match venues and use physical threats to ensure the players kept their end of the bargain.
The TIU began investigating in 2017 once it became aware of irregularities in betting patterns on matches at the Tour's lower levels, matches on which the tennis authorities would not expect to see high levels of bets being placed.
As the TIU's investigation began to focus on an unnamed Spanish player, it presented evidence to the Civil Guard.
A vulnerable sport
Tennis, the world's second-most-watched sport after soccer, is considered to be easily corruptible because players are individuals, not teams. The sport is worth billions and there are some 14,000 professional players, men and women, on the circuit.
At the top end of the sport, the grand slams and the Masters tournaments, players with high rankings can earn millions of dollars, picking up checks even if they lose a first-round match. In the US Open, for example, losing a first-round match means a check for $50,000 (£39,000).
The International Tennis Federation revealed that just fewer than 600 players among 14,000 broke even last year.
The vast number of players barely make a living in what is an expensive sport. The tour moves around the globe for 11 months a year and players need to earn money to pay for sports kit, flights, hotels, and more just to be able to play.
Such players are under tremendous pressure to win matches to gain precious ranking points that will enable them to move up the rungs and earn better money. This makes lowly ranked or unranked players susceptible to bribery at tournaments that few people are watching.
In 2018, the TIU received some 400 alerts by betting operators on specific matches where betting patterns were unusual. Of these, 91% were at the lowest tiers of the sport.
Cleaning up tennis
With the rise of online betting globally, it has become easy for criminals to muscle in. Players can be offered up to $6,000 to throw a match. The TIU lacks sufficient funding to carry out its work properly and is regarded by many in the sport as "toothless."
In January 2016, the BBC and news outlet Buzzfeed conducted a joint investigation into tennis match-fixing, which revealed the shockingly widespread nature of illegal betting.
The Independent Review Panel, set up by the four leading organizations that run the sport, concluded in December that tournaments such as the low-tier ITF Futures and Challenger contests should not be streamed live or provide scoring data that can be exploited. It said that tennis is "a lamentably fertile breeding ground for breaches of integrity."
Serbian champion Novak Djokovic, who is currently president of the Players' Council, which represents male tennis players in the Association of Tennis Professionals (ATP), is among top players who have said there needs to be a better distribution of prize money to cut out corruption.
The ITF is making some changes this year, such as forcing Challenger tournaments to provide free lodgings to players. It is also adjusting the number of places in higher-tier tournaments for low-ranking players to enter.