With the upcoming FIFA World Cup being held in Russia, the Turkish authorities have embarked on a campaign to crackdown on illegal gambling throughout the nation. The authorities have come down heavily on gambling in recent times.
What happened?
With the World Cup always being an event that attracts a lot of gambling money, it is likely they wanted to stop any illegal operations in their tracks before the commencement of the tournament.
More than 8,000 police officers embarked on coordinated raids throughout 81 provinces in Turkey on Sunday. This resulted in 36 businesses being shut down due to allegations of illegal gambling being offered to their customers.
According to the Daily Sabah, 80 people have been detained by the authorities for the operation of illegal gambling services and another 159 people were arrested on a variety of gambling-related charges. The businesses in question have been fined accordingly and the operators are likely facing prison time.
This came just a few days after 64 locations had been raided in the Turkish capital of Ankara where 39 people were arrested.
Is all gambling illegal?
The Turkish state operates the Milli Piyango lottery and offers sports-betting through SportToto. Apart from these two entities, all other forms of gambling are banned in Turkey. Casinos have been banned in the country since 1998, with an online casino ban being introduced in 2006.
It was in July 2017 that the government implemented a two-year plan to stamp out illegal gambling. This initiative was developed and has been driven by the Justice and Interior Ministries, aided by the Police Department and Revenues Department.
The first phase of this initiative was the creation of a task force to tackle illegal gambling, focusing on websites, internet cafes and other locations linked with illegalities. This task force is led by a special prosecutor and is made of up people from the banking regulation agency (BDDK), the communications technologies authority (BTK) and the financial crimes unit (MASAK).
Tough measures
]Some of the steps taken to curb illegal gambling include stopping financial institutions from processing any transactions linked to online gambling. They also intend to combat gambling websites that cater for digital currencies like Bitcoin. Finance Minister Naci Agbal has pledged to "bring these illegal betting sites to heel".
Those attempting to access illegal gambling sites will be warned by the authorities via text message, with search engines being closely monitored thanks to help from certain local internet service providers. Any individuals found to be in breach of gambling laws will be subject to fines, as well as having their betting bankroll confiscated.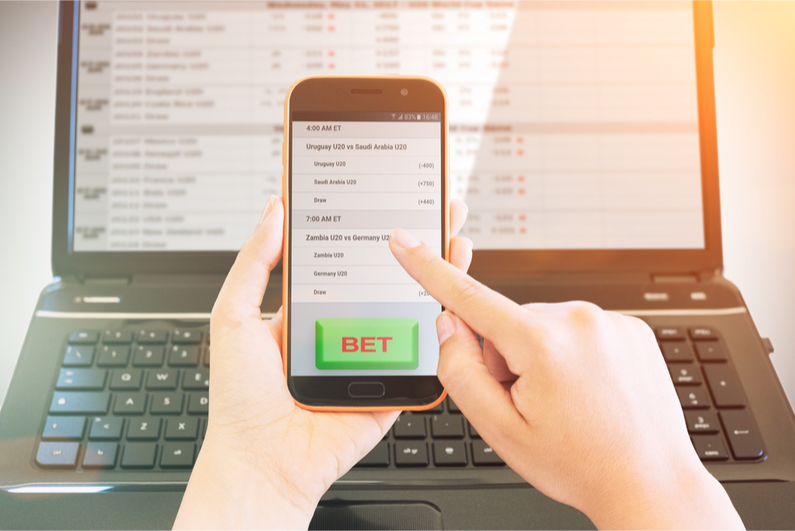 Any site that has affiliate links to gambling sites or any forms of gambling adverts are banned. There has also been a restriction placed on the use of ATMs after it was revealed that certain illegal gambling operators had been utilizing taxi drivers to stop at various ATMs throughout their travels to have money moved between bettors and gambling sites.
There have also been restrictions imposed on mobile money transfers. Only two such transfers are allowed per day per user, with each of these requiring a lot of detailed information and user identification.
There have been numerous raids carried out since the initiative began last year, with one of the more prominent ones occurring in February. More than 1,000 police officers engaged in a coordinated set of raids in nine provinces, targeting 140 different addresses suspected of being involved in illegal gambling. This resulted in about 100 people being detained for questioning.
The timing of this latest raid comes just a couple of weeks from the start of the World Cup. This tournament only comes around every four years and huge sums of money are wagered on the event. Illegal gambling groups would have been deep in their preparations for this tournament and so the Turkish authorities has dealt them a serious blow with these latest raids.
'Social reasons'
Gambling is a lucrative source of revenue for the state. The Finance Minister Naci Agbal estimated in 2017 that annual revenue derived from Turkish bettors on online gambling sites was in the region of $11.4bn (£8.5bn). This would be a lucrative source of revenue for the Turkish government, which is a key reason for their tough stance on gambling.
Mr Agbal has previously said that the Turkish government has "begun to seize the money that the virtual betting investors on the internet invested in".
The government has stated that their crackdown is more due to social reasons rather than the monetary gain that is at stake.
"There are international criminal networks behind these sites," Mr Agbal added.
"We will not let our citizens add money to the crime organizations and offer them resources and information that threaten Turkey's national security."