New Jersey's selection of fully regulated online gambling sites continues to set new marks in consumer participation. The newly-released results for February 2018 reveal that New Jersey's sites collectively posted an online industry win of $21.992m – a record for any calendar month to date.
February's total win fell just shy of the $22m plateau, surpassing the preceding all-time monthly record posted in January 2018 by just under $30,000. This new mark was set despite February having three fewer gaming days than the previous month.
Inclement weather in the form of several prominent nor'easters that pummeled the United States' northern Atlantic coast may have helped create the new monthly mark. Such shifts are directly trackable in New Jersey's online gambling results, with the winter months proving to be the busiest, year after year.
The continuing run of bad weather for the US's northeast bodes well for the chances that March will be yet another record-setting month.
New Jersey's strong online February is also demonstrated in the year-over-year comparison. Last month's roughly $22m total is up 17.5% from February of 2017. The year-to-date totals are up a similar 17.1% on a total online win for 2018 of $43.95m – a strong jump from the $37.54m collectively won by the state's regulated sites for the same two months in 2017.
Online remains largest growth sector
The online sector continues to outperform its land-based counterpart as a whole, as has been the case on a month-by-month basis for several recent years.
It's likely that the same inclement weather that may have boosted February's numbers past January's then-record also had an impact on New Jersey's land-based casinos – in the opposite direction.
New Jersey casinos posted a total land-based win of $170.06m in February, which is down 8.9% from the $186.64m February 2017 total. However, the continued online growth offset some of that loss.
The state's total win for February, combining both live and online, came in at $192.06 million, showing a 6.5% decline from February 2017's $205.36m tally.
Online Poker still fading
New Jersey's online poker sites still haven't figured out a recipe for sustaining market durability while awaiting liquidity-sharing opportunities with other jurisdictions. Despite the otherwise rosy online results, New Jersey's online poker win for February totaled just $1.77m.
That's an 18.3% drop from the 2.17m total win posted for the same month in 2017. This slow downward drift seems destined to continue until external forces such as player pooling arrive.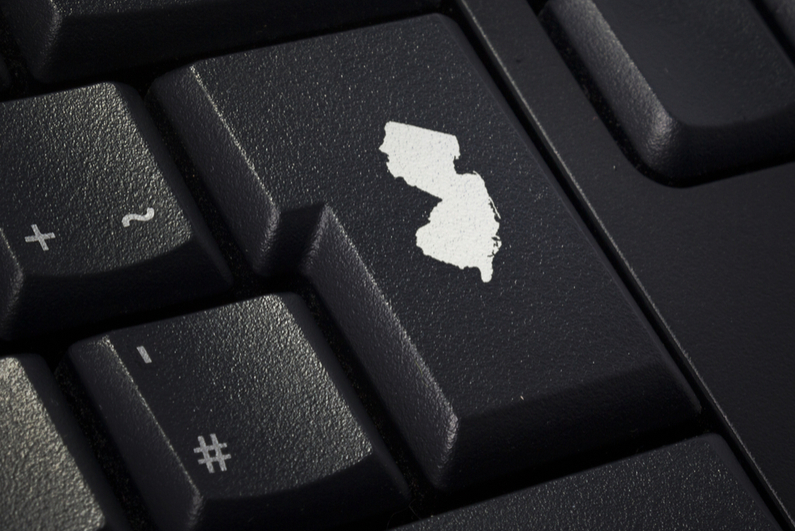 Golden Nugget breakout continues
The sites operated under Golden Nugget Atlantic City's corporate license continued their long-term surge when compared against the casino's Atlantic City rivals. Golden Nugget AC owns and operates four of New Jersey's 24 state-regulated online gambling sites.
Those four Golden Nugget-controlled sites combined to post a $7.89m win in February – up a massive 52.4% from the same month in 2017, and right in line with January's numbers.
Golden Nugget's success with its online offerings has allowed the company to emerge as the clear market leader in New Jersey, even though the company's sites don't offer online poker. A year and a half ago, Golden Nugget AC jousted with local rivals Borgata and Caesars Interactive for market-leading honors.
That picture has since changed. Golden Nugget Atlantic City now stands apart from the four other New Jersey casinos that also offer online gambling.
The other four casinos, which include Resorts Casino Hotel and Tropicana Casino and Resort, all have a current monthly revenue of between $3m and $4m. That's under half of Golden Nugget AC's current numbers, to better frame the Nugget's market surge.
Of those other four, the best year-over-year online numbers came from Resorts Casino Hotel. The casino offers the prominent MoheganSunCasino and PokerStarsNJ brands in addition to its own site.
The three sites combined to form a $3.78m win in February, just behind Borgata's second-place $3.79 showing. However, Borgata's online numbers were roughly the same as a year earlier – up just 1.2%. The result paled beside Resorts Casino's 23.7% gain over the same period.
What this dramatic difference indicates is that Resorts Casino may soon overtake the Borgata's parent company, Marina District Development LLC, as New Jersey's number-two online operator.