The big guns are here again for this edition of the best new online slots of the week. Ainsworth wish us a long and happy life in their latest Asian-inspired slot, while Pragmatic Play go big on cluster wins with the Gems Bonanza slot.
Skywind also bring a fresh twist to the cluster pays slots with Combat Masters. Travel with the brave knight through eight exciting levels and defeat your opponents to bring glory and cash wins. Finally, NetEnt are hoping to bring out the pirate in you with Rage of the Seas. It's a pirate-themed game with expandable reels and a whole lot of treasure bonuses.
Remember, you can play all these best new online slots, as well as thousands of other games, for free at VegasSlotsOnline.
May you have a long and happy life playing this new online slot by Ainsworth. It's yet another sumptuous-looking slot release from the Aussie slot machine giants that features 50 paylines, wild symbols, and free games. Plus, you can hit one of four progressive jackpots during the game.
We're massive fans of Ainsworth's range of progressive online slots here at VegasSlotsOnline. While the RTP of some of their slots can be low, the potential for big jackpots is high.
Long and Happy Life deserves a spot at the top of our best new online slots of the week for its range of bonuses and jackpot prizes. The 50-line slots game features an abundance of wilds and prize scatters. You'll trigger the Pan Chang feature by landing 6+ scatters in any position. Start with five free spins and win cash prizes immediately, depending on the triggering scatter values.
But it's the Lucky Lantern feature that really appeals. You'll activate the bonus when you collect 15 or more scatter prizes during the Pan Chang bonus.
This is where things get interesting. You can win the Grand jackpot during the Lucky Lantern feature, but the smaller Major, Minor, or Mini jackpots can also be awarded as scatter prizes during the bonus. Indeed, you can also hit the three smaller jackpots by matching corresponding symbols during the Lucky Lantern feature.
With a great Chinese-music soundtrack and some booming sound effects, Ainsworth have really laid on the atmosphere in Long and Happy Life. Give it a spin for free today.
It's time to bring out the bling in Pragmatic Play's latest release, Gems Bonanza. Enjoy tumble thrills as you match different-colored rubies, sapphires, and diamonds across the reels. And watch out for colossal symbols that can give your payouts a big boost.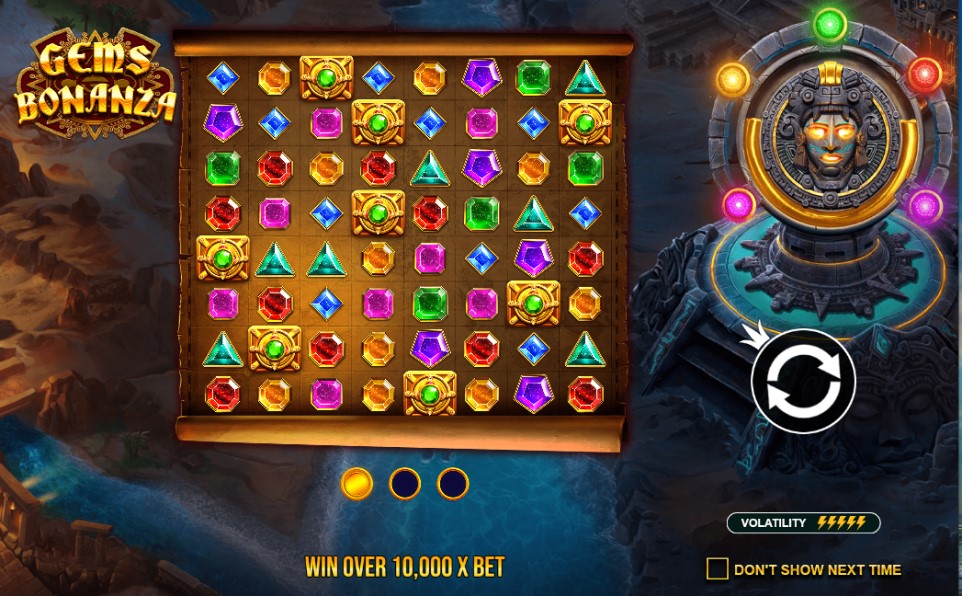 It seems like eons ago since Bejeweled 2 was wowing slots players at online casinos. The Candy Crush-style gameplay and cluster wins mechanics of that game have been imitated by many developers over the years, but there's obviously still room for newcomers.
Gems Bonanza is Pragmatic Play's contribution to a popular genre of slots. In the game, you match tumbling colored gems on an 8×8 symbol grid to win cash prizes. Every winning cluster of 5+ gems disappears, allowing gems to tumble into their place. Plus, you can land colossal symbols to create even bigger wins. Land 25 or more matching symbols in a cluster and you'll bag the jackpot.
On every base game, colored markings may appear on the reels. You will trigger a special spin by landing a successful tumble on the marking. For instance, you could hit the blue mark to go nuclear and clear all current symbols from the screen. Hit the pink mark and you'll earn a special wild gem which transforms random symbols into wilds. You can also earn 5-15 lucky wilds by covering the green mark.
Best of all, you can trigger a gold fever progressive if you collect enough points during a base game. Move through five prize levels, earning a bigger multiplier every time. Level 5, for instance, pays with a 10x win multiplier when you land 132 or more matching symbols.
Gems Bonanza is a welcome upgrade on previous cluster wins video slots. Try it out for free today.
It's time to slip on the armor and suit up for a battle against your enemies in the Combat Masters slot by Skywind. And, as in Pragmatic Play's Gems Bonanza, here cluster wins can lead to bigger and better wins. Plus, with eight power-up features and eight worlds to explore, there's more to this new online slot than meets the eye.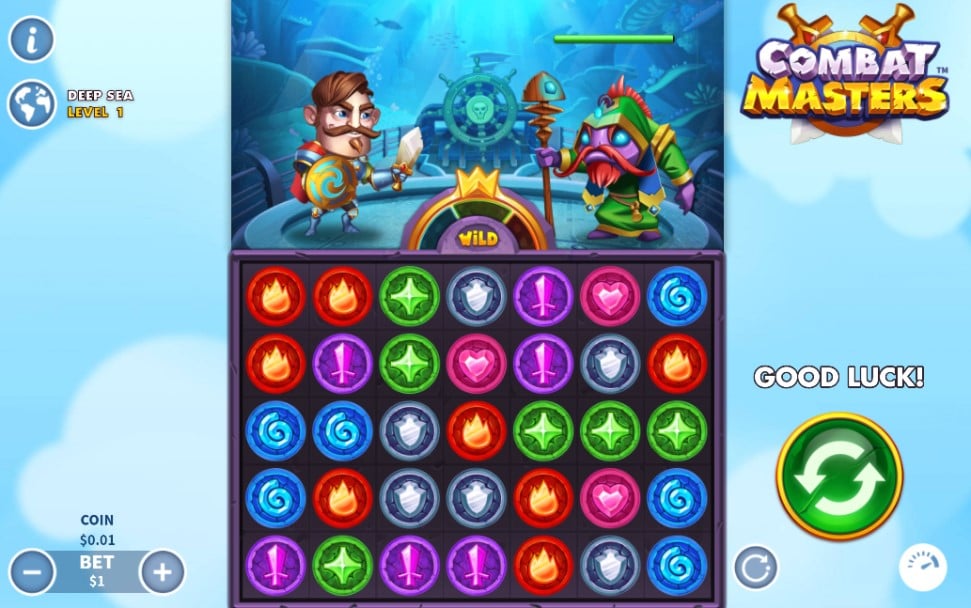 Slots developers are beginning to get more creative with their releases. Being stuck on the same game level is yesterday's news. What players want in 2020 is a feeling that they're embarking on a journey with real achievements. That's why Skywind's Combat Masters fully deserves a spot in our roundup of the best new online slots of the week.
In this game, you take on the role of a knight hopping across floating islands as he does battle with his enemies. You begin at Level 1 and win cash by matching clusters of symbols on the reels. But wait: on every winning tumble, your knight will lash out at his enemy with a blow from his trusty sword. The more you win, the more damage he inflicts.
Once your opponent's energy bar has emptied, you'll move to the next level and face a fresh opponent. Finish off seven opponents, and you'll be a true Combat Master.
There are several cool bonuses to find when playing Combat Master. You will trigger the crystal bridge bonus every time you complete a world. Pick from the floating ice packs on screen to reveal a cash prize. And watch out for the awesome wild power feature. It is triggered when 16 or more symbols explode on a single tumble. With it, you'll earn random power wilds which help create winning clusters.
This is another accomplished new release from Skywind. Play it now for free and see for yourself.
We move from brave warriors on land to vicious pirates on water with NetEnt's Rage of the Seas slot. This is a pirate-themed slot that sees you play with variable ways to win, depending on the expandable reel setup. So, grab your cutlass, shiver your timbers, and set sail for a treasure hunt.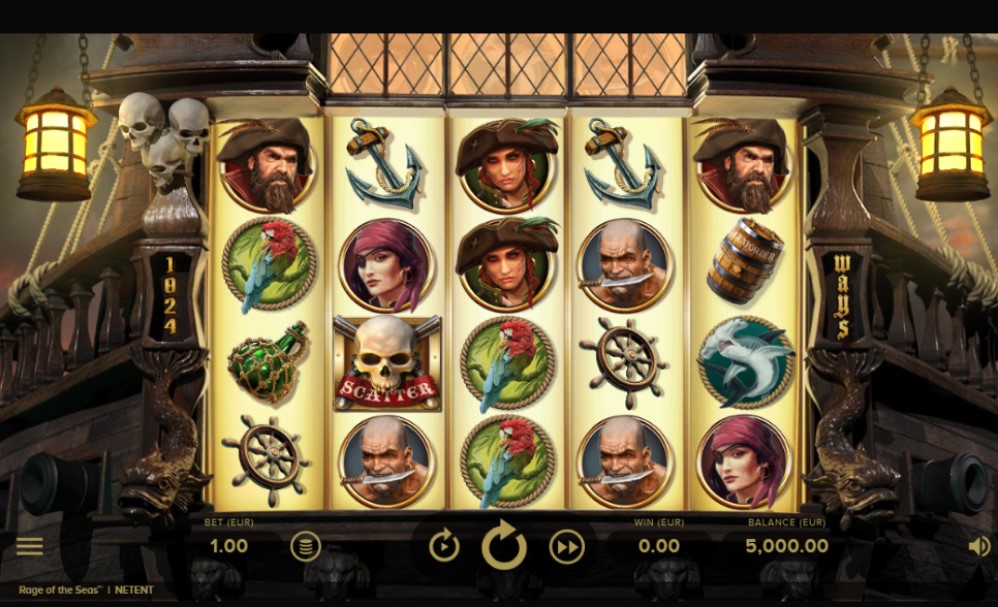 We've been covering variable reels slots for a while in our best new online slots roundups. And now, NetEnt are joining the party with their Rage of the Seas slot game. It's a five-reel, four-row online slot where the reels can expand to a 4-7-7-7-4 pattern. It's possible, therefore, to enjoy anywhere from 1024 up to 5488 possible win ways.
You will need to land a boost symbol on reels two to four to expand a reel to seven rows. You'll also trigger four feature spins to boot. Plus, you can earn one of five possible random features, including a multiplier, stacked wilds, spreading wilds, or a reel upgrade.
The free spins bonus is typical NetEnt fare and is triggered when you hit three boost symbols on reels two, three, and four. You'll earn 5-12 free games to start with, plus one of the random features will also apply.
Rage of the Seas is the ideal gaming slot if you're a fan of the Pirates of the Caribbean franchise, or just a big follower of exciting NetEnt releases. Spin its reels into action for free today.
And for more exciting games, make sure you visit our Free Slots page!