This edition of the best new online slots of the week focuses on the latest releases from three of the industry's heavyweights, as well as one of the most promising game design and development studios.
We kick things off with Hexbreak3r, the third instalment in IGT's gripping Hexbreaker series. HooDoo, the black cat with glowing eyes, returns to help you get your paws on a progressive jackpot. Next, we immerse ourselves in Greek mythology for a showdown with a serpentine water monster in Playtech's Legend of Hydra slot. It boasts almost as many features as Hydra's heads – seven, to be precise.
Safari Riches by 888 transports us to Africa for an unforgettable experience. Big symbols, stacked wilds, and free spins promise to keep you on the edge of your seat, but it's the Daily Jackpot that you'll be eyeing up through your binoculars.
Finally, there's a moose on the loose in HungryBear Gaming's latest release, Moose Vamoose. You get to watch an animated moose perform the floss dance. Let's just hope the marvelous mover isn't caught swinging his arms and hips when Hunter Bill comes along with his shotgun!
IGT has revived an old favorite with the release of Hexbreak3r (Hexbreaker 3). The aim of the game is to banish all your superstitions about Friday the 13th. It does this by awarding wins for matching symbols like crows and voodoo dolls across five reels, which are presented in a rather unusual reel formation.
The inclusion of IGT's powerful MultiWay Xtra mechanic guarantees 243 to 59,049 ways to win every time you spin the reels. As if that wasn't exciting enough, there are several spellbinding features.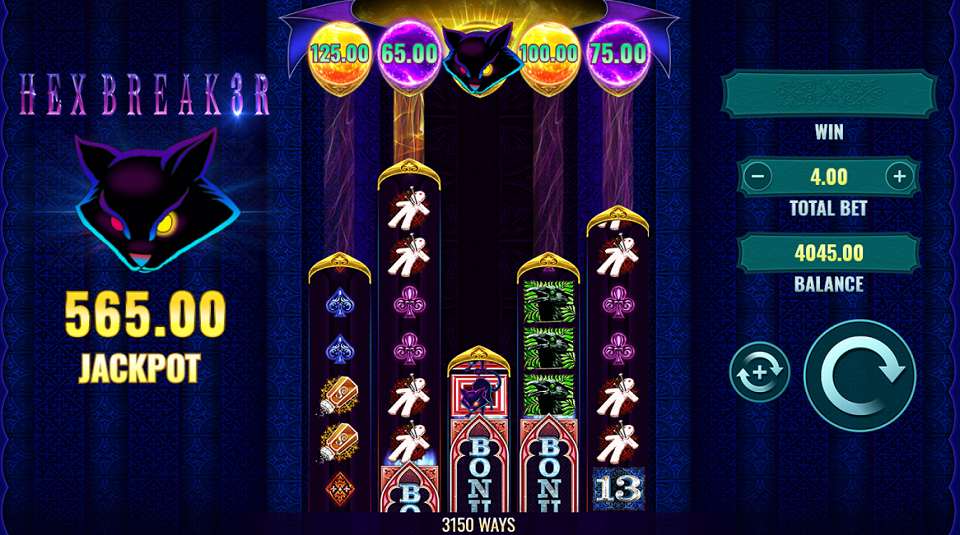 Lucky horseshoes make reels expand by adding additional symbols. Expansions continue until you reach an orb in the Luck Zone. Cash prizes are awarded for reaching the top of all but the third reel. This is where our feline friend HooDoo presides over the action, patiently waiting to award a huge jackpot.
The symbols replacement feature is just as interesting as the theme, with between one and four symbols transforming before your very eyes. You can also trigger free spins, which brings a Jinx Zone into play below the reels for even more cash prizes. How could you possibly have bad luck with so many fun features to experience?
Hexbreak3r may look a little dated, but it's by far the most exciting and volatile release in the Hexbreaker series to date. Give it a spin for free today at VegasSlotsOnline.
It may not boast the same win potential as Stallion Strike, but Legend of Hydra is the second Playtech slot to feature Power Zones. As the title suggests, you find yourself in the presence of Hydra, a serpentine water monster with nine heads.
Playable from 0.10 credits, the Legend of Hydra slot comprises six reels and delivers 15,625 ways to win. As with most online slots inspired by Greek mythology, the grand design is matched by an epic soundscape that helps to immerse you in the theme. Gemstones represent the least valuable symbols, with wizards, knights, and warriors adding some personality to the testosterone-fueled reels.
If you've already played Stallion Strike, then you'll know what an electrifying experience you're in for when it comes to the Power Zones feature. Each time a charged symbol lands inside one of the Power Zones, all symbols in the zone transform into the same symbol for an electrifying win.
Notice the meter above the reels? Fill it to unlock four Hydra features. Triggered at random, they deliver additional wilds, extra Power Zones, and even Multiplier Power Zones.
You can even unlock Mighty Hydra Free Games for 12 to 50 free games. Even if you only secure 12 free games, the Mega Spin feature that is activated when all your free games have been played could help you secure an epic win.
Trust us, there is no need to be afraid of this nine-headed monster. With an RTP of 96.56% and a max win of 10,000x your stake, you've simply got to try Legend of Hydra for free here at VegasSlotsOnline.
If you've always wanted to go on a safari but found the price to be a sticking point, Safari Riches by 888 could be the perfect alternative. With a minimum bet of only 0.40 credits, this animal-themed slot transports you to Africa for an encounter with zebras, buffalo, rhinos, elephants, cheetahs, and lions.
The big game animals appear across five reels, with winning combinations calculated across 40 fixed paylines. None of the animals move an inch when they aren't involved in wins, but you'll be blown away by the realism of the animations whenever they are.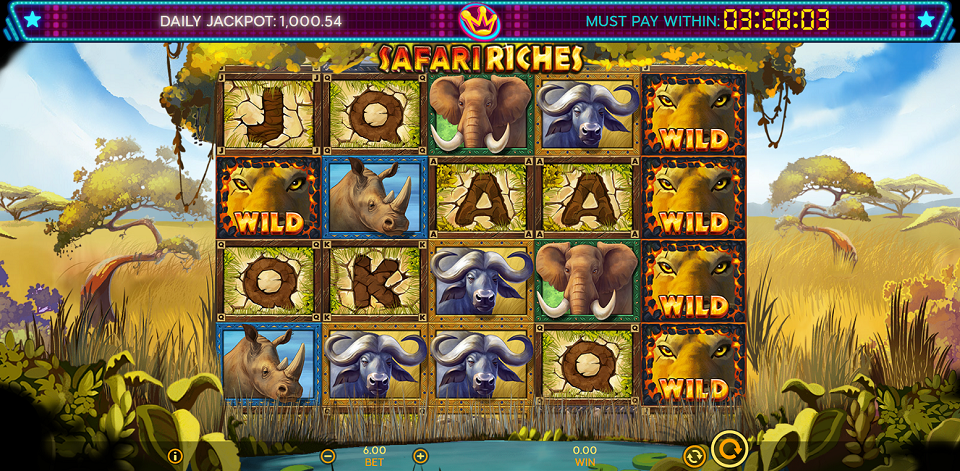 The beautifully framed symbols can appear in regular form, or as big symbols that are 2×2 or 3×3 in size. The piercing eyes of a lion help you connect to these big icons as stacked wilds, both in the base game and during free spins.
Speaking of free spins, you'll need to spot some flamingos through your binoculars to trigger the feature. Three of the pink birds showcase their bright feathers as the scatter symbol. Covering all positions on reels two to four with this 3×3 symbol secures seven free spins. If it lands partially, you only receive one free spin. To crank up the win potential, more big symbols are guaranteed to land during free spins.
For even greater riches, keep an eye on the Daily Jackpot counter above the reels. Your odds of scooping the jackpot increase as the timer counts down to the guaranteed payout time.
It may not offer life-changing payouts like Microgaming's Mega Moolah, but Safari Riches is one of the most impressive animal-themed slots we have played in a long time. Check it out at VegasSlotsOnline and see what you think.
What better way to end our roundup of the best new online slots of the week than by watching a moose dance? And we don't mean a belly dance or hip-hop dance. No, our four-legged friend in Moose Vamoose swings his arms and hips to show us how to floss dance like an Instagram star.
The Moose Vamoose slot machine is a prime example of why we are so impressed by HungryBear Gaming, a studio founded by former CORE Gaming executives. Funny animations, detailed symbols, and silky-smooth gameplay combine to create a wonderful gaming experience.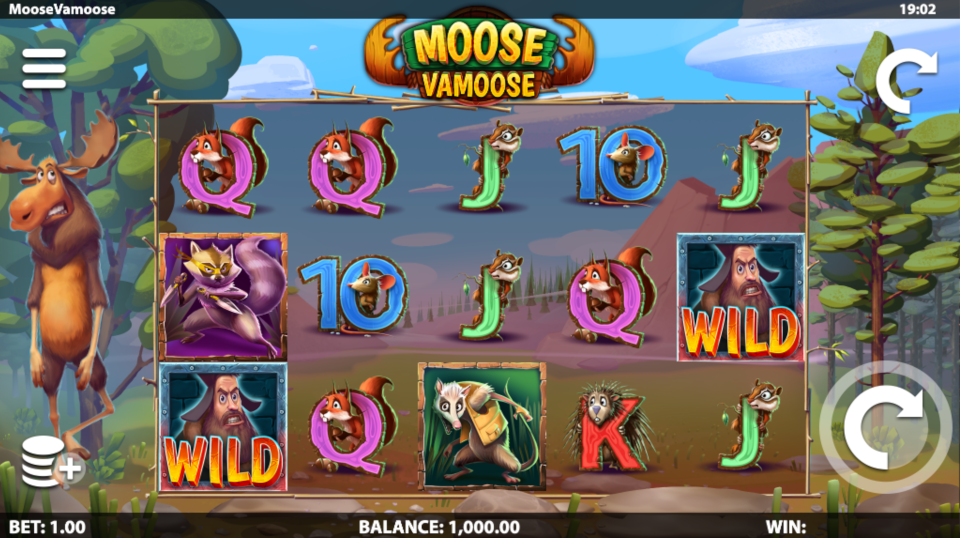 Comprising five reels and 20 fixed paylines, the fun-filled action takes place in a forest clearing. While the moose is the star of the show, he is accompanied by an array of woodland critters. Not only will you see rodents like chipmunks and squirrels peeking out from behind playing card symbols, you will also see a possum ready to hunt, a knife-wielding racoon, and a crazy beaver armed with a chainsaw.
The nervous-looking moose presides over the action to the left of the reels, swiftly bursting into action whenever one of three bonuses is triggered. These are the Vamoose Bonus, Party Spins, and Rapid Fire features.
Our favorite feature is Party Spins, as it boasts sliding wilds that continue until no wilds are visible on the reels. Although it's always fun watching Hunter Bill fire shots at the moose when the Rapid Fire feature is triggered.
Don't let a low payout percentage of 94% deter you from trying Moose Vamoose. It's guaranteed to have you laughing out loud, and the bonus features come thick and fast.
And for more exciting games, make sure you visit our Free Slots page!