Everyone has an opinion on March Madness – the annual NCAA Basketball tournament that grips the US like no other sporting event apart from the Super Bowl.
Participants, including former presidents Barack Obama and George Bush Snr, like to do their "brackets" – their predictions of how the games will go, right down to the eventual winner. We wrote a preview on this last week.
And millions of Americans like to back their opinion with cash, and not just in the office sweepstakes that take place throughout the country.
The American Gaming Association estimates that Americans will wager more than $10bn (£7.1bn) on this year's tournament – but astonishingly, only about 3% of that will be wagered legally.
Sports gambling is illegal in most American states: in Las Vegas, where it is legal, March Madness signals an unprecedented rush to the Strip, with some sportsbooks able to charge simply for a seat and a chance to watch the games.
Laws "out of touch"
But not everyone goes to Vegas – meaning 97% of that $10bn is wagered with illegal bookmakers across the country. In total it is estimated that Americans gamble $150bn (£106bn) per annum illegally, through a mixture of bookmakers, illegal offshore websites or unofficial sports pools.
Two-thirds of US states make it illegal to participate in sports pools – which includes filling in an NCAA bracket if there is money involved. Despite this, 10% of American adults – nearly 24 million people – do exactly that, reportedly spending $3bn (£2.1bn) on college basketball alone.
"Our current sports betting laws are so out of touch with reality that we're turning millions of Americans into criminals for the simple act of enjoying college basketball," said Geoff Freeman, president and CEO of the American Gaming Association.
"The failed federal ban on sports betting has created an illegal, unregulated sports betting market that offers zero consumer protection and generates zero revenue for state and tribal governments."
He went on to call for everyone involved to work together to put the illegal market out of business and allow people to bet – and participate in office pools – "without fear of prosecution."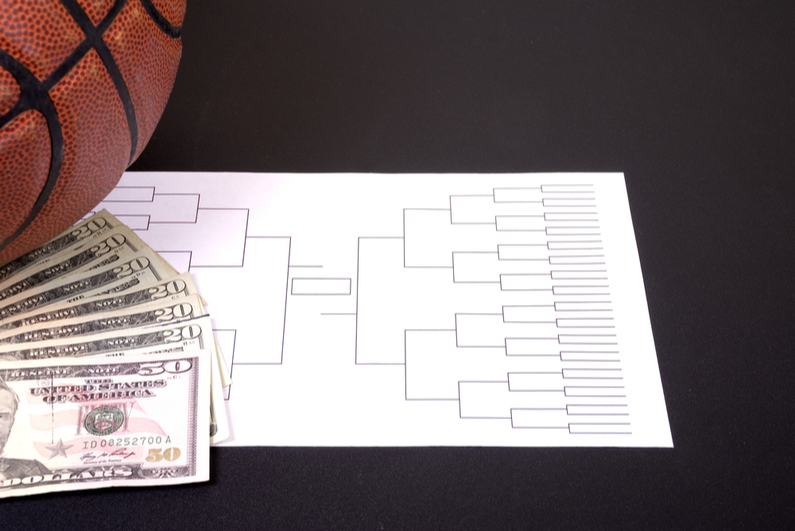 At the moment, there are 48 pieces of sports betting legislation active in 18 states, with many of them likely to become law if – as is expected – New Jersey legalizes sports betting in the coming months.
Some commentators expect even more states than that to legalize sports betting, with Sue Schneider of Gambling Law Review predicting that as many as 21 states could be poised to make sports betting legal.
Of course there remains the $64,000 question: even if sports betting is made legal, will players necessarily move from the bookie they've gambled with for years to a new, legal bookmaker?
Protecting consumers
Meanwhile, with the first week of games completed in the NCAA tournament, sports bettors across America are wailing that "my brackets are busted." The games haven't gone the way they expected and their cash will be staying with the local – almost certainly illegal – bookie.
But if 21 states do go ahead and legalize sports betting, at least next year they will have the chance to bet with a legal bookmaker, one offering a degree of consumer protection and one making a contribution to the state or federal budget.
Finally, how are those two sports pundits we featured in the last article faring? Barack Obama had thrown his Presidential opinion behind Michigan State. George Bush Snr. "had a feeling" his Texas A&M Aggies "could go all the way."
We have to report a win for the Republican party: so far Texas A&M have beaten Providence 73-69 and North Carolina 86-65: they're now through to the Sweet Sixteen where they face the Michigan Wolverines.
Sadly, after defeating Bucknell 82-78, Michigan State crashed out of the tournament, losing 55-53 to Syracuse.
So Barack's brackets are busted. Never mind, Mr President: for you and millions of other Americans, there's always next year…