Baccarat Odds – Learn Baccarat Odds & Payouts in Minutes
Just learned the rules of baccarat, but struggling to wrap your head around baccarat odds and the house edge? Don't worry – we have created this expert guide to teach you everything you need to know about the odds and payouts of baccarat in the blink of an eye.
With the beautiful game of baccarat having so few betting options, it's easy to understand how baccarat odds work. We'll help you master which bets to make the next time you hit the baccarat table so that you can make more informed decisions during each coup (round of play).
Ready to become an expert on baccarat odds? Let's begin.
Baccarat Odds, House Edge, and Payouts – Common Bets
Whether you play baccarat online or offline, you will have the choice of three common bets when you take your seat at the table: Banker, Player, or Tie. Before you place your chips on the table, it's important to know the house edge, odds, and payout for each of these bets. Understanding these figures will help you make more informed decisions the next time you sit down at a baccarat table.
The following chart lists the house edge, odds, and payouts of the three main bets for a baccarat game played with eight decks, which is standard. We'll cover how the figures slightly change for six-deck and single-deck baccarat games later in our guide.
| Bet | Odds | Payout | House Edge |
| --- | --- | --- | --- |
| Banker Bet | 45.86% | 0.95:1 | 1.06% |
| Player Bet | 44.62% | 1:1 | 1.24% |
| Tie Bet | 9.52% | 8:1 | 14.36% |
Baccarat Odds, House Edge, and Payouts – Side Bets
Baccarat side bets have been designed to spice things up and give you more options than simply betting on the Banker, Player, or Tie. Not all online baccarat games offer the same side bets. Some software providers and land-based casinos have come up with their own side bets to add some excitement to the baccarat tables. Others stick to the most popular baccarat side bets, like those listed in our chart below.
This chart is also based on a baccarat game where the cards are dealt from a shoe with eight decks.
| Bet | Odds | Payout | House Edge |
| --- | --- | --- | --- |
| Player Pair | 7.47% | 11:1 | 10.36% |
| Banker Pair | 7.47% | 11:1 | 10.36% |
| Perfect Pair | 3.34% | 25:1 | 13.03% |
| Either Pair | 14.2% | 5:1 | 13.71% |
| Big | 31.8% | 2:1 | 4.35% |
| Small | 37.8% | 3:2 | 5.27% |
House Edge in Baccarat, Explained
As you may know from playing other casino games, the house edge is the mathematical edge that ensures the casino wins over time. Baccarat has one of the lowest house edges of all casino games, hence why it is so popular with fictional characters like James Bond and high rollers across the globe.
Of the three common bets, the Banker has the lowest house edge of just 1.06%. As our charts highlight, the Tie bet offers the worst house edge of all. Even the six side bets we have listed boast a lower house edge, making them a more favorable betting proposition than the Tie in the long run.
In theory, you should win $98.94 for every $100 you wager on the Banker bet. Compare this to the $85.64 you would receive for betting on the Tie, and it's easy to see why the Banker is heavily favored.
Baccarat Odds & Payouts, Explained
Baccarat payouts certainly aren't going to make you rich. You won't be able to rock up to a baccarat table, place your bets, and then retire into the sunset with a life-changing win. However, when compared to many of the other casino games that exist, baccarat boasts some of the most generous odds and payouts you will find.
As we've already stated, the Banker is by far the best bet. With odds of 45.86% to win, the Banker bet is so likely to win that casinos are forced to apply a 5% commission to winning bets. The Player bet follows with odds of 44.62% and it pays 1:1. Betting on the Tie doesn't make sense mathematically. Our baccarat odds chart states that a Tie will happen 9.52% of the time, but the payout is low at just 8:1.
When you exclude the Tie and calculate baccarat odds based solely on the Banker and Player, the Banker wins 51% of the time. Again, this highlights why the Banker it is the bet to make when you play baccarat online.
The biggest baccarat payout is for a Perfect Pair. This side bet pays 25:1. However, our baccarat odds chart reveals that the odds of making a Perfect Pair are rather slim at just 3.34%. These side bets are fun and certainly make baccarat more interesting, but the smart money is ultimately on the Banker bet.
What Changes with Different Deck Combinations?
Baccarat is a card game that is typically played with eight decks. As our charts highlighted, standard odds and payouts are calculated on the assumption that cards are dealt from a shoe that holds eight decks.
However, you will also find online baccarat games that are played with six decks and even a single deck. While payouts for common bets remain the same across all deck combinations, the house edge and odds change. To save you having to grab a calculator, we have recalculated the odds for you.
Six Deck Baccarat
| Bet | Odds | Payout | House Edge |
| --- | --- | --- | --- |
| Banker Pair | 45.87% | 0.95:1 | 1.06% |
| Player Bet | 44.63% | 1:1 | 1.24% |
| Tie Bet | 9.51% | 8:1 | 14.44% |
Single-Deck Baccarat
| Bet | Odds | Payout | House Edge |
| --- | --- | --- | --- |
| Banker Pair | 45.96% | 0.95:1 | 1.01% |
| Player Bet | 44.68% | 1:1 | 1.29% |
| Tie Bet | 9.36% | 8:1 | 15.75% |
As you can see from the above charts, the differences in house edge and odds are subtle. Nevertheless, it's important that you are aware of how the figures change according to the number of decks used.
What's the Best Baccarat Bet to Make Based on Odds?
Ultimately, this boils down to how you want to play. Do you want to play it safe or take a risk?
The Banker and Player are relatively safe bets whether you play baccarat online or offline. The odds of either bet winning are high, but payouts are low. For those of you who like to take a risk and are willing to put your luck to the test for a higher payout, the Tie bet will be a more attractive proposition.
As suggested in our baccarat strategy guide, it's best to mix things up with Banker and Player bets, and strictly avoid the Tie bet. Odds of 9.52% for a payout of just 8:1 don't make the Tie bet worthwhile.
Baccarat Odds Vs. Other Table Games
It's a well-known fact that blackjack and baccarat are the table games with the lowest house edges. Why do you think so many high rollers favor placing their chips on these tables? Baccarat odds are as good as it gets if you want to keep things fun and simple without getting weighed down by a complex strategy.
One of the main differences between these two games is that baccarat is a game of chance. You simply place one of three bets and await the outcome. In blackjack, your decisions directly affect the outcome of each hand. You can reduce the house edge if you make optimal plays, but you can also increase it if you make the wrong calls. No strategy chart or betting system is required to bank baccarat payouts.
When it comes to a game like roulette, baccarat odds don't look quite so impressive. Outside bets like betting on Red or Black pay 1:1 and no commission is deducted like the 5% applied to winning Banker bets. Baccarat payouts max out at 8:1 – unless you are playing at a generous casino that pays 9:1 – yet a 36:1 payout is possible when you play American roulette games with a double zero pocket on the wheel.
It's important to remember that the house always wins. However, baccarat odds are certainly more favorable than other table games like craps and casino war.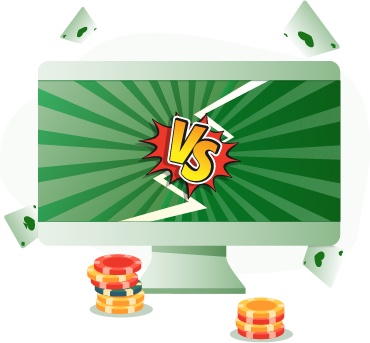 Play Baccarat for Free and Test Out the Odds
Now that you understand baccarat odds as well as James Bond, it's time to put everything you've learnt into practice. The best way to practice your knowledge of baccarat is to play for free. Luckily for you, we have a free baccarat game that you can play right here on VegasSlotsOnline with no download required.
Play Baccarat at Online Casinos for Real Money Payouts
Ready to put your newfound knowledge on baccarat odds to the test by playing baccarat for real money? To save you spending hours researching and comparing the best online casinos for real money players, our experts have done all the hard work for you.
Armed with a list of criteria as long as their arm, our experts have found online casinos that boast a variety of baccarat games. Whether you want to play Punto Banco or a variant like No Commission Baccarat, our trusted casino sites have you covered. They'll even welcome you with a generous bonus.
Get started by joining our top-rated baccarat casino today:

Take advantage of baccarat's odds and low house edge at our #1 casino!
Baccarat Odds FAQs
It is if you read our expert guide to baccarat odds. Whether you're a newbie who has just learned the rules of baccarat or a high roller who wants to memorize the odds before your next session, you'll find our guide helpful and easy to follow. We have highlighted the best bets to make on baccarat based on their odds and payouts to help you beat the house.
Don't you already know that the banker is the best bet in baccarat? If not, we suggest reading our beginner's guide to playing baccarat online before hitting the tables. With a house edge of 1.06% and odds of 45.86% to win any given coup, Banker is the best bet. The Player will win 44.63% of the time, and the Tie bet should be avoided.
Baccarat might be a game of chance, but our baccarat strategy tips can help you to maximize your odds of winning. While many so-called experts have created complex strategies, we suggest sticking to the basics. Simply bet on the Banker to improve your chances of winning in the long run. You can mix in some Player bets, but never bet on the Tie.
Better than good! The fact that 5% commission is applied to winning Banker bets should highlight how favorable baccarat odds are compared to other table games and slots. Granted, you won't win a life-changing sum of money like you could playing a progressive slot. However, your balance is more likely to remain stable when you play baccarat online.
That's easy – the casinos listed right here on VegasSlotsOnline. Our experienced reviewers take pride in scouring the web to keep our list of the best online casinos up to date. Not only do the best baccarat casinos boast multiple variants, they all welcome you with a generous bonus and provide a ton of banking methods for you to choose from.