Have you ever been perilously close to a jackpot, but one of the symbols you need for your winning combination is just one position off? It's a situation that virtually anyone who has ever played a slot machine has found themselves in many times, and it never ceases to be frustrating.
However, not every game forces you to live with these near misses. A special feature known as a nudge might allow you to adjust your results just enough to turn them into big wins, especially if you're playing some of the classic games known as fruit machines that have long been popular in the UK.
Born in the UK
"Fruit machine" is often a term used to refer to all slots found in pubs and arcades in the United Kingdom, but it can also refer to a specific form of gambling machine that has some unique features. These games almost always use three reels and a single payline, and utilize some small skill-based elements that allow you to make decisions while you play.
Perhaps the best known of these features is the nudge. On many of these titles, players are randomly awarded one or more nudges after some spins, which can then be used on one of your next few plays.
If you have a nudge available, you can use it at the end of any spin to move one reel down one position in an attempt to make a winning combination. Almost always, these machines will let you see what you'll be moving into your payline, so that you can use this ability as effectively as possible.
It's easy to understand how such an advantage can help. It suddenly means that every time you have two of the three symbols you need to win a big prize, you can score a win if you can move the third symbol into place. These situations aren't always available to you, but when they are, having that extra nudge to use can lead to a big win rather than a complete loss.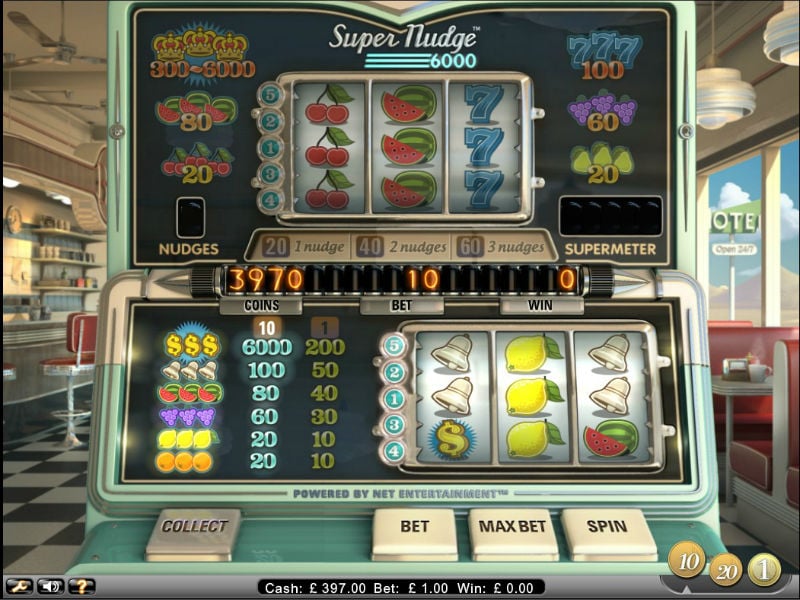 Super Nudge 6000 is one of the most popular online slots that has a nudge feature
Using This Feature Effectively
Since you have at least some input into when your nudges can be used, it's fair to call this function a skill-based part of the game. But that shouldn't intimidate you: it's easy to figure out when you should and shouldn't activate the ability.
Since you'll typically have a limited amount of time to play around with these nudges, and you won't always have an opportunity to score a win, it's worth using them even to complete small wins. It's better to get something out of this ability rather than nothing, and trying to hold them in the hopes of finding a better spot can be a bit greedy.
In some cases, you may be able to use multiple nudges on a single spin. In this case, be sure to figure out if you can use two or three in order to score a win. There's nothing worse than missing out on a prize simply because you weren't able to figure out that it was there waiting for you to take!
Using the "Hold"
Most games that have a nudge button feature will also randomly award the player with "holds." These are another way in which fruit machines tend to improve your chances of winning, and can sometimes be very powerful, even if they rarely guarantee a prize.
When you are awarded a hold, you can then use it after a spin in order to hold one reel in place. Your next spin will then only impact the other two reels: the one you've held will just sit motionless, allowing you to know what one of your three symbols will be.
There are two ways in which you might use a hold. First, if there is a symbol that can win with just one appearing on the screen (often the cherry symbol), you can book a small win just by holding it, hoping to perhaps win more when the other reels come to rest. But the most popular way to use these is to hold a jackpot (or other high-value) symbol in place. Sure, it's still unlikely that you'll hit the winning combination, but your odds improve tremendously when you've already guaranteed that one of these symbols will be in place. Hitting two more at random is definitely a lot easier than hitting three in a row, meaning that holds can dramatically improve your odds of winning a major prize.
Playing Fruit Machines
While they make up a small minority of the total games available at online casinos, many sites include at least a few of these fruit machines, meaning it's pretty easy to find the nudge and hold features if you want to try them. While these old-fashioned machines may not be as flashy as modern video slots, they certainly have a charm of their own, and the unique features offer a different type of gameplay that you might enjoy.