Poker is one of the most dramatic games in the world. While it doesn't involve opponents punching each other in the face or driving fast cars around in circles, it is still up there with the most exciting sports you can play or watch.
Check out these crazy poker moments and get ready to gasp, shake your head in despair, and maybe even feel a little jealous of some of the table skills on display…
Chris Moneymaker goes from zero to hero
Back in 2003, online poker was still a shiny new concept. Nobody knew if it was just an online fad that would disappear as fast as it had appeared, or whether it was going to change the gambling world forever.
There were some great players betting on poker hands over the internet. But mostly, it was a lot of arrogant guys thinking they were smarter than everyone else, despite knowing nothing about how to play poker. Then Chris Moneymaker came along and suddenly, the poker world sat up and took notice.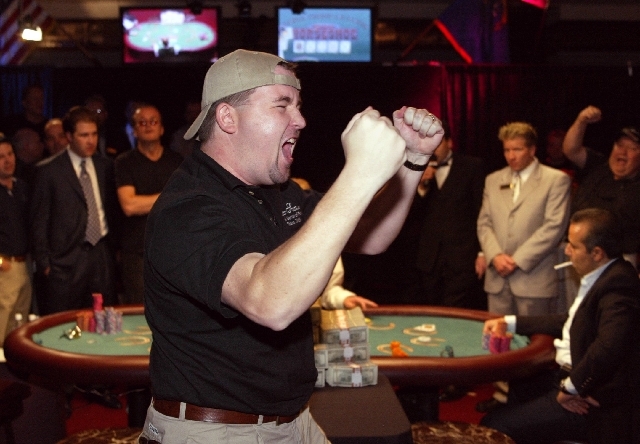 Moneymaker was the very first person to gain the prestigious world champion of poker title by winning his seat playing online poker. He qualified for a seat at the WSOP (World Series of Poker) 2003 Main Event in an $86 satellite tournament on the PokerStars website.
Once at the live tournament, Moneymaker went on to win the $2.5 million top prize. What makes his win even more impressive is that he had never even played in a live poker tournament before.

The most well-known hand Moneymaker played at the 2003 WSOP was his bluff against Sam Farha. In a heads-up game with Farha, Moneymaker bluffed all-in when all he held was a king against Farha's nine pair.
The first-ever WSOP
The WSOP started a long time before Chris Moneymaker's iconic win. In fact, the first WSOP took place way back in 1970.
The Las Vegas legend, Benny Binion, decided to invite what he considered to be the top 7 poker players in the world to his casino. He would host the poker elite at his very own Horseshoe casino, but there was no poker actually happening at the event.
Instead, Binion asked the players to vote for who they thought was the best poker player. Now, the poker world is hardly known for its modest characters, and it turned out that everyone had voted for themselves.
Binion came up with a quick fix. He told the players to vote for the second-best poker player in the world. This worked, and Johnny Moss was voted the first WSOP champion in history.
The 'dead man's hand' legend is born
The poker hand of the ace of spades and the ace of clubs, plus an eight of spades and an eight of clubs, is still known as a dead man's hand today. This fatal hand got its name from a real poker game that took place in the Wild West of America.
In what has to be one of the craziest poker moments of all time, the famous gambler Wild Bill Hickok was shot dead during a game of poker in 1876 when he was holding – you guessed it – two black eights and two black aces.
Hickok was playing poker against Jack McCall in a dive bar in Deadwood, South Dakota, where he had been repeatedly winning every hand. Jack McCall was known by locals to be fond of heavy drinking. At the time of the poker game, he was drunk.

When Hickok humiliated McCall by telling him he couldn't afford to be beaten by him again in another hand, McCall got seriously annoyed. So annoyed, in fact, that McCall spent the next 24 hours drinking and plotting to kill Hickok.
The next day, McCall sauntered into the bar where Hickok was playing poker and shot him dead through the back of the head. According to legend, Hickok slumped down and bled to death over his poker hand – the two black aces and eights.
The $1.3m online poker hand
In 2009, professional Finnish poker player Patrik Antonius took on an online player with the username Isildur1 in a heads-up pot-limit Omaha game. Together, these players made history.
Antonius and Isildur1 battled it for a pot that ended up being worth over $1.3 million. The flop cards were the four of spades, the five of clubs, and the two of hearts. The turn card was the five of hearts, followed by a nine of clubs river card.

When the players revealed their hands, Antonius held a pair of kings, an aces of hearts, and a three of clubs. Isildur1 had a nine of spades, an eight of hearts, a seven of diamonds, and a six of diamonds.
Antonius' straight beat the two pair and the $1.3 million prize was his. To this day, there has never been an online poker game with a pot that big.